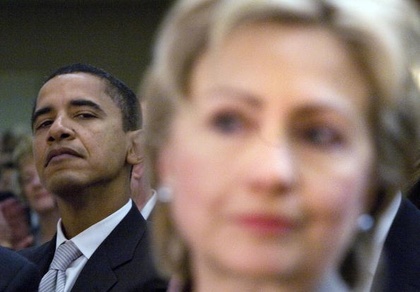 "The church offered me a second insight: that faith doesn't mean that you don't have doubts. You need to come to church precisely because you are of this world, not apart from it; you need to embrace Christ precisely because you have sins to wash away – because you are human and need an ally in your difficult journey.
It was because of these newfound understandings that I was finally able to walk down the aisle of Trinity United Church of Christ one day and affirm my Christian faith. It came about as a choice, and not an epiphany; the questions I had did not magically disappear. But kneeling beneath that cross on the South Side of Chicago, I felt I heard God's spirit beckoning me. I submitted myself to His will, and dedicated myself to discovering His truth," - senator Barack Obama, speaking words that help explain his mysterious but powerful appeal right now.
His full address is well worth reading - and, in my view, the finest public speech on religion in public life in years.
(Photo: Obama and Clinton at the National Prayer Breakfast, 1 February 2007 in Washington, DC., by Brendan Smialowski/Getty.)