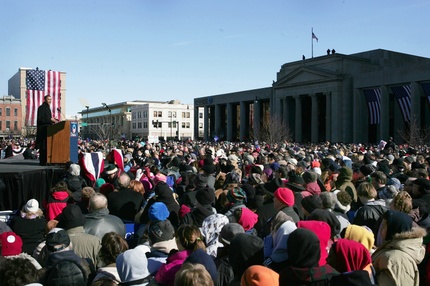 Mark Steyn makes a predictable jab at Barack Obama's defense of his foreign policy credentials. Here's what Obama said:
"My experience in foreign policy is probably more diverse than most others in the field. I mean, I'm somebody who has actually lived overseas, somebody who has studied overseas. You know, I majored in international relations."
There's no question that Obama needs major work in foreign policy. But he is obviously better informed at this point than, say, George W. Bush was in February 1999. And Obama's internationalist pedigree seems to me a golden opportunity for the United States.
I don't think many Americans have fully absorbed yet what the Bush administration has done to America's soft power abroad, to the moral reputation of America, to the respect that many around the world once had for America's democratic institutions, even if they differed from U.S foreign policy. Bush's torture and detention policies, his cringe-inducing diplomacy, his proud lack of interest in other cultures and societies has deeply weakened this country's international clout. Electing a half-African president, with Hussein as a middle name, who attended school in a Muslim country: it's almost a p.r. agent's dream for America. It would instantly give this country a fresh start in the world after the disaster of the Bush-Cheney years. It isn't enough: Obama will need skills and determination in the terror war. But soft power helps; and Obama would put it on steroids. As for youth, Tony Blair was 43 when he became prime minister; Obama would be 48. What's the problem?
(Photo of Obama's formal - and exhilarating - announcement today by Scott Olson/Getty.)