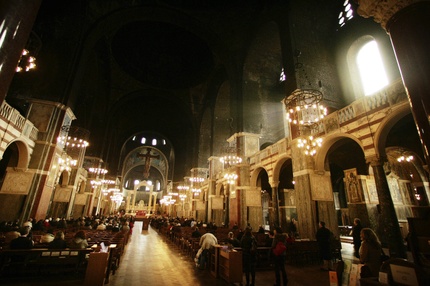 Yes, so many churches are riven by fools and hypocrites and busy-bodies and indolents. In my own church I am constantly assailed by these things - and there are many times when, sadly, I exemplify them. But the church is still worth joining, living in, sustaining. From a recent homily by Sam Lloyd at the National Cathedral:
St. Paul is saying that to be a Christian means to be part of the church. Most of us weren't consulted before we were baptized into it, and so we are members whether we like it or not, whether we act on it or not. The church is the embodiment of Christ, the way Christ's Spirit takes on flesh and blood in the world. You won't find the God of Jews and Christians primarily on a private walk in the woods, or sitting at home reading a spiritual book, but in events in history such as the freeing of the Hebrews from slavery, in the struggle of a community through time to be faithful to God, and in the life and death of a wandering rabbi named Jesus and the friends he left behind. Paul is saying that Christ is present in the world through you and me in the church.

And since the church is Christ's flesh and blood, it is the place where God physically touches us. We in the church have been given a meal, a holy book, and each otherall of them tangible channels of God's love. We need each other so that we can be Christ to each otherin how we learn, pray, and work together. You can be Christ for me, and I for you, as we encourage each other when life is wearing us down, as we seek to raise grace-filled children, as we are struggling to live Christ's way in these complex times.
(Photo: London's Westminster Cathedral on Ash Wednesday by Peter McDiarmid/Getty.)