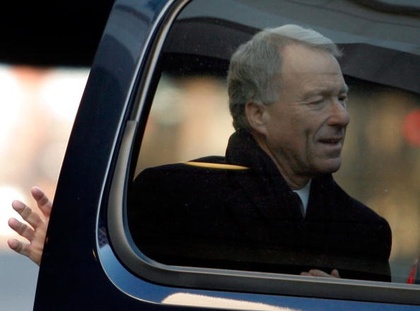 Fitzgerald is forcing one almost to pity Scooter Libby:
[Libby] said that at a July 7 lunch with former White House press secretary Ari Fleischer, he didn't remember them discussing Plame or her CIA role, but he did remember talk about the Miami Dolphins, a football team they both cheered for, and Fleischer's future plans to start a consulting business.

Fitzgerald pressed Libby: "Isn't it a fact that you told Mr. Fleischer at this lunch" that Wilson's wife worked at the CIA "and that this was hush-hush, on the q.t?"

"I don't recall that," Libby said, his voice turning quiet muted. "Yes sir, in that period I have no recollection."
Good grief. But the interesting aspect of the trial so far, to my mind, is how central Dick Cheney is to the charge of perjury. Fitzgerald's record is of picking off underlings in order to get at the big prize. I have a feeling he has his sights set on Cheney. I hope he succeeds in exposing the most dangerous and incompetent vice-president in American history.
(Photo of Libby: Mark Wilson/Getty.)