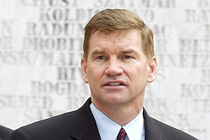 A reader sends this insight into the worldview of some Christianists, in this case the now-discredited pastor, Ted Haggard:
Free-market economics is a 'truth' Ted [Haggard] says he learned in his first job in professional Christendom, as a Bible smuggler in Eastern Europe. Globalization, he believes, is merely a vehicle for the spread of Christianity. He means Protestantism in particular; Catholics, he said, "constantly look back." He went on:

"And the nations dominated by Catholicism look back. They don't tend to create our greatest entrepreneurs, inventors, research and development. Typically, Catholic nations aren't shooting people into space. Protestantism, though, always looks to the future. A typical kid raised in Protestantism dreams about the future. A typical kid raised in Catholicism values and relishes the past, the saints, the history. That is one of the changes that is happening in America. In America the descendants of the Protestants, the Puritan descendants, we want to create a better future, and our speakers say that sort of thing. But with the influx of people from Mexico, they don't tend to be the ones that go to universities and become our research-and-development people. And so in that way I see a little clash of civilizations."

So the Catholics are out, and the battle boils down to evangelicals versus Islam. "My fear," he says, "is that my children will grow up in an Islamic state." And that is why he believes spiritual war requires a virile, worldly counterpart. "I teach a strong ideology of the use of power," he says, "of military might, as a public service." He is for preemptive war, because he believes the Bible's exhortations against sin set for us a preemptive paradigm, and he is for ferocious war, because "the Bible's bloody. There's a lot about blood."
Killing for Christ. Just ask Stephen Cambone's right-hand man, General Boykin.
(Photo of Ted Haggard: Robyn Beck/AFP/Getty.)