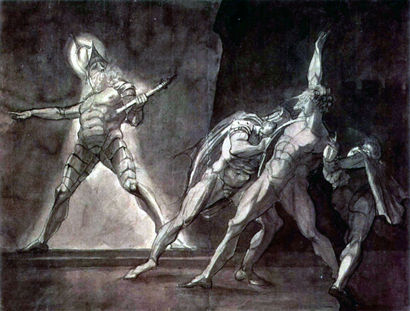 I missed this recent stream-of-consciousness by John Derbyshire. He sat down with a pot of coffee and a jar of cookies and watched Hamlet, empowered by the web's resources. After endless, amusing online digressions, Derb gets to the nub:
At last there is the play itself, ever fresh, ever fascinating, one of the greatest of all productions of the human imagination. It is of course about death—more exactly, about the soap-bubble-thin yet opaque membrane that separates this place from the other.  And Hamlet is of course us, all of us, each of us—a mirror.  Peter Saccio, in one of his Teaching Company lectures, pauses to remark that he, Saccio, a literary critic who spends his working days among students, has been describing Hamlet as a literary critic and a college student.

Caught up with Hamlet and his hesitations, I found myself thinking of the thing not done.  Does everybody have a thing not done?  Perhaps not.  I have one, and think of it daily—hourly, at dark times.  For most of us, the thing not done is far better left undone, carried in silence to the other place; but Hamlet's is too imperative.  After trying to keep his doubt alive by feeding it all the learning of the ages, and the new understandings of his own time, he goes and does the thing not done, taking us with him to the edge of the world.
(Painting of Hamlet and his father's ghost by Henry Fuseli).