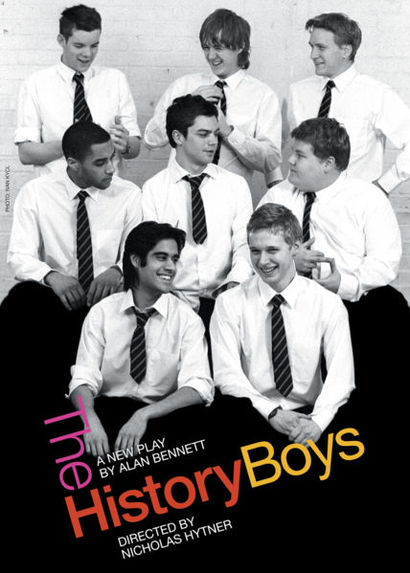 I went to see the Alan Bennett movie last night and I'm still somewhat discombobulated. I'd heard about the play but I didn't fully realize how personally it would hit home. It's set in a doppleganger of the school I went to - an all-boys, middling grammar school in middle England in the early 1980s. The school tie - dark blue with diagonal, thin white stripes - was identical to mine, at Reigate Grammar. The drama takes place around a group of sixth-formers taking their Oxford and Cambridge exams in 1983. I took my Oxford exam in 1981. As the boys go to Oxford for their interviews, I even saw shots of my old rooms at Magdalen. My subject was history, as was theirs'. I crammed Tudor Economic Documents into my overly-fertile brain, as they did into theirs'. I had a crush on the school jock, as the gay kid does in the movie. And I remember with great nostalgia the effortless male bonding and ribald camaraderie of the all-boys English school that the movie evokes beautifully. I was, in many ways, so happy then. Except, of course, my life was beginning to be torn apart by the issue of my homosexuality, which is, in another exquisite touch, the central plot of the play. The mixture of being totally accepted and yet not accepted, the peculiar experience of homosexual displacement, is hard to convey to outsiders, but Bennett does it brilliantly and funnily. It's strange to see one's own life filtered through another lens, scrambled and reimagined by the genius of Bennett's empathy and wit, and thrown at the screen with such scary precision and insight.
A line it from the lonely gay schoolboy was almost too much to hear: "I'm Jewish. I'm homosexual. And I'm in Sheffield ...  I'm fucked." Somewhere in my mind in those teenage years was a similar refrain: "I'm Catholic. I'm homosexual. And I'm in East Grinstead ... I'm fucked." But I wasn't fucked, of course. And not-to-be-fucked, not to turn into the tragic homosexual figure, memorizing "Brief Encounter," constantly chasing unrequited love, seeking refuge in the great worlds of Hardy or Larkin or Auden as a substitute for life: that was my goal. To be fucked in the right way, I guess - something that wouldn't happen, alas, for many years thereafter.
I never had a mentor like the play's Hector, played flawlessly by Richard Griffith, although various teachers in various ways gave me a sense of the deeper wider world of ideas, of truth, of learning. Bennett is brutal about my profession - journalism - and his point is unanswerable. We are the shallow men, we hacks. We are the shallowest of the hacks, we bloggers. And to be transported back to the days when one is "overwhelmed by the limitless invitations of a human existence", and when "the long littleness of life is yet undreamed," is to be reminded of what paths we didn't take.
But one path not taken I do not regret. The great achievement of the great homosexual creators of the past was their sublimation of excruciating emotional pain into erudition and pedagogy and integrity in the abstract world of vicarious living. You see the emotional wreckage of such a path in Hector's own bloated carcass of a body. The dehumanizing obesity of the character is the outward scar-tissue of inward emotional death. This, I recall, is what society demands I become. This, I recall insisting, I will not become. And I haven't. Neither has a generation. That is our tentative achievement so despised by so many. It is still fragile. It had to survive a plague and may be eclipsed by a looming spasm of religious hatred. But we have proved one thing that is worth proving: Happiness is an option. We need not be fucked for ever.