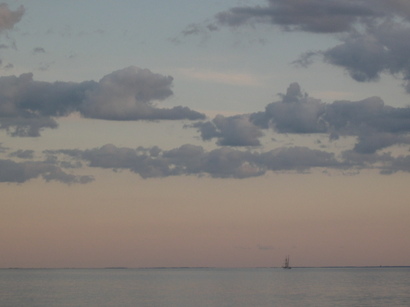 After a wonderful year of growth and innovation at Time.com, the Dish is about to move to a new mother-ship, the Atlantic.com. We'll be moving in two weeks' time, when my current contract with Time.com expires. If it seems odd to leave a place that has been so good to me, and to the blog, that's because it is. Time's editors were wonderfully supportive and never touched a word. I'm immensely grateful to them. They helped me add video and photography and a higher level of professionalism to the blog than I would ever have achieved on my own. They understood that marrying the new media to the old would be difficult, but they made it look easy. I'd like to thank in particular Jim Kelly, Steve Koepp, Cathy Sharick, Josh Tyrangiel and Rick Stengel for their support and talent.
But every now and again, an offer comes your way that seems so right a decision makes itself. There is no better proprietor in America than David Bradley, whom I have known and respected for years. And I know of no editor I'd rather work for and with than my old friend, James Bennet, who is the new editor of the Atlantic. Their combination of talent and integrity is very, very rare, and I'm lucky to join them.
I went through some research with this decision and one thing really clinched it. It's the founding Declaration of Purpose of the Atlantic Monthly. The magazine's history is a deep and distinguished one. It was founded in 1857 by Ralph Waldo Emerson, Henry Wadsworth Longfellow, Oliver Wendell Holmes, Sr., and James Russell Lowell (who would become its first editor). When they came up with a statement of principle, it ran as follows:
"In politics, The Atlantic Monthly will be the organ of no party or clique, but will honestly endeavor to be the exponent of what its conductors believe to be the American idea. It will deal frankly with persons and with parties, endeavoring always to keep in view that moral element which transcends all persons and parties, and which alone makes the basis of a true and lasting prosperity. It will not rank itself with any sect of anties: but with that body of men which is in favor of Freedom, National Progress, and Honor, whether public or private."
That's what this blog, at its core and at its best, is about; it's what the readers of this blog care about; and it's what the Atlantic stands for. The prospect of being part of taking this deeply American institution into a new medium in a new century is, for me, an English immigrant, a real honor and privilege. The blog retains its complete editorial independence, of course. You have that guarantee. But it will, I hope, be part of something bigger as well: a voice in a new conversation, dedicated to the American idea, of no party or clique, in pursuit of freedom, national progress, and honor. Come along, will you?