[Clive]
Here's a little festive series. Every Christmas, the newspapers and mags do their round-ups of the best new books. But what about titles from the past that people have either just discovered or re-read?  My "old" choice, by a long way, would be Norman Lewis's "Naples '44", an account of his experiences as a British Army intelligence officer in WW2.  I galloped through it this summer after seeing it mentioned in a Washington Post article about the aftermath of the Iraq war. I honestly can't recommend Lewis's book highly enough. It's a truly magical piece of work, tinged with tragedy and absurdity, yet full of beauty amidst the chaos.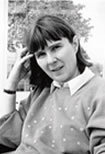 I've been asking my fellow-bloggers for their nominations.  First off is the writer, Susan Hill (left), author of the novel which inspired that long-running West End
hit
, "The Woman In Black". She has one of the most popular
lit-blogs
around, and is planning a "virtual" literary
festival
in the New Year.
"In 1924 Virginia and Leonard Woolf, at their Hogarth Press, published a novel which is a masterpiece, as great a novel, I dare suggest, as any of Virginia's own. It is called "The Rector's Daughter", its author was a young woman called F.M. Mayor and I have re-read it often and every, every time,  it comes up fresh and its greatness astonishes. It speaks the poignant, unbearably harsh truth about love the love between parent and child which may destroy a future; and the unspoken passion of a spinster for a man who suddenly becomes silly with infatuation for someone younger and quite unsuitable. Painful beyond bearing, acutely imagined and immaculately written, F.M. Mayor`s masterpiece is as impressive now as when VW took it on.  It is out of print again and I plan to re-publish it. It is too great a novel to be unavailable."