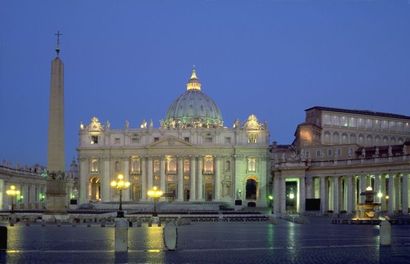 It's been almost a year since the Vatican decreed that gay seminarians had to be kicked out and that homosexual orientation, even if a priest kept every vow of chastity, was incompatible with the priesthood. At the time, Monsignor Tony Anatrella, a consultor to the Pontifical Council for the Family, provided an analysis of why this was the case in the Vatican's official paper, L'Osservatore Romano. Monsignor Anatrella explained that homosexuality risked "destabilizing people and society":
"Homosexuals are not in the adequate position to marry, to adopt children and to accede to deaconate and priesthood (only men in coherence with their masculine identity are able to receive the sacrament of the order in the name of theological and anthropological arguments, and not according to the historic and cultural determinism of a specific time) ..."
National Catholic reporter, John Allen, described Anatrella's gloss on the Vatican document thus:
"Candidates who present 'deep-seated homosexual tendencies,' that is, an exclusive attraction with regard to persons of the same sex (a structural orientation) - independently of whether or not they've had erotic experiences - may not be admitted to seminaries and to sacred orders," Anatrella wrote.

Anatrella criticizes the "permissive attitude" that says as long as a candidate is capable of celibacy, he may be ordained. In fact, Anatrella asserts that gay priests experience a whole host of other difficulties.

He offered these examples: "Closing oneself off in a clan of persons of the same type; exaggerated affective choices; [becoming] a narcissistic position in front of a community that [the gay priest] disturbs even to the point of dividing it; a mode of vocational discernment that seeks candidates in his own image; relations with authority based on seduction and rejection; … an often limited vision of truth and a selective way of presenting the gospel message; particularly in the areas of sexual and conjugal morality, these are habitually zones of relational and intellectual confusion and ideological combat, disapproved by a correct search for truth and the wisdom of God."

On a more theological level, Anatrella argues that gay priests cannot effectively incarnate a "spousal tie" between God and the church, nor the "spiritual paternity" a priest is supposed to exhibit.

While Anatrella's essay does not carry the weight of the original instruction, observers say it represents a quasi-official explication of its contents.
These words were among the most wounding to come yet from the Vatican toward gay people - and were posted on anti-gay sites like Free Republic. They sound not unlike evangelical Ted Haggard on the question, don't they?
Hmmmm.
Now, according to Rocco, the author of these assertions, Msgr Anatrella, has been named in a French civil suit accusing him of having abusive sex with a male client:
According to the complaint, filed on 30 October in Paris, a French ex-seminarian named Daniel Lamarca said that, while being treated by Anatrella in 1987, he had sexual relations with the cleric, who Lamarca went to in the hope of "curing" him of his homosexuality. The patient was 23 at the time and spoke of "bodily work" therapy sessions with Anatrella that, according to the accuser, would progress into sex.

The charges appear in an article in the French journal Golias under the headline "The Strange Methods of Dr Anatrella." Lamarca also claims to have informed the then-archbishop of Paris, Cardinal Jean-Marie Lustiger, of Anatrella's conduct. While the patient says he was promised that Lustiger would take action on the allegations, it was his finding that none was taken.
Whether the suit has any merit we will have to see. Anatrella is innocent before being deemed guilty. But one beings to wonder. How much homophobia - especially clerical homophobia - is actually created and sustained by closeted gay men in the Church hierarchy?
You can see how a gay man, given great power by a church wedded to the idea of the evil of homosexuality, might feel the need to be even more aggressive in fighting the notion that it is simply another way of being human. It does not surprise me how many ferociously anti-gay figures are gay themselves, or have family relatives who are gay. Their way of coping with reality is to lash out at those others who simply represent the contradiction of their ideology or theology: sane, adjusted happy gay couples. We are their targets. But in the end, they only truly victimize themselves.
(Photo: Andreas Tille via Wikipedia Commons.)