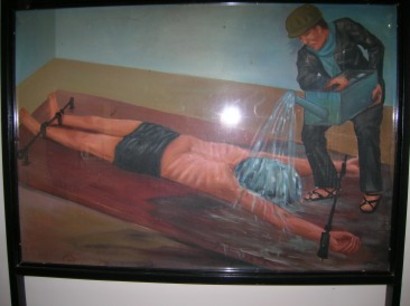 From the Washington Post today:
The Bush administration has told a federal judge that terrorism suspects held in secret CIA prisons should not be allowed to reveal details of the "alternative interrogation methods" that their captors used to get them to talk.

The government says in new court filings that those interrogation methods are now among the nation's most sensitive national security secrets and that their release -- even to the detainees' own attorneys -- "could reasonably be expected to cause extremely grave damage."
It couldn't be because they would reveal the Bush-Cheney-Rumsfeld policy of torture and abuse, would it? I've said it before but the possibility that these three men will one day face charges of war crimes is a distinct possibility. Their desperate attempts now to hide what they have done in our name is predictable. If you re-elect them, their abuse of power will only metastasize, as torture always does.