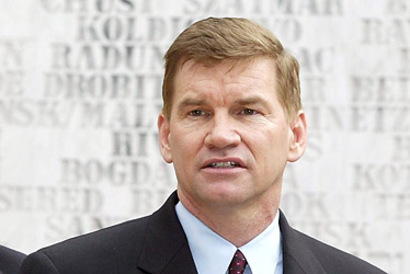 I didn't realize he was featured in "Jesus Camp," the disturbing documentary about scaring children into rigid fundamentalism:
Haggard put out the word to evangelical groups to avoid the film. In it, he is seen telling a crowd, "We don't have to have a debate about what we think about homosexual activity. It's written in the Bible." Shortly after that, Haggard looks mockingly into the camera to say, "I think I know what you did last night. If you send me a thousand dollars, I won't tell your wife." The crowd responds with peals of laughter. Then he says with a wide smile, "If you use any of this, I'll sue you."

Kent Lemburg, a gay massage therapist, says he knows Jones. "He'd always advertise himself in the back of Out Front," a local publication that is a directory and guide to the local gay scene. "He's a body builder. He definitely is an escort."
Clinical. And sad.
(Photo: Robyn Beck/AFP/Getty.)