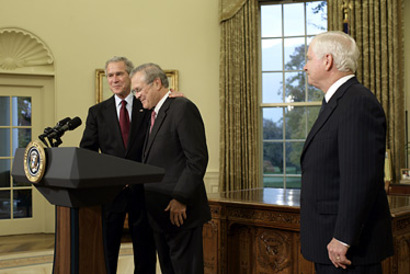 A reader writes:
He's ex-head of the CIA (a Russian expert), but there is one noteworthy thing about him: In the summer of 2004, Gates and former national security adviser Zbigniew Brzezinski co-chaired a task force sponsored by the Council on Foreign Relations that argued for opening a dialogue with Iran. The task force's report contended that the lack of American engagement with Iran had harmed American interests, and advocated direct talks with the Iranians.

"Just as the United States has a constructive relationship with China (and earlier did so with the Soviet Union) while strongly opposing certain aspects of its internal and international policies, Washington should approach Iran with a readiness to explore areas of common interests while continuing to contest objectionable policy," said the report, entitled "Iran: Time for a New Approach."

James Baker is also on record as suggesting a need to talk to Iran and Syria.  It seems to me that the realists in the GOP are coming into the ascendancy.
Daddy's back to clean up the mess. Between Gates and Baker, we may have to talk to Iran. What other options are there?
(Photo: Brooks Kraft for Corbis/Time.)