I keep thinking of the great Admiral Stockdale. Who am I? Why am I here? The blur of hotel rooms and radio studios and TV stations and airports and airplanes and saying things you believe but finding them making you numb and number. And I'm supposed to blog through this whole thing as well? Aaron (I might as well use my fiance's real name from now on) calls. "Stay the course," he quips. Heh. I miss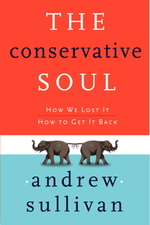 the dogs. I miss him. My mum's not feeling well and the cell phone cuts out at the wrong moment.  And my CPAP face-mask broke. And I left the room key in the room.
And then there are moments all the time when you meet people and you engage in conversation that reminds you why you're doing this, and what a privilege it actually is.
In the line to get her book signed the other day was a young woman who told me she was in a military academy. She told me that she was 20 years old, and that she had started reading this blog when she was thirteen. She smiled and said that she must therefore have spent a greater proportion of her life as part of the Daily Dish community than anyone else. We laughed. She told me she had read this blog back when the war seemed such a noble and vital thing and when I had been one of its foremost cheerleaders. She told me she still read it and felt much the same way I did then and understood why I thought differently now. Then she told me how worried she was, how her boyfriend was in Iraq, how she knew that what she was reading about the war was true, that she knew friends who were injured or faced death each day, and suddenly the tears welled. I had no human option but to stand up and hold her. And then her tears turned to sobs.
I draw from this one simple inference. We owe her the truth. We owe the painfully young men and women who are risking their lives for us and dying for us the truth. We owe their parents and siblings and spouses and children the truth. Not after the election. But now. When it counts. This is not something Jim Baker should decide in December. It's something Americans should vote on - now.