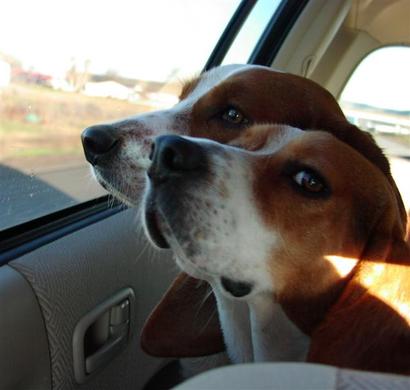 A reader writes:
I agree with your advice regarding the beagles.  I don't know how to make them behave, but I have some advice for disaster mitigation. My partner and I just moved into a new house over the weekend, and our adopted beagles, who have been doing pretty well for the most part recently, both promptly crapped in the only carpeted area of the house as soon as they arrived.

Fortunately, when the carpet cleaner was steaming the carpets (just the day before...), I took the advice of my extra-cautious girlfriend and requested some maintenance tips from him with regard to the little troublemakers. He said to use an enzyme cleaner, and do not follow the directions - use a lot of it - like 6-8 ounces, cover it with plastic wrap so that it doesn't dry out - and leave it there for 4 days. Apparently the enzyme needs to stay wet in order to keep working. And it won't turn moldy. We're just on day 2, so I'm crossing my fingers that the stains will be gone by Wednesday.

Our beagles - George and Elroy - were survivors of hurricane Katrina.  They came to us in January as a pair. We had planned to foster them temporarily, but you know how that goes. I've attached a pic of them from the last leg of their journey to Seattle.
Of course, there are also times when they pee in protest. My older beagle, Dusty, responded to my ex-boyfriend's first night staying over with exquisite directness. When we were making coffee in the morning, she simply got into the bed where he had slept and opened her bladder. When my fiance moved in, and we had a party for him, she took the opportunity to protest by walking nonchalantly into the middle of the crowd and squatting. Not much you can do about that. But soaking with enzyme-cleaner afterwards can help.