This Is An Actual Waterboard
David Corn has posted some pictures that help illuminate one of the techniques directly authorized by this president for use against military detainees. Check them out. Here's one: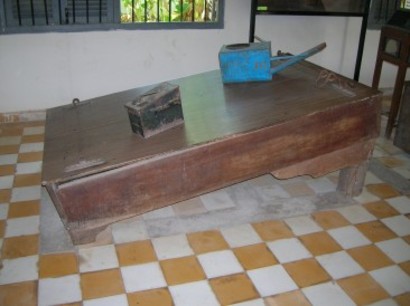 You can see how the CIA's official description makes sense now. Here it is:
"The prisoner is bound to an inclined board, feet raised and head slightly below the feet. Cellophane is wrapped over the prisoner's face and water is poured over him. Unavoidably, the gag reflex kicks in and a terrifying fear of drowning leads to almost instant pleas to bring the treatment to a halt."
Where do the photographs come from? David explains that they
are photographs taken by Jonah Blank last month at Tuol Sleng Prison in Phnom Penh, Cambodia. The prison is now a museum that documents Khmer Rouge atrocities.
This is America under this president. Look at it.