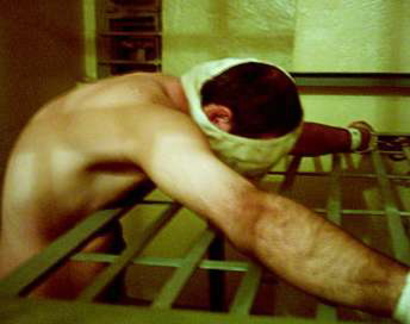 This is the term used by the CIA to describe one of the "alternative methods" that this president has authorized with respect to military detainees. The CIA's description is this:
Long Time Standing: This technique is described as among the most effective. Prisoners are forced to stand, handcuffed and with their feet shackled to an eye bolt in the floor for more than 40 hours. Exhaustion and sleep deprivation are effective in yielding confessions.
Here's another description of the technique:
Then there is the method of simply compelling a prisoner to stand there. This can be arranged so that the accused stands only while being interrogated - because that, too, exhausts and breaks a person down. It can be set up in another way - so that the prisoner sits down during interrogation but is forced to stand up between interrogations. (A watch is set over him, and the guards see to it that he doesn't lean against the wall, and if he goes to sleep and falls over he is given a kick and straightened up.) Sometimes even one day of standing is enough to deprive a person of all his strength and to force him to testify to anything at all.
Here's another:
"They would not let you rest, day or night. Stand up, sit down, stand up, sit down. Don't sleep. Don't lie on the floor," one prisoner said through a translator.
The second description is from "The Gulag Archipelago." The third is from Guantanamo Bay. One detainee at Gitmo, closely monitored by the administration, was chained to a chair and not allowed to move even while medics had to pump three bags of saline into him to prevent him from passing out. Others have been forced into "stress positions" as illustrated above, or forced to stand with their wrists manacled to bars or a ceiling so they can never rest; or with their feet or hands manacled to a bolt on the floor so they cannot move at all for long periods of time. You can read several side-by-side comparisons of Bush's methods and the Soviet techniques documented by Solzhenytsen here.