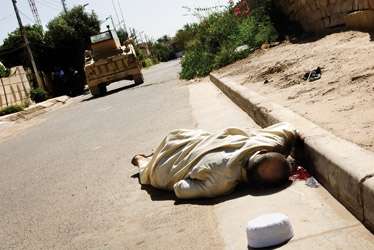 From the NYT this morning:
Security in the capital has deteriorated precipitously in recent months. Increasingly brazen assassinations torment neighborhoods and no longer seem to follow any obvious patterns. In May, the Baghdad morgue recorded the highest number of bodies received since the beginning of the war: 1,375, approximately double the toll of May 2005.
This isn't spin. There's no data as hard as corpses. And by that measure, Baghdad is half as secure as it was a year ago. Rumsfeld's strategy has unleashed spiraling anarchy.
(Photo: Franco Pagetti for Time.)