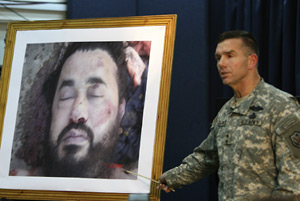 I don't want to de accused of being excitable, but Maliki's sense of timing really does show a sure political touch. The announcement today of the completion of the Iraqi cabinet is in some ways more significant than the killing of Zarqawi. The combo is an energizing jolt to morale:
Bolani, a Shi'ite, and Jassim, a Sunni who until now served as Iraqi ground forces commander, pledged to improve security for all Iraqis.
The legislature also endorsed a Minister for National Security - Shi'ite Sherwan Waeli.
The new defense and interior ministers -- who both worked in the armed forces during Saddam's rule -- will be under pressure to start tackling the kind of bombings that brought more death and mayhem to the Iraqi capital on Thursday.
And how not to be delighted by the al Jazeera spin? Money quote:
Reacting to the killing of Abu Mus'ab al Zarqawi in Iraq, pro-Jihadi commentators on al Jazeera rushed to assert that the "death of Zarqawi won't weaken al Qaida but will actually unify the organization." Abdelbari Atwan, the editor of al Quds al Arabi accused Jordanian and US intelligence of penetrating the inner circles of Zarqawi and were successful in getting to him." He added that the killing of Zarqawi was coordinated with the appointment of the ministers of defense and interior in Baghdad.
Coordinated? The only thing that seems to have been coordinated in Iraq for a while have been murders and bombings. That just changed. We shouldn't get our hopes up too high, because the murders continue, the sectarian bitterness lingers, the government has only just been formed. But the end of Zarqawi and the beginning of the first truly national government are signs of great hope, just when it apppeared there might be none. Courage. Patience. Criticism.
(Photo: Ceerwan Aziz/Reuters.)