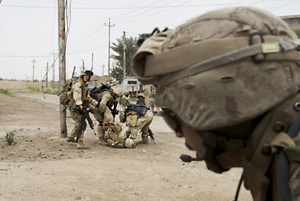 Amazing reporting from Michael Ware in Iraq embedded with the men of Kilo Company, 3rd Battalion, 8th Marines. Money quote:
The city remains a stronghold of insurgents loyal to Abu Mousab al-Zarqawi, the leader of al-Qaeda in Iraq, who U.S. intelligence believes is hiding in an area north of the city. In recent weeks, the soldiers and Marines in Ramadi have come under regular assault, forcing commanders last week to order reinforcements to the besieged city. In the past year, the Army's 2/28th Brigade Combat Team, the unit the Marines are attached to, has lost 79 men in Ramadi--yet the brigade's commander, Colonel John Gronski, says, "The level of violence remains about the same."
But these guys fight on. And the war is not yet lost.
(Photo:Yuri Kozyrev for Time.)