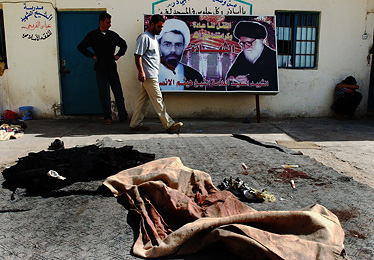 "I get a call the other night. They've found four more bodies in western Baghdad. They're bound, hands and feet. They're blindfolded. They've been shot in the head. Their bodies bear wounds from beatings and electrical burns, and someone has used a drill on their flesh. That's just one phone call. I get a few more. Every night it seems, dozens of bodies turn up, both Shiite and Sunni, often killed in the same fashion.
We spoke with a journalist recently who works for an Iraqi television station. For the last nine days, he's been sleeping at the office. He's been threatened with death because of his work and he doesn't want to bring the danger home to his parents and six sisters. He told the Ministry of the Interior about the threat. They told him to get a gun," - NPR's Baghdad producer JJ Sutherland, today.
(Photo: Wathiq Khuzaie/Getty.)
We want to hear what you think about this article. Submit a letter to the editor or write to letters@theatlantic.com.