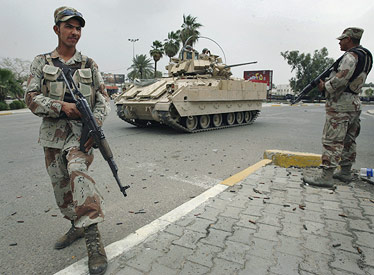 They're grim. 100,000 families have so far been forced to flee their homes; U.S. fatalities were sharply up in April; 8,300 civilian Iraqis were murdered by terrorist insurgents in 2005. In terms of civilian deaths, adjusted for population size, Iraq endured something like twenty-five 9/11s last year. Let's put it another way: a territory controlled by U.S. forces accounted for 50 percent of deaths caused by terrorists on the planet last year. If that is a successful military occupation, then I'm not sure what failure would be. I guess I should ask Powerline.
(Photo: Thaier al Sudani/Reuters.)
We want to hear what you think about this article. Submit a letter to the editor or write to letters@theatlantic.com.