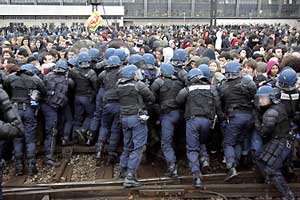 If the French cannot accept even the teensiest attemp to bring market discipline and free labor markets to their over-regulated economy, then they need no longer be considered a nation with a future. They are a nation committing an extremely slow suicide by suffocation. The suffocation is caused by an overdose of insecurity. Its only cure is nerve. But nerve was never a very common French trait, was it?
(Photo: Chistophe Ena/AP)
We want to hear what you think about this article. Submit a letter to the editor or write to letters@theatlantic.com.