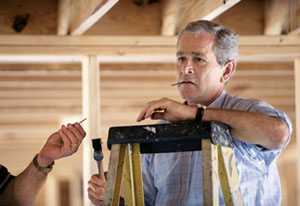 We have a missing link. No, I don't mean the post-fish. I mean the Bush connection in the Plame leak. It turns out that, according to Libby, it was the president who first sanctioned the leak of the NIE data to discredit Joseph Wilson. Money quote:
"Defendant testified that he was specifically authorized in advance of the meeting to disclose the key judgments of the classified NIE to Miller on that occasion because it was thought that the NIE was 'pretty definitive' against what Ambassador Wilson had said and that the vice president thought that it was 'very important' for the key judgments of the NIE to come out," Mr. Fitzgerald wrote.
Mr. Libby is said to have testified that "at first" he rebuffed Mr. Cheney's suggestion to release the information because the estimate was classified. However, according to the vice presidential aide, Mr. Cheney subsequently said he got permission for the release directly from Mr. Bush. "Defendant testified that the vice president later advised him that the president had authorized defendant to disclose the relevant portions of the NIE," the prosecution filing said.
Just a small point. Cheney's judgment in this matter is extremely odd. Who really cared about Joseph Wilson's op-ed? Why the extreme defensiveness and then recklessness of the Plame leak? We're either talking extreme hubris here, or someone who felt he had a lot to hide. Or an admixture of the two.
We want to hear what you think about this article. Submit a letter to the editor or write to letters@theatlantic.com.