You Hurt My Feelings Is a Hilarious Anxiety Spiral
The film traces a betrayal that's trivial, comical, and also completely devastating.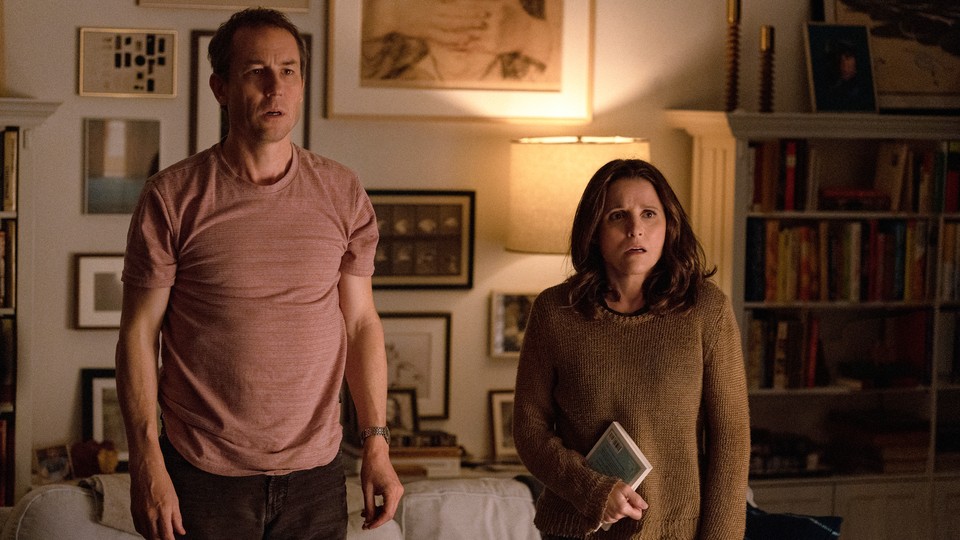 There are no Earth-shattering battles in Nicole Holofcener's You Hurt My Feelings—no vehicular duels to the death, or time-traveling invaders, or portals in the sky, or whatever other epic calamities this summer's blockbusters will be offering up to cinemagoers. But the stakes still feel apocalyptic. The plot is set in motion when Beth (played by Julia Louis-Dreyfus), a teacher and writer who is working on a new novel, overhears her husband, Don (Tobias Menzies), offhandedly confess a dark secret to someone: He doesn't think her latest manuscript is very good. Upon hearing this, Beth spirals into pure existential anguish, and it doesn't feel unearned.
For decades, Holofcener has made movies about upper-middle-class intellectuals hurting one another's feelings; her body of work includes some of the most enduring indie satires of a generation. Yet she's hugely underrated, perhaps because her films tend to be about slight subjects, or perhaps because comedy-dramas have become embarrassingly scarce in Hollywood these days. But although Holofcener's subject matter is trivial, her films don't feel disposable. You Hurt My Feelings is droll, but it's also an (appropriately titled) emotional roller coaster. Its adroit quality mirrors all of Holofcener's best work, including the devastating Lovely & Amazing, the spiky Please Give, and the beautifully melancholic Enough Said, in which Louis-Dreyfus plays an analogue for the writer-director.
You Hurt My Feelings also has a self-reflective tinge. Holofcener has said the movie is not autobiographical but about a chilling what-if that she's long harbored: What if the people she most trusted did not, in fact, enjoy her work? What if the back pats and supportive comments she got from her closest friends and family were phony? Don makes just one glib critique, nothing more, but it is enough to make her doubt her entire career—a nightmare that's both deeply relatable and undeniably, hilariously outsize.
The reality is that Beth doesn't really have much to complain about. She enjoys a nice New York City life with a well-appointed apartment, a reliable sister named Sarah (Michaela Watkins), a steady teaching job, and a husband and a son who both seem devoted to her. But Holofcener cleverly adds tiny cracks of insecurity to every character arc. Beth and Don's partnership is in a bit of a rut; they give each other the same kinds of boring anniversary gifts year after year. Beth's son, Eliott (Owen Teague), is a sensitive soul lost in a dead-end job at a marijuana vendor. And Sarah is worried about her husband, Mark (Arian Moayed), and his long-term prospects as a struggling actor.
Holofcener meticulously colors in these details, along with the looming presence of Beth's mother, Georgia (a hysterically imperious Jeannie Berlin), and Don's misgivings as a therapist whose patients seem dissatisfied with his work. When Beth accidentally hears Don's criticism, the admission is an atom bomb that exposes everyone else's buried anxieties. Meanwhile, Beth now fears that she'll never trust her husband again, even though his transgression was, in theory, quite minor.
Louis-Dreyfus is a master at selling a visceral sense of hurt against a comedy-of-errors backdrop. I was reminded of her similarly blistering work in the largely forgotten Downhill, another portrait of a fracturing marriage. That film didn't really work, but she had an outstanding star turn as someone wrestling with a violation. In You Hurt My Feelings, the violation is far shallower, but Holofcener traces its fallout with enough nuance to transcend accusations of pettiness. Yes, the only things getting hurt in this movie are feelings—but for some of us, no scenario is more terrifying than that.