Suga of BTS's World Tour Is Pop Subversion at Its Finest
In the U.S., the first member of the group to stage solo concerts delivered a thrilling declaration of artistic individuality.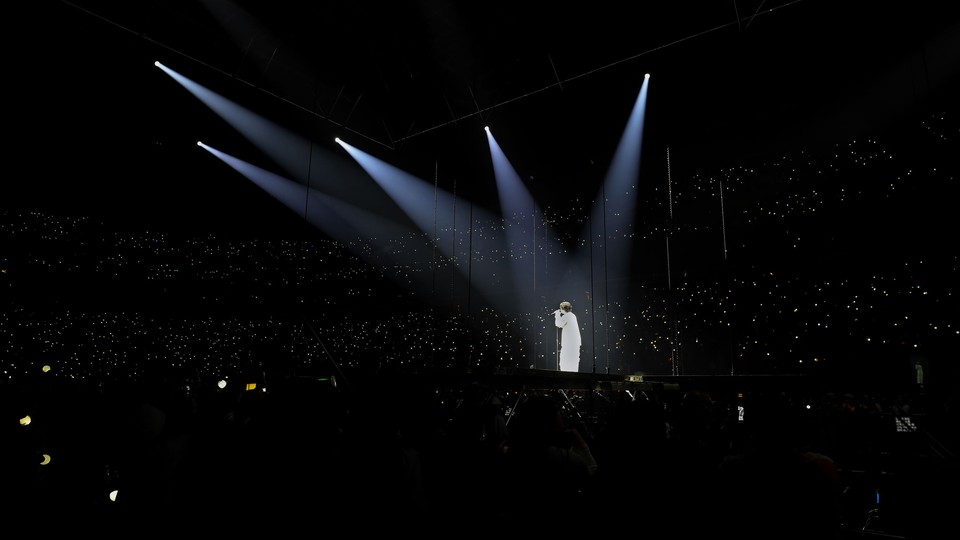 Four hooded figures seemed to float down the stage, through the soft exhalations of a fog machine. On their shoulders, they carried a body clothed in black. Rain and lightning flashed a clean white on the screen behind them. When the man was finally laid on the ground, what followed looked like a resurrection: The spotlights found him, screams rose, and at last he stirred. Then he raised a microphone to his mouth.
This rock-star Lazarus was Min Yoongi, better known as the rapper and songwriter Suga of the Grammy-nominated, chart-topping South Korean group BTS. But none of his bandmates were onstage that night at UBS Arena, on Long Island, New York, because it was the first date of his solo world tour. Since last summer, the members have been focusing on individual projects as each prepares to complete his mandatory military service. The first in BTS to do a solo tour, Suga was also performing as Agust D, the name he adopted in 2016 for making music that was darker, more raw, and more personal than his group work. Last month, he released his studio album D-Day, the powerful conclusion to his trilogy of Agust D records, which delivered social critique and meditations on trauma, fame, mental illness, alienation, and forgiveness.
Suga's ongoing tour, also titled D-Day, is the first real showcase of his oeuvre, and, on the sold-out U.S. leg of his tour, it felt like a declaration of artistic individuality more than a decade in the making. His concerts exploded with frontman energy and auteurist flourishes. But his most striking achievement was embracing pop music's empathy-fueling potential while resisting its dehumanizing effects.
All 11 of his U.S. tour dates, which wrapped Wednesday night in Oakland, California, began with a short film that ended with Suga lying on a road in a thunderstorm. This was a reference to when he was hit by a car while working in Seoul part-time as a delivery boy to support himself while training to debut with BTS. The crash left him with a painful shoulder injury that continued to dog him even as BTS went on to achieve international fame. The segue from the video to the real-life Suga being carried onstage, seemingly lifeless, was smooth yet jarring—a reminder of the human vulnerability of a pop star whose fans camp outside concert venues for days.
When I saw Suga on that first night, at UBS Arena, as well as the final U.S. night, at Oakland Arena, his show challenged expectations of what a pop concert can do. On one level it was a dynamic hip-hop show, put on by a technically proficient rapper who as a kid would sample the Japanese composer Ryuichi Sakamoto's music to make his own beats. Suga set the tone for the evening with "Haegeum," whose title refers both to a Korean string instrument and to the notion of lifting a ban on something that was forbidden. "Endless influx of information prohibits freedom of imagination / And seeks conformity of thought," Suga rapped in Korean. "Slaves to capitalism, slaves to money, slaves to hatred and prejudice / Slaves to YouTube, slaves to flexin'." The haegeum's haunting strings and a deliciously grimy bass vibrated the air. Though the track was written entirely in Korean, the crowd roared the lyrics back to him. He practically entered a hypnotic state while running through a rap-heavy opening sequence with the defiant "Daechwita" and the earlier fan favorites "Agust D" and "Give It to Me."
Before the audience could get too settled, Suga brought out his acoustic guitar, its body decorated with messages and drawings from the other six BTS members. He'd only learned to play the instrument during the pandemic, so his unplugged version of "Seesaw" cut a sharp contrast to previous performances of the song, which featured choreography, backup dancers, and an elaborate set. His effortless swagger during the earlier hype songs gave way to the quieter spectacle of Suga in singer-songwriter mode. Later, he sat down at an upright piano and performed his own version of the 2020 BTS track "Life Goes On" and, in a particularly emotional moment, a solo rendition of the song "Snooze," which features the singer Woosung and the late Sakamoto. A clip of Suga and Sakamoto's sole meeting, from late 2022, played beforehand on the big screen—the older musician playing the song on a grand piano while the younger man tries to contain his joy. Sakamoto's presence on "Snooze," one of his final collaborations, was especially poignant to Suga, who idolized him and wrote the song to comfort younger struggling artists.
Again and again, D-Day allowed Suga to experiment in ways that he hadn't been able to with BTS, and it was thrilling to see. Yes, he was still clearly a seasoned entertainer, who knew how to command the attention of tens of thousands of people, who could jump around a stage rapping without appearing to take a breath, as during the exhilarating medley of BTS rap songs in the middle of the concert. And at two Los Angeles shows, he welcomed guest appearances by the American singers Max and Halsey for their respective collaborations. But his subversive choices stood out too. The concert was interspersed with short films that evoked the dream logic of David Lynch and the grainy aesthetic of grind-house movies, telling the story of the musician's three identities: the pop idol Suga, the shadow self Agust D, and the human Min Yoongi. The ultimate artistic aim of the concert seemed to be to clarify each of these distinct selves to the audience while recognizing that they must all exist together. Seeing him perform his solo BTS songs, including "Interlude: Shadow," as well as his verses from tracks with the other BTS rappers, affirmed that he wasn't looking to reject his past but instead was proud of it. After all, it had taken him to South Korea's Blue House, America's White House, the United Nations General Assembly, and the Grammys stage.
In another fascinating production choice, throughout the show, pieces of the extended stage were pulled to the ceiling by chains, giving Suga less and less space to perform, requiring him to navigate the platform more carefully. For his last pre-encore song, "Amygdala," he stood on a lonely-looking square as fire blazed all around him, a terrifying prison. The centerpiece of the D-Day album, the emo-rap track serves as an origin story for the alter ego of Agust D, referencing his life's defining traumas—the car accident, his mother's heart surgery, and his father's liver-cancer diagnosis—and how they shaped him. During the song's final lines, apparently depleted, he collapsed on the ground, and the hooded figures returned to carry him away. Only this time, he wore all white, as though he'd been cleansed, his catharsis complete.
---
By the encore, all of the stage pieces had been removed, revealing the technical equipment that had been hiding beneath it. Scattered about were fire extinguishers, electrical cords, pyrotechnic devices. No longer elevated above the crowd, Suga performed his last few songs at ground level, right in front of fans, sometimes grabbing their phones and filming himself. These last moments were bittersweet: Much of the audience knew that after the tour ended in Seoul in late June, Suga would begin his military service for at least 18 months. That reality made the concerts feel like a temporary farewell. Fans' glowing lightsticks rippled like a single wave throughout the arena. Every so often, carried by a feral energy, the crowd would start barking, making Suga gawk or laugh. In Oakland, he told the audience that he would return with the rest of the BTS members, asking fans to wait just a little longer.
On the tour's first night, one more surprise awaited. I had assumed that the final song would be something sentimental or light-hearted. Instead, Suga walked over to an ominous circle of video cameras, stood right in the middle, and began murmuring the opening bars of "The Last." This song, off his first mixtape, is one of his best and one of my favorites. It's also a song I have a hard time listening to these days. On "The Last," Suga raps about his OCD, depression, and social anxiety. His delivery starts out low and subdued and gradually grows more desperate; by the end he sounds like he's somewhere between screaming and crying. When I first heard it years ago, I recalled my own unceasing panic attacks and the suffocating desire to die. The song lodged itself in my heart, a welcome shard.
In recent years, Suga has made more music about growth, about self-love and being okay with uncertainty and suffering. He spoke early during the concert, in English, about wanting to perform with less anger, highlighting songs such as "SDL," "People," and "People Pt. 2"; these tracks painted a portrait of someone with a great capacity for measured reflection, forgiveness, and humility in the face of life's challenges. I understand that too: The relief of no longer hurting so badly, of discovering healing on your own terms. So when I heard the first lines of "The Last" ("On the other side of the famous idol rapper stands my weak self, it's a bit dangerous"), I froze. What was he doing? Those cameras—arrayed like a surveillance system, transmitting the videos to the screen above him—devoured and projected the anguish he was performing, suggesting that I was devouring it too.
But after a minute, I understood. Though he rapped with the same breathless passion he did as a striving 23-year-old, I realized that he wasn't performing with pure fury but with an anger tempered by time. This emotion was no less powerful or sincere, but it was less damaging to the person communicating it. These days, he could stand in the flames and feel their heat, but not be consumed by them. He could connect with his younger self without fully becoming that person again.
Then the spell was over. The moment the song ended, the house lights went up so that we could see him walking in silence offstage. No goodbye, no drawn-out thank yous and waves to the cheering audience. Not even a glance backward. On the first night, people exchanged confused looks, shocked by his sudden exit. You could perhaps see this whole finale as a quiet confrontation with an audience, a grand assertion of the self by a beloved artist. But if it was a confrontation, it was one rooted in trust rather than condescension. Trust that the audience can sit with discomfort, that they're self-aware enough not to be offended or horrified by what he's showing them.
It was the perfect ending. A concert that began in darkness and mythmaking ended in light and exposure. Suga started the show being carried by others; he ended it by carrying himself out. What more could we want? He had just shown us everything.