Fast & Furious and Pretty Stale
The franchise's formula—merciless villain and world-threatening chaos, plus cars—just isn't landing like it used to.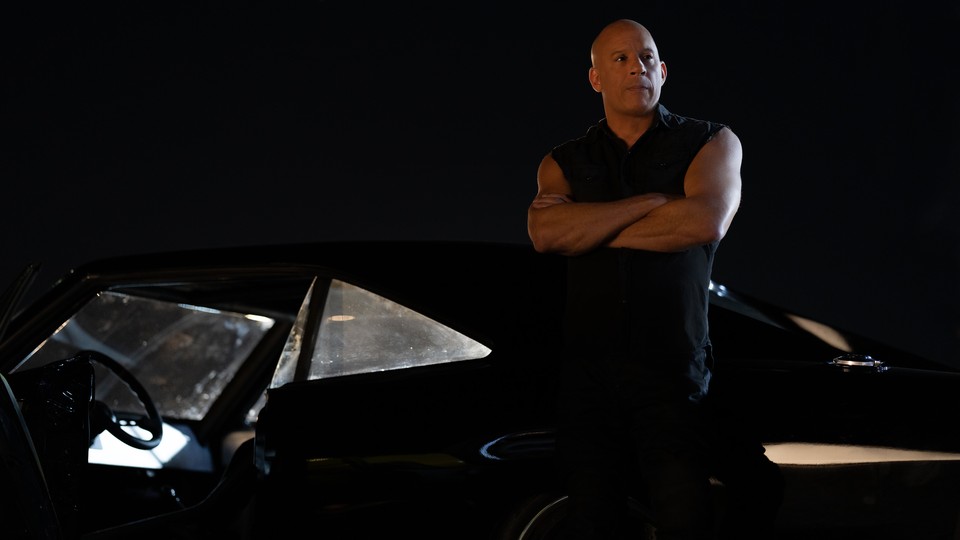 We should have known something was wrong when Dominic Toretto started drinking a different brand of beer. The hero of the long-running Fast & Furious series, Dom (played by Vin Diesel), has always been known for three things: his fearless skill behind the wheel of a car, his fierce loyalty to his family, and his fondness for an ice-cold Corona. That is, until 2017, when the franchise's eighth entry, The Fate of the Furious, saw Dom and his crew drinking—heaven forbid—Budweiser. That mistake was corrected in the follow-up, F9, but it was a subtle sign that the saga was losing its grip on the mythic, silly internal logic that made it so special.
Now there's Fast X, the 10th and by far the creakiest trip for Dom and company, who started out as brash young car thieves in 2001's The Fast and the Furious but have since evolved into a cadre of vehicular super-spies repeatedly endeavoring to save the world. Fast X, directed by Louis Leterrier, follows the series's standard formula: stacking Dom and his pals up against a merciless villain who wants to blow them up while also driving a car. But the sweet, coarse sincerity that once made these films sing is gone, replaced with jokes and stunts that feel patched together from earlier, better franchises.
Part of that is due to the departure of Justin Lin, the closest thing the Fast & Furious movies have to an auteur (apart from Diesel himself, whose behind-the-scenes influence is reportedly substantial). Lin directed entries three through six and nine in the Fast saga, and he always kept the varied ensemble and absurd set pieces somewhat grounded, especially after the disastrous eighth film. He is credited as a writer and producer on Fast X, but he quit as director just days into production, handing the reins to Leterrier, a significantly inferior action craftsman.
Problem A is the film's villain, a preening gangster named Dante Reyes (Jason Momoa), who is introduced as the son of Fast Five's Brazilian drug lord, Hernan Reyes. Seeking revenge for his father's defeat, Dante frames Dom and his friends for a bombing and sends them on the run. He torments their families, all the while monologuing with the goofy energy of a karaoke emcee. Momoa can be an imposing and charismatic screen presence, so his performance, which reads more Disney-sidekick crook than fearsome foe, is notably perplexing. Even when he's threatening Dom's loved ones with actual bodily harm, his buffoonery is just tough to take seriously.
But the bigger issue is the story's arc—or lack thereof. Even by the franchise's easy-breezy narrative standards, nothing happening on-screen has a particular purpose. Dom mutters his usual maxims about family being important and then spends most of the film separated from his, speeding around furiously as he futilely tries to take down Dante. Dom's wife, Letty (Michelle Rodriguez), is kidnapped and held in an underground prison alongside the crafty villainess Cipher (Charlize Theron), who has now been in three of these movies yet has accomplished zero impressive evil deeds. The rest of the core group—Roman (Tyrese Gibson), Tej (Ludacris), Ramsey (Nathalie Emmanuel), and Han (Sung Kang)—bounce around, scratch their heads at the chaos befalling them, and endure cameo appearances from the likes of Pete Davidson.
Perhaps most insulting, the main antagonist of F9, Dom's brother, Jakob (John Cena), pops up here as a cheerful protector of Dom's son, all smiles and groan-inducing one-liners despite having spent the entire previous movie trying to kill everyone. Yes, the Fast saga has pulled this kind of switcheroo many times before—the British master spy Deckard Shaw (Jason Statham) originated as a homicidal maniac way back when—but never quite so shamelessly and quickly. Cena is a lovable performer. However, he appears to be playing an entirely different character now, just so he can join in the high-fiving and Corona-swigging.
Jump aboard, Cena, but be warned: The bandwagon is about to bust. Fast X is being billed as the beginning of the end; the next planned entry will function as a grand finale. Consequently, this movie doesn't even bother to wrap up its storylines—instead, it signs off with a bunch of gratuitous cliff-hangers. At this point, Dom can stay dangling on those plot cliffs, for all I care. If I return for Fast XI, or whatever numeral it gets assigned, I'll be there for the same reason these characters keep driving around angrily: grim professional obligation.