We Still Don't Know Anna Nicole Smith
A new Netflix documentary offers glimpses of the tabloid star but fails to reckon with the forces that ruined her.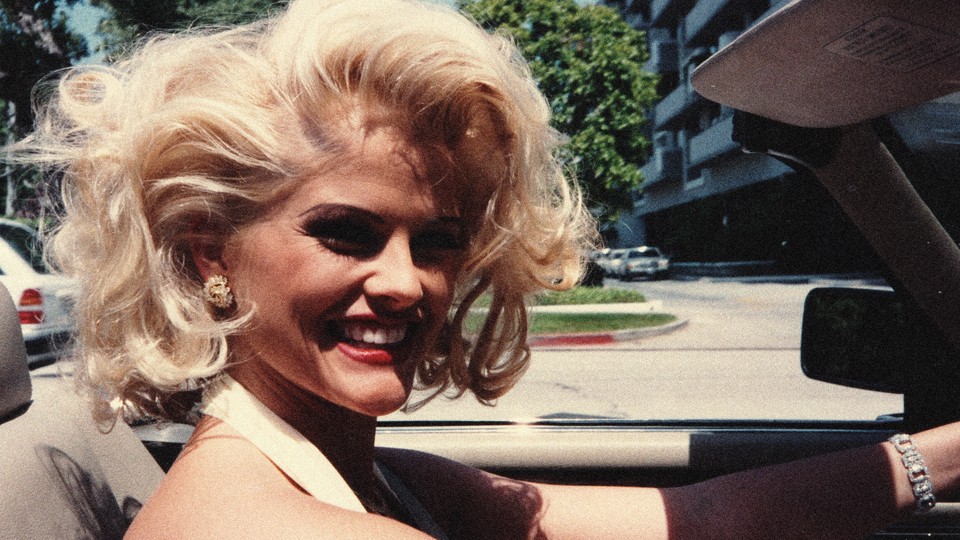 The most notorious video of Anna Nicole Smith—and, to be clear, the category is competitive—emerged in early 2007, about two weeks after she died from an overdose of prescription drugs. Shot a year earlier in the Bahamas, when the Playboy model, diet-pill spokesperson, and object of tabloid obsession was eight months pregnant, it shows a near-catatonic Smith having clown makeup applied to her face by a 9-year-old girl named Ryley. Behind the camera is Howard K. Stern, Smith's lawyer and longtime companion. Stern repeats questions that Smith, nodding in and out of sentience, struggles to process. When she does speak, it's in a grotesque baby voice, her words slurred into garble. She denies that she's pregnant. Her baby, she tells the camera while pointing to Ryley's inanimate doll, is way over there. Her oversize belly, she insists, is just "a little gas." Later, Ryley, disturbed by Smith's seeming conviction that the doll is a real infant, observes that Smith is having "brain trouble." Stern keeps rolling. "This footage is worth money," he says, to no one in particular. "I think we need the hospital," Ryley says. "Howard, seriously, please help." He ignores the child and carries on filming.
When the video leaked in February 2007, it was during a moment when tabloid intrusion into the lives of celebrities had never been more frenzied, or more callous. (Splash News, a paparazzi agency, actually gloated on its website about selling exclusive footage to Entertainment Tonight of Smith's body having CPR administered.) A little more than a week after Smith died, Britney Spears shaved her head in a hair salon in the San Fernando Valley. A few days later came the clown video, teased in a Radar post with the headline "Drugged and Pregnant Anna Nicole Tape Too Hot for TV," alongside a photo of Smith with the caption "Baby Got Smack?" As snippets from the tape first emerged—in prime time on Fox News—they were so nakedly shocking that even the most avid rubberneckers couldn't help but be nauseated by what they saw. Here was the destructiveness of mass voyeurism laid bare: the American bombshell, heavily expecting and manifestly doped up, defaced with cartoonish face paint; the disturbed child; the man calmly capturing everything on film, calculating his payout.
Multiple narratives accompanied Smith during her life. She was, chronologically: the gold digger who married an 89-year-old Texas oil billionaire when she was 26; the small-town girl turned Guess jeans model and the luminous blonde who poked fun at herself in movies such as The Hudsucker Proxy and Naked Gun 33 ⅓; the party animal who eagerly posed for photographers in various states of disarray; the train wreck whose yo-yoing weight drew widespread derision until it scored her an endorsement deal with a dubious diet supplement, TrimSpa; the pitiable tabloid fixture whose exploits never stopped making other people money. Then there were the lawsuits against her ex-husband's family, who shut her out of his will. The reality show, in which Smith stumbled and belched her way through contrived scenarios while a record 4 million people watched. The hotly debated pregnancy and the contested paternity of her baby daughter. The awful, awful death of her 20-year-old son from an accidental overdose while Smith was still recovering in the hospital from her C-section. ("We can't get enough of Anna Nicole Smith's mama dramas," the New York Post said at the time.) The "wedding" to Stern, staged just over two weeks after Smith's bereavement, photos of which were sold for more than $1 million. Her own death, which almost felt inevitable, so giddily had the media been cheering on her undoing.
We're comfortably ensconced in our revisionist era now, which is what makes Anna Nicole: You Don't Know Me, a new documentary on Netflix, so perplexing. The movie, directed by Ursula Macfarlane, seems bent on exploring who Smith really was, arguing that she was much more capable, intentional, and—yes—calculating than she's given credit for. It's a strange line of inquiry that requires selective attention to history. The clown video, for instance, in which a palpably incompetent woman is exploited in the most transparent fashion imaginable, isn't included in the movie. There's no mention of the legal and criminal cases that preoccupied the media for years after her overdose—how, according to one Reuters report, more than 1,800 pills and a bottle of the sedative chloral hydrate were prescribed to her under a variety of names, by a single psychiatrist, in the five weeks before her death. So many drugs, in fact, that a pharmacist warned Smith's doctors that they amounted to "pharmaceutical suicide," and that she shouldn't be given chloral hydrate "unless you want your picture on the front page of the National Enquirer." (Smith's psychiatrist Khristine Eroshevich, was found guilty in 2009 alongside Stern of multiple criminal charges, including prescribing drugs to an addict. The charges for both were subsequently dismissed in 2011; one charge against Eroshevich was reinstated four years later. Smith's doctor Sandeep Kapoor was also charged, but was acquitted in 2010 on all counts.)
There's barely even a mention of Stern—a strange, stolid figure who abandoned his law practice in 2002 to become Smith's unpaid companion and reality-TV co-star, spearheading her legal fight to access her late husband's fortune, doling out her pills, and brokering her image. (While Smith was still grieving her son, Stern sold graphic footage of her C-section to Entertainment Tonight.) The movie's thesis seems to be that Smith was—contra whatever you may have heard—in charge of her own destiny. "Howard did not control everything," Smith's former bodyguard Maurice "Big Moe" Brighthaupt tells the camera. "Anna was in control of everything." It's a nice, empowering declaration. But given that virtually everyone interviewed in the movie has their own self-exculpatory reasons for wanting Smith to own what happened to her, it's a tough argument to swallow.
---
Dig a little deeper too, and the movie's thesis is striking. Suggesting that Smith was more empowered than she seemed at the time also means implying that actually, this particular woman actively embraced and maybe even deserved how she was treated by the media during one of the ugliest decades in celebrity history. This was a moment when magazines and photographers went to the most extreme means to expose stars, and when any famous woman's face would inevitably have ejaculate doodled next to it at PerezHilton.com. In seeking to uncover who Smith really was, Macfarlane discovers that she could be sweet, a loving mother, and irresistible company. But she could also be a manipulative liar who co-opted a friend's abusive childhood for her own life story and threatened her elderly husband that if he woke her up with his insistent phone calls again, "I'm gonna knock you out when I see you." Smith's famously messy appearance at the 2004 American Music Awards, in which she struggled to get through an introduction for Kanye West, was staged for the cameras, Brighthaupt argues. "I didn't even have to do a sex tape!" Smith said in a TV interview, clutching her dog and wearing a bedazzled TRIMSPA necklace. "I'm getting all this attention." Macfarlane concludes her movie with footage of Smith's late mother explaining that Anna courted bad press because it made her infinitely more money than positive coverage.
To its credit, Anna Nicole: You Don't Know Me does convey some of the glaring power of Smith's magnetism, before she became so entrenched as a punch line. We see her in the '90s, in a blue floral sundress, fresh-faced and gawky as a calf, showing a videographer around her hometown of Mexia, Texas. Hopelessly flirtatious any time she sees a camera, she winks and poses and licks her lips in pure ham, but her schtick is undercut by the auspicious accident of her face. For whatever reason, she has a face you can't look away from. Features that might be considered unfavorable on their own—the jutting chin, the predatory eyes—become, when combined, something otherworldly. Paired with her statuesque size—she was almost 6 feet tall—and her unfashionable-for-the-'90s curves, it's easy to remember why she was so famous that her death received nonstop coverage on every cable-news network.
Macfarlane sketches out the broad beats of Smith's career: how she fled the husband she'd married at 17 with her baby, Daniel, in tow, to audition for a job at a Houston strip club; how she met the oil tycoon J. Howard Marshall but refused to marry him until she'd made a name for herself; how she found fame as a pinup in a blink but struggled to break through as an actor. Even at the time, she was considered too big for Hollywood (a Vanity Fair feature from 1993 marveled that a 5-foot-11-inch woman would dare weigh 140 lbs), too blond and too busty to be anything more than an object. After a few years of career slide, Smith resurfaced with her reality show, whose tagline was "It's not supposed to be funny, it just is." Visibly stoned, she toured houses with stunned real-estate agents, challenged her family to an eating contest, and slurred conversationally at an urn containing her late husband's ashes.
The film's accounts of how Smith may have felt about her reality get contradictory at this point. She knew that people were laughing at her, and she didn't care, a friend says—but she was also mortified by the coverage of her size. (The other Howard Stern, not her lawyer, famously told his colleagues on air to guess her weight, as though she were livestock at the county fair.) She was playing up her train-wreck image for the cameras, her bodyguard argues—but she was also desperate to get back in the media's good graces, to the point where she almost died of dehydration trying to slim down for her new endorsement deal with TrimSpa. (When she emerges from a limo in the TV ad, cameras popping at her slimmed-down figure, a voiceover purrs, "Get the attention you deserve.")
If Smith was playing a role during this time, she wasn't the only one. This was not an era that wanted to think about women as being smart, competent, or even functional. On reality television, the most cynical medium of all, the most famous women in America played vacuous, moronic versions of themselves for the cameras. "She is well aware that the joke is on her—and that the joke is her meal ticket," Ariel Levy wrote in a 2004 profile of Jessica Simpson, whose 2003 MTV show, Newlyweds, elevated her from B-list musician to pop-culture phenomenon. Of The Simple Life, which debuted the same year, Paris Hilton recalls in her memoir that she and Nicole Richie were given "broad direction" in building their "characters" on the show; she summarizes hers as "beautiful airhead."
And yet: It's hard to believe that Smith's befuddled, chaotic presence on her show was quite as intentional as people want to make out. For one thing, she was clearly an addict. Prescribed a litany of medications ("Valium, Xanax, Lortabs, uh, Vicodin, and, um, the Klonopin," a friend recalls) after her first breast augmentation, she quickly became a compulsive user whom doctors were happy to enable. Macfarlane interviews one of them, Kapoor, who claims that the methadone he prescribed to her—the same drug her son fatally overdosed on—while she was pregnant was legitimate treatment for her chronic pain. (A criminal court agreed, acquitting him of charges filed after her death.) But the documentary doesn't include the fact that Kapoor, by his own admission, had partied with Smith, made out with her at a Pride party in West Hollywood, and written in his diary that he feared she would ruin him. (Kapoor also published a tell-all memoir about his relationship with Smith in 2017.)
What's most obvious from Anna Nicole: You Don't Know Me, in fact, is that she had virtually no one in her life who wasn't benefiting from their relationship in some way or outright exploiting her. And the movie leaves out a lot. A Time interview with Smith from 2002 observes how E! producers pumped her full of Red Bull, sometimes seven or more a day, to try to animate her, even installing a special fridge in her home. ("Everybody I know has made money from me and thrown me away," Smith told the Time reporter, in a moment of acute perception.) There was also Smith's psychiatrist, Dr. Eroshevich—she of the pills and the chloral hydrate—who traveled with Smith and was photographed frolicking naked with her in a hot tub months before Smith's death. Not to mention the fact that Larry Birkhead, a former lover who was proved by a DNA test to be the father of her daughter, was obliged to release a statement after her death saying, "I have never requested a trademark, signed or filled out any paperwork on a trademark relating to Anna Nicole Smith, and the saying 'Goodnight My Sweet Anna Baby.' The form was filled out by another individual on my behalf."
There's so much more to this story, more than a two-hour documentary could ever contain. I can understand the impulse to want to portray Smith as the mistress of her own destiny. And it's gratifying, oddly, to have a revisionist study of a woman that acknowledges how messy she was, how frequently selfish and ambitious and calculating. But it's a mistake to reconsider Smith without fully acknowledging and studying all the ways in which she was a victim. Her life coincided with so many larger catastrophes in America in the new millennium: the nascent opioid epidemic; the misogynist landscape of cable TV; a legal culture so absurd that Smith's case for a portion of her husband's estate wouldn't be closed until 2018, a full 23 years after his death. Not to mention the astonishingly cruel and brazenly exploitative new world of the internet, where a woman's death could be alchemized into endless traffic, ratings, attention. (Never forget TMZ's viral reveal of "Anna's Death Fridge: Methadone and Slim-Fast.") Smith's life was sad, in many ways—but it was also significant in so many other ways that this bumpy, questionable portrait doesn't begin to unpack.