A Chinese American Show That Doesn't Bother to Explain Itself
Disney+'s American Born Chinese, based on the best-selling graphic novel, offers a confident take on the second-generation experience.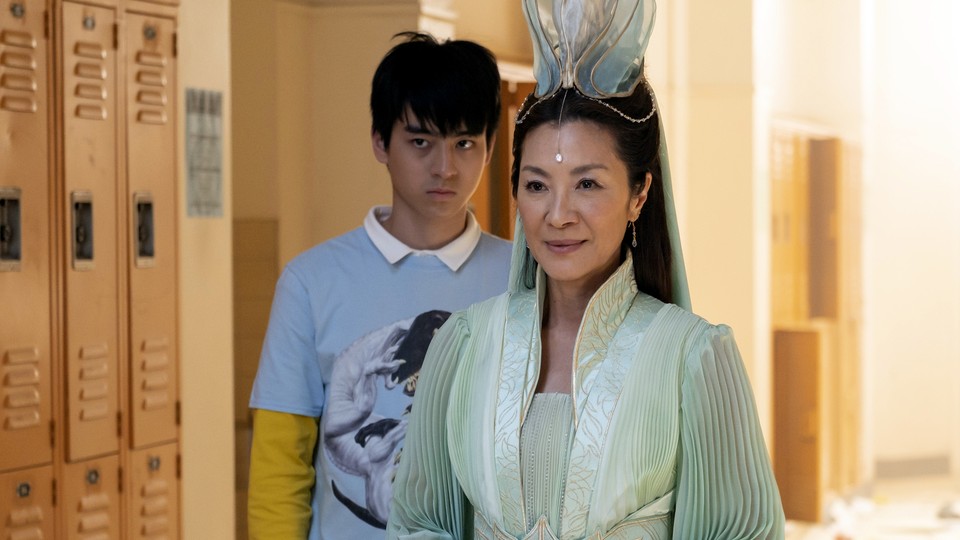 Growing up in suburban New Jersey, I dreaded having new visitors over. I wasn't asocial; I just feared that anyone who wasn't Chinese—as in, the majority of my classmates—wouldn't understand my family home and all of its inevitable differences from their own. Even if they didn't ask me about the cultural objects they might stumble upon around the house, I felt the need to explain what they were seeing, in order to make them comfortable. We have this taped to the wall because it's the Chinese character for fortune! These hard-boiled eggs are brown because they've been soaked in tea! In an attempt to prove that my surroundings were perfectly normal, I turned myself into a tour guide, and my own home into a sideshow.
American Born Chinese doesn't bother with such disclaimers. The Disney+ show, now streaming, is exuberant and unabashed about its hyper-specific focus on the Chinese American experience. It's a coming-of-age story blended with martial-arts sequences, Buddhist lore, and an array of fantastical elements and characters from the 16th-century Chinese novel Journey to the West. And though the show struggles at times to juggle its many plots, its easy confidence is strangely satisfying. Here is a series that does not care to be a tour guide, and therefore never bothers with explanations while gleefully synthesizing its classic influences and modern ideas.
Like the ingenious graphic novel by Gene Luen Yang on which it's based, American Born Chinese explores themes of identity and assimilation through several separate storylines. The first follows Jin Wang (played by Ben Wang), a Chinese teenager in a predominantly white high school tasked with befriending a new Chinese student named Wei-Chen (Jim Liu), because the principal assumes that their shared background means they'll naturally get along. The second draws heavily from Chinese mythology, imagining the adventures of Sun Wukong (Daniel Wu), the Monkey King from Journey to the West, and other deities who disguise themselves as normal people on Earth, such as the goddess Guanyin (Michelle Yeoh, who puts a playful spin on the character). A third tale follows Jamie (Ke Huy Quan), a Hollywood actor best known for playing Freddy Wong, a caricaturish role in a '90s sitcom that required him to deliver a punny, lazy catchphrase—"What could go Wong?"—in seemingly every episode.
In a departure from the book, the eight-episode series doesn't wait to weave its narrative threads together: Wei-Chen is Sun Wukong's son, and he has deliberately abandoned his father and their heavenly home to recruit Jin to help him find a relic that will save his realm. Meanwhile, Jamie's show has reentered the zeitgeist after landing on a streaming platform, where it's watched by Jin and his classmates. The adaptation is less biting than its source, which at times portrays Jin's identity crisis as rather haunting and disturbing. (At one point, he rejects his roots so much that he literally transforms into a white teenager, and then must deal with the arrival of a cousin named "Chin-Kee"—an amalgamation of Chinese stereotypes, down to the offensive name.) But the show remains as boldly told as the graphic novel: Episodes jump giddily across genres, storylines, and languages, sure that audiences can grasp its overarching metaphor—that to be an immigrant is to always feel somewhat caught between worlds—without the need for hand-holding.
Some episodes risk being overstuffed with ideas, but I found American Born Chinese's narrative ambition refreshing and true to life. Of course a second-generation teenager like Jin would be as concerned about his parents' conflicting values as he is about making the soccer team. Of course the confusion he feels over whether to be offended by Freddy Wong's newfound popularity can be as bewildering as, say, getting knocked out by a mythical figure known as "Pigsy." American Born Chinese is a story not of cultures clashing, but of cultures fusing—or rather, being forced to fuse. It's what much of the show's audience and the readers who found solace in Yang's graphic novel have likely done throughout their lives: absorb both American and Chinese lifestyles at once, mixing and remixing them in perpetuity.
The show's best quality is this constant, purposeful immersion. The Taiwanese icon Teresa Teng's songs play at pivotal moments; scenes take place in herbalist shops; a flashback episode about Sun Wukong borrows the campy style of the 1980s live-action Journey to the West series. But American Born Chinese goes further than these references, delightful as they are to anyone who, like me, spent their childhood hooked on other adaptations of the Monkey King's story. Its characters are thoughtfully blended; Jin's parents, Simon (Chin Han) and Christine (Yann Yann Yeo), are especially well drawn as immigrants who have lived in the States long enough to know how to navigate American culture, but who still find themselves trying to adjust. Simon, for instance, connects with his boss over a shared appreciation for Bon Jovi, but can't find the courage to ask for a promotion; he values hard work, not bravado. Christine, meanwhile, cheers on Jin's American hobbies yet can't help but fawn over Wei-Chen's fluent Mandarin when he stops by. She wants her son to be both more Chinese and more American, leaving Jin at the center of a tension that he, too, is learning how to handle.
More often than not, though, the show is just pure fun to watch. I never thought I'd see, on mainstream television, a scene in which the revered, composed Guanyin toils over the assembly of an IKEA coffee table while wearing sweatpants—a disorienting image, in the best way. Not long ago, any Asian character I saw on-screen made me worry about representation; I'd have "rep sweats." American Born Chinese yields something like rep relief, because it's populated by three-dimensional characters, not Freddy Wongs.
American Born Chinese can afford to be so audacious and unburdened in its storytelling because it arrives after years of Asian storytellers proving their worth in Hollywood. Not only are the recent Oscar winners Yeoh and Quan part of the cast; their Everything Everywhere All at Once co-star Stephanie Hsu pops up as well, in an uproarious guest part late in the season. The show has also arrived during a boom in coming-of-age stories about nonwhite protagonists, such as Never Have I Ever and XO, Kitty. The best of these—think FX's Reservation Dogs—deepen their themes by embracing their characters' cultural backgrounds, letting specificity inform their growth. American Born Chinese follows suit and, along the way, never turns Jin's heritage into a sideshow. Instead, the series makes clear, it deserves to be the main event.
---
​When you buy a book using a link on this page, we receive a commission. Thank you for supporting The Atlantic.