The Most Telling Moments From the E. Jean Carroll–Donald Trump Depositions
The writer and the former president have discussed the allegations at stake in revealingly different ways.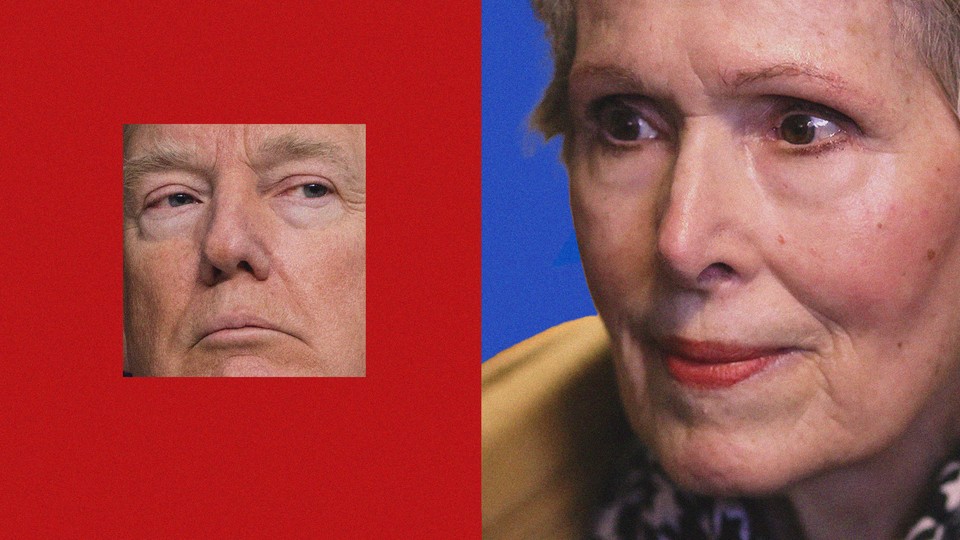 Donald Trump, who is accused of rape, will likely not appear in court to defend himself against the charge. The former president declined the chance to appear at the trial that begins today, he explained through his lawyer, because of the "logistical burdens" his presence would place on the courthouse and on New York City, where the civil proceeding is taking place. It seems he does not want to be an inconvenience.
But Trump will be an unavoidable presence as the trial unfolds. The writer E. Jean Carroll is suing him for damages related to the allegation she made in 2019, which he has vehemently denied: that Trump, encountering her in a New York City department store in the 1990s, led her into a dressing room and raped her. At issue in the trial are defamation and battery—the latter claim made possible by a New York State law that provides a one-year window for adult victims of sexual assault to file civil claims after the criminal statute of limitations has expired. Carroll is also suing Trump in a separate defamation case, based on the disparaging comments he made in response to her accusation; the path of that case may depend in part on the outcome of the current trial. Jury selection will begin today, with arguments expected throughout the week.
Trump has tried to dismiss Carroll's claims in both the narrow sense—his lawyers tried and failed to get both cases dismissed—and the broad. You could read the empty excuse Trump offered for his non-appearance at the trial in a similar vein: as an extension of efforts he has made to minimize Carroll's accusation, undermine her credibility, and paint her story as a hoax. Trump has made those attempts not merely in public statements but also in sworn testimony. In January, Lewis Kaplan, the federal judge hearing both of Carroll's cases, ordered a partial unsealing of depositions that both Carroll and Trump had given in October 2022 for the defamation suit. The portions of the transcripts made available detail the contested events of that day as well as their public aftermath. In them, Trump repeats his familiar insults. But he also acknowledges, seemingly in spite of himself, the gravity of Carroll's claim. "She's accusing me of rape—of raping her, the worst thing you can do, the worst charge," Trump says. In testimony that found the former president ranting, rambling, and generally resisting the word rape itself, this was a rare moment of clarity.
Carroll had also been hesitant to use the word rape, she has made clear: The word had felt too loaded, too stark, to describe what she says happened in that dressing room. She does not use the term in the book excerpt, published in 2019 in New York magazine, in which she first made her claim public. Per her account, the interaction began when she encountered Trump at Bergdorf Goodman. He told her that he wanted to buy clothes for someone else as a gift, she alleges, and asked her to try on his selection. As she writes in her excerpt:
The moment the dressing-room door is closed, he lunges at me, pushes me against the wall, hitting my head quite badly, and puts his mouth against my lips. … He seizes both my arms and pushes me up against the wall a second time, and, as I become aware of how large he is, he holds me against the wall with his shoulder and jams his hand under my coat dress and pulls down my tights.
She struggled against him, she alleges, as he raped her.
I am wearing a pair of sturdy black patent-leather four-inch Barneys high heels, which puts my height around six-one, and I try to stomp his foot. I try to push him off with my one free hand—for some reason, I keep holding my purse with the other—and I finally get a knee up high enough to push him out and off and I turn, open the door, and run out of the dressing room.
Not until Carroll told a friend about the alleged assault, she says in the deposition, did she find the language for it. "Lisa shocked me in the call," Carroll says. "She told me I had been raped."
"Had it occurred to you?" Trump's lawyer Alina Habba asks.
"No," Carroll replies.
Elsewhere in her deposition, Carroll explains her initial hesitance to go public with her claims. "Did you ever consider coming forward with your account prior to #MeToo?" Habba asks.
"Never," Carroll replies.
"Why not?"
"Just—I'm going to say something that even surprises me—because women who have been raped are looked at in this society as less, are looked at as spoiled goods, are looked at as rather dumb to let themselves get attacked. I mean, even you have to say, 'Did you scream?' I mean, every woman who admits to being attacked has to answer that question—'Why didn't you scream, why did you come forward when you did, why didn't you come forward before?' And so, no, I didn't—I would have been fired."
Carroll, throughout the deposition, acknowledges the cultural reality of rape: the suspicion placed on those who say it has happened to them, the impulse to blame them, the stigma that follows. Trump, by contrast, repeatedly describes her allegation as a mere political tactic—one more effort, waged by unnamed enemies, to take him down. He repeatedly attacks Carroll: In his testimony, he treats her mental fitness ("sick," "really sick," "sick, mentally") as a refrain. He dismisses Carroll's lawyer, Robbie Kaplan, as a political operative, and threatens to sue her. He threatens to sue Carroll as well ("I'll be suing her very strongly"). He writes off Judge Kaplan (no relation to Carroll's lawyer) as "not a fan of mine." He returns to his favored role—the cable-TV critic—to analyze an appearance Carroll made on CNN, and thoroughly misrepresents the claims she made during the segment. At one point, he gets in a dig at Joe Biden. At another, via his dismissal of this publication's report about Trump's disparagement of Americans who died in war—"hoax," "total hoax," "failed magazine"—he gets in a dig at The Atlantic.
It's all extremely familiar: Distract, deflect, "flood the zone with shit." The strategy has proved effective for him in the past, both when it comes to Carroll's claims and when it comes to those of the other women—more than 20—who have accused him of sexual misconduct. (Trump has denied all of their claims.) It is the same tactic that Trump reportedly demanded of Brett Kavanaugh when the then–Supreme Court nominee was credibly accused of assault: Perform rage. Sell it. Make the indignation so incandescent that the heat of it consumes everything else.
But the pared-down scope of the trial will likely limit Trump's ability to put his typical antics to use. The case will rest on a binary question: Did he rape Carroll, or didn't he? The question is big and consequential. That helps explain why Trump has seemed to resist talking about it in straightforward terms. Robbie Kaplan, in the deposition, asks him about public statements he made about Carroll from 2019 to 2022. Carroll's claim, Trump wrote in one of them, is that he "swooned her" in the dressing room.
"What does 'swooned her' mean?" Kaplan asks.
"That would be a word," Trump replies, "maybe accurate or not, having to do with talking to her and talking [sic] her—to do an act that she said happened, which didn't happen. And it's a nicer word than the word that starts with an F, and this would be a word that I used because I thought it would be inappropriate to use the other word."
Kaplan looked up swoon in the dictionary, she notes. Did Trump intend it to mean "to faint with extreme emotion"?
"Well, sort of that's what … she said I did to her," Trump replies. "She fainted with great emotion."
That is manifestly not what Carroll says happened. But Trump's evasion also acknowledges, in its way, the immensity of the assertions she has made. Swoon is simply not a word most people use—unless, that is, they are trying to avoid using another one.
Carroll's defamation case against Trump preceded the current one: In denying her allegations so disparagingly and so personally, Carroll argued, the former president has harmed her reputation. That claim will hover over the trial as it moves forward this week. The proceeding itself, for that reason and others, will likely be particularly complicated, as lawyers struggle to find unbiased jury members and debate which evidence is admissible and which is beyond the trial's scope. Still, the stakes of it all are painfully clear. The trial will make Carroll one of the few Trump accusers to have her day in court. And it will decide whether the man who has earned so many epithets over the years is deserving of one more: rapist.