A Comedy About the Misery of Having It All
In Netflix's Beef, Ali Wong is the antiheroine TV deserves.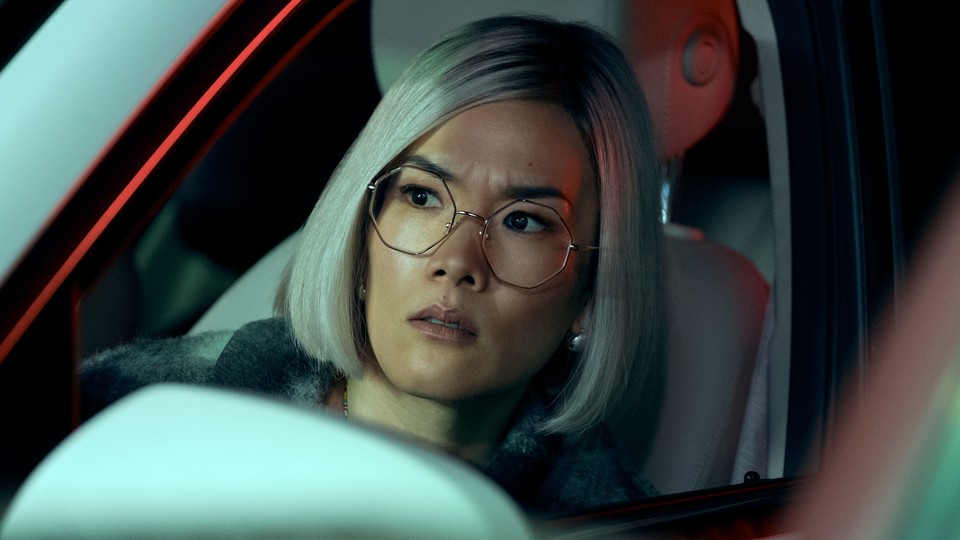 The first time I saw Amy, Ali Wong's character in Beef, I found myself sitting up a little straighter and leaning a little closer toward my TV. I knew Wong had a starring role, but Amy caught me off guard. Wearing a cream-colored bucket hat, her hands gripping the steering wheel and her face frozen in fear, she looked nothing like what I expected of the faceless driver I'd just watched in the show's opening minutes—the one who'd careened recklessly across lanes, taunting, threatening, and throwing trash at a stranger.
Then again, Beef likes toying with assumptions of who its characters might be and where its story might veer next. The half-hour-episode Netflix series from the first-time showrunner Lee Sung Jin (Silicon Valley) is hard to categorize; it's simultaneously a black comedy, a domestic drama, and a psychological thriller. It starts with a road-rage incident that Amy sets off when she flips the bird at Danny (Steven Yeun) in a parking lot after he nearly backs his truck into her Benz. Like a gnarlier Changing Lanes, their ensuing feud leads to an escalating series of vengeful acts that build from petty pranks into horrifying, morally questionable schemes. That the show feels balanced at all is down to how well drawn both leads are. Amy is a wealthy entrepreneur with a loving husband, a cute daughter, and a state-of-the-art mansion. Danny is a contractor barely making rent who shares a cramped apartment with his slacker brother. Both are deeply, desperately unhappy.
Yet of the two, Amy is less immediately sympathetic. Danny lives a difficult paycheck-to-paycheck lifestyle, his every failure deepening his belief that the world works against him. Amy, meanwhile, has no obvious reason to be miserable. She has it all—if "all" is defined as a stellar career and a nuclear family. Lee, who was inspired to create the series after getting caught in a road-rage incident himself, initially conceived of the character as a white man, matching the identity of the driver he'd encountered in real life. But quickly—in "maybe half a day," Lee told me over the phone—he dropped the idea; he didn't want the series to be merely about racial dynamics or to boil down to a culture clash. Later, with Wong in mind, he envisioned a new character: a woman whose self-made success is the cause of her downfall. Not that Beef tears Amy apart; instead, the series grants her more and more achievements, dissecting how her suffocating ambition pushes her to act on her worst impulses against a complete stranger. She is TV's most compelling antiheroine of late: someone who knows she's her own worst enemy and who, as Lee explained, "feels very much trapped in a maze of her own creation."
Consider how Amy constantly questions her power and instinctively tries to hide that self-doubt. She may appear to be a Strong Modern Woman—she agrees to photos with fans and participates in glitzy panels about female entrepreneurs, where she says things like "Despite what everybody tells you, you can have it all!"—but she's uncomfortable with the image. The show doesn't place her in a male-dominated field; she owns an artsy, minimalist plant business, and she's working on selling her company to the female owner of a retail chain. In the presence of similarly well-off women, she wears a permanent smile through gritted teeth. She dresses in soft knits and unwrinkled silks, as if to distance herself from the girlboss uniform of power suits and pencil skirts. "There was something interesting to us as writers about someone who has so much chaos going on inside but [who's] trying to cover that with as much calm and people-appeasing energy as possible," Lee said. Amy knows that expressing her discontent with her apparently perfect life would ruin people's impression of her as a role model. And despite her reluctance to play the part, she likes knowing that she is considered an inspiration.
Besides, when she does try to explain how she feels, the people closest to her can't understand why she's uneasy. In one wrenching scene, Amy divulges her malaise to her husband, George (Joseph Lee). "There's this feeling I've had for a long time," she says, squeezing out her words between pauses. "I don't remember when it started; I can't pinpoint exactly when or why … It feels like the ground, but, like, right here." She gestures to her chest as she begins to cry. George reacts in a supportive manner: "I know a lot of people who battled depression and won," he says—but the statement only causes Amy to shut their conversation down. His words are too positive, too insistent that she beat whatever she's got. Through her, Beef highlights a complicated twist on loneliness: Amy has a healthy network of loved ones, but the more encouraging they are, the worse she feels. She's fortunate to have a doting husband and the means to seek help. So why can't she do what's expected of her and feel better?
The idea that existential sadness can come for anyone is personal for Lee: He told me that the scene of Amy's confession came directly from a moment in the writers' room during which he attempted to describe his own anxiety, and ended up weeping in front of the staff. Like Amy, Lee hasn't been able to shake off the weight in his chest: "That feeling is still very much there. It doesn't go away … Writing this character was figuring out a way to accept that—that for some of us, that feeling is just permanent." Amy's attempts to find catharsis lead her to make decisions that range from farcical to frightening, if not outright criminal. In her, Lee conveys the thrill and desperation of that never-ending search for release—a journey that pushes Beef forward, step by fascinating step. Wong sells each of them. She's never been funnier, or more heartbreaking.