The Most Quietly Radical Writer on Television
Alice Birch has brought her scabrously funny writing to shows such as Succession, Normal People, and now Dead Ringers.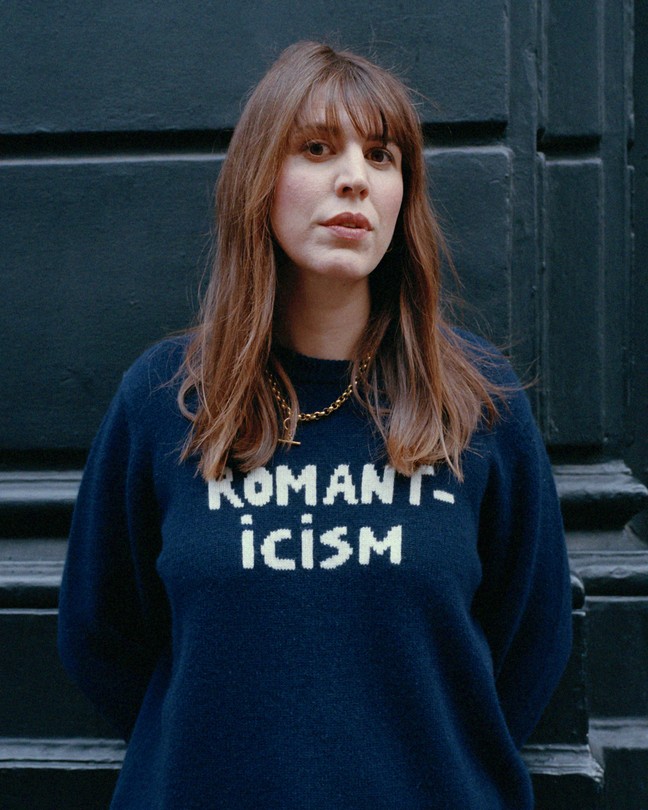 Until she was 5 years old, Alice Birch lived in a commune in the Malvern Hills, a bucolic area in the west of England known for bluebell woods and wandering poets. It was, she recalls, quite low-key for a commune, "not culty, not wild"—just a 19th-century redbrick country house with orchards and vegetable gardens and adults trying to live out their collectivist ideals. At night, the whole group ate together around a big round table, and Birch would listen quietly as people talked. Though everyone was broadly left-leaning, she remembers a good amount of disagreement; she couldn't always understand what was being talked about, but she felt the tension, the crackle of ideas sparking as they met in the air.
"That's theater," she told me last month, sitting at a table inside London's National Theatre. Before Birch became a highly prized film and television writer, she was a playwright—"There's no one better," the woman in the theater bookstore told me, her eyes glinting, as I picked up some of Birch's plays—and throughout her work, the dinner table is often where everything kicks off. In the smash TV adaptation of Normal People that she co-wrote with Sally Rooney, a shady alfresco lunch in Italy turns into an eruption of emotional violence. [Blank], a 2019 play that premiered at London's Donmar Warehouse, features a 45-minute scene called "Dinner Party," in which a gathering over meze is interrupted by cocaine dealers, wine deliveries, and eventually a child wielding a baseball bat. Dead Ringers, a fiendish new series for Amazon that Birch created with the actor Rachel Weisz, brings even more to the table: At one point, the identical-twin obstetricians played by Weisz pitch a new model for women's health care to some truly awful rich people over razor clams and kombucha. The resulting scene is one of the funniest and most mordant in TV memory.
At 36, Birch has the wholesome features of a woman in a Victorian soap ad, the gentle manner of a therapist (her mother and stepfather both work in the field), and the creative intentions of a Molotov cocktail. She's an iconoclast in the most tender human form. "It's quite moving, actually, to see someone continuously be so kind and respectful to everyone while writing these completely outrageous, aberrant, dysfunctional characters," Weisz told me over the phone. Dead Ringers, a reimagining of the 1988 David Cronenberg film that starred Jeremy Irons as the codependent twin doctors, is a pitch-dark, scabrously funny, occasionally grotesque satire of the upper echelons of American health care. The show is so wildly original that viewers might not notice, at first glance, how radical it is. It forces its audience to absorb the brutality of childbirth and the danger tacitly accepted by any person who chooses—or is forced by the state—to carry a child. "Why are you wearing my vagina like a fucking glove?" a woman in labor shouts at a doctor. Babies crown; blood pools in crimson puddles on the floor.
Dead Ringers feels like not much else that's ever been on television. It's more like Birch's plays than anything—funny, sharp, twisted, and often furious, but also fluid with language and imagery in a way that lets you absorb its ideas at both an intellectual and a not-quite-conscious level. The theater director Katie Mitchell, who mentored Birch and has collaborated with her several times, sees her as carrying on the tradition of writers such as Virginia Woolf, Caryl Churchill, and Sarah Kane. "Whether you're watching her Normal People or Lady Macbeth on television and film, or her Anatomy of a Suicide or Ophelia in theater," Mitchell told me, "it's the same distinct signature and voice. There's no aesthetic or political compromise across the body of the work." The only difference with film and television, she notes, is the potential size of Birch's audience, the almost limitless new realm that a woman with forceful ideas and a streaming series can reach.
Eight years ago, while she was still in her late 20s, Birch did something relatively unconventional for a young woman finally starting to break through in a creative industry: She had a child. For many people, it's one of the most radicalizing experiences they'll have. When Birch's son came, "and it feels like he came, I didn't have him; when he arrived," she said, "there was so much about all of it that I couldn't believe we don't talk about it all the time. All the time. Because it's violent. It's exhausting, and painful, and punishing." No one else she knew had children at the time. The shock of how much her life had changed was compounded by loneliness. She remembers meeting up one morning with a friend who'd come straight from a rave and was still covered in glitter. Neither of them had slept, for quite different reasons; sitting on a bench, they cried together.
Birch's son was born during a moment in her career that she describes as being "noisier" than usual: A play she'd written called Revolt. She Said. Revolt Again, a ferocious consideration of how language keeps women from true liberation, had premiered with the Royal Shakespeare Company in 2014 to critical acclaim (one reviewer called it "a cluster bomb of subversion"), and would debut in New York at the Soho Rep two years later. While heavily pregnant, she'd finished writing her first film, an adaptation of a Nikolai Leskov novella titled Lady Macbeth; the movie, which went into production soon after, became the first starring role for a 19-year-old actor named Florence Pugh. After a dismaying experience being cast in a TV pilot, during which her body, face, and image were scrutinized by studio executives, Pugh had been on the verge of quitting acting when she auditioned for Lady Macbeth. But the film, she told The Telegraph last year, made her "fall back in love with cinema." Her performance as Katherine—a young bride in the 19th century whose confinement at the hands of her severe older husband turns her violent—propelled Pugh's reputation as a fascinating, unflinching new star, and Birch's as a writer of female characters who are knotty, dark, carnal, and compelling.
Since she was very young, Birch had always written plays, without necessarily knowing that that's what they were. She wrote pantomimes and made her friends perform in them; by herself, she lined up her pens and made them talk to one another. As a teenager, she did a weeklong internship at the Royal Court Theatre in London, historically a hothouse for incendiary British playwrights: John Osborne, Caryl Churchill, Martin McDonagh. Reading unsolicited scripts, she dismissed one by observing that it was too violent and extreme to be staged. "And they gave me a stack of Sarah Kane, Simon Stephens, Beckett, Shakespeare," she said. "It was such a generous and gentle way of interrogating things." The point was that transgression and experimentation are necessary to theater, crucial components in the process of making art.
That notion might help explain why so many superlative TV shows now scour theaters to add to their teams (the writers' room for Dead Ringers included six playwrights, a director, and Weisz), or are themselves adapted from plays (Phoebe Waller-Bridge's Fleabag, Michaela Coel's Chewing Gum, Katori Hall's P-Valley). Birch's first TV job, in 2018, was on Season 2 of Succession, where a writers' room that included the playwrights Lucy Prebble and Susan Soon He Stanton dreamed up scenarios for the cursed Roy family from a noisy office in Brixton, South London. "I sometimes feel fraudulent saying I worked on it because it was quite overwhelming," Birch told me. Jesse Armstrong, its showrunner, "is very generous and leads it so kindly and carefully. But it's rigorous." She was traveling with her son around that time when she read Normal People, Sally Rooney's literary sensation about the romantic travails of two Irish teenagers, and stayed up far too late one night to finish it. She could see distinctly how it would work as a TV series—how the structure and dialogue and emotion would play out on-screen. The subsequent show, which she ended up co-writing with Rooney after the author sought out a collaborator, scored Birch her first Emmy nomination, and became a sensation itself when it was released by Hulu and the BBC early in the coronavirus pandemic.
The director Sebastián Lelio—who collaborated with Birch on the 2022 film The Wonder—told me that Birch "has an extraordinary capacity to create very complex characters through dialogue … characters who really express themselves, their light and shadows, through the way they talk, the words they use." That is, he said, "really the quintessential challenge of writing a script." During the pandemic, when theatrical productions were canceled everywhere, including Birch's planned National Theatre production of Rachel Cusk's Outline trilogy, she found herself appreciating the task of adaptation, and the "scaffolding" of an existing work. Before adapting a book into a script, she writes the entire thing out longhand, word by word, to get as intimately acquainted with it as she can. And she usually writes at night, when the isolation and the darkness makes her feel like she can get away with more, creatively. "I feel like when she's writing at night, in the kitchen, it's almost like she becomes the characters when she writes," Weisz said. "I think her imagination is a pretty beautiful, profound thing."
Since having her son, Birch has been deploying that imagination to expand and sometimes upend portrayals of motherhood. In a different era, having a baby might have challenged a woman's creative ambitions. For Birch, it turbocharged them; she felt as though she needed to write about everything just to process it. After having her son, she wrote Anatomy of a Suicide, a play written in the round, like a canon, that juxtaposes three generations of women from the same family and the ways in which their experiences rebound and echo over one another. Her next project, a film adaptation of Megan Hunter's novel The End We Start From, stars Jodie Comer as a new mother fleeing London during a devastating flood. And she's also in the early stages of adapting a thriller she can't yet name, whose exploration of matrilineal trauma treads dark psychological terrain.
For its part, Dead Ringers also pushes into fresh territory. Its conception, which coincided with the birth of Birch's daughter, considers childbearing through the lens of body horror. But it's also immensely interested in female gratification. Weisz and Birch fixated on the Lacanian idea of "jouissance," or the vital and sexual impulse for pleasure, while writing Elliot Mantle, the older twin, who eats, drinks, snorts, screws, and—most jarringly of all—says exactly everything that she wants to. "It's a really particular version of pleasure that is primal and physical, and might be misunderstood," Birch said. For one scene, filmed in a diner, Weisz had to eat cheeseburgers over and over with carnivorous relish, and, as Birch observed, "it really feels a bit radical to watch a woman eat and enjoy it." Inevitably, being a Birch-written dinner scene, things go sideways. But in the meantime, there's subversive joy in seeing something so simple in front of our eyes: the desire gratified, the need met. The woman's hunger fed.