Air Has More Substance Than You'd Expect
Ben Affleck manages to turn a mega-company's best-known win into an actually suspenseful story.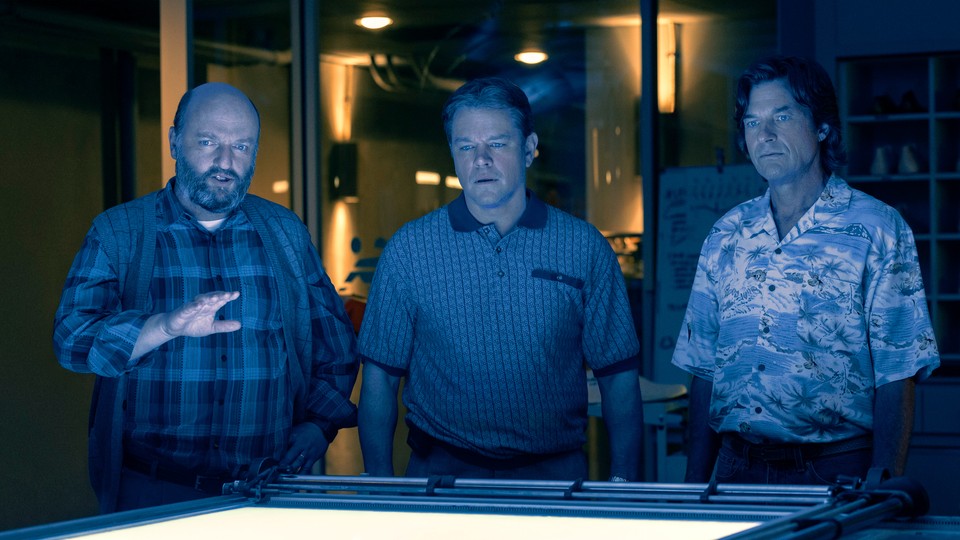 Air faces a steep challenge, in terms of winning its audience over. Ben Affleck's film, set in the mid-1980s, wants viewers to root for Nike—yes, that Nike, the shoe company, the one that's done pretty well for itself over the past few decades. Will these plucky Oregon underdogs box out their rivals and achieve success by selling a Michael Jordan–branded shoe? The answer to that question seems to be a fairly uncomplicated "yes," so credit goes to Affleck, his screenwriter Alex Convery, and his star Matt Damon for conveying what it was like to create the Air Jordan brand.
More than a decade ago, Affleck solidified his reputation as a serious auteur with Oscar-lauded films such as The Town and Argo. Then, in 2016, his leaden Live by Night performance underscored just how much his skills had migrated to directing and away from being a movie star. Yet, for years after that, Affleck was bogged down in the DC Comics universe, playing a very grumpy Batman. Air is a great return to Affleck's original impulses as a director: It's a fun, well-made film for grown-ups that gives its actors room to flesh out their characters and, most important, doesn't rely on Affleck's star persona.
Here, he's filling a supporting role that recalls his performance in The Last Duel, a medieval epic from 2021 that he co-wrote with Nicole Holofcener and Damon, who assumed the lead role. Affleck played a bored lordling, dispensing advice and funds to the other characters while remaining above their foibles. In Air, Affleck plays Phil Knight, the Nike CEO who was once known as a renegade but, by the mid-'80s, had become yet another restless mogul; he dawdles in a cavernous office wearing wraparound sunglasses and longing for excitement.
Luckily, excitement arrives—in the form of corporate competitors, frenzied phone calls, and, eventually, the invention of a new kind of personal branding. Air is about one of the most obvious business decisions in the world: monetizing an amazing basketball player on the rise, whose athleticism and fame could function as a self-sustaining advertisement for an ever-expanding product line. Many viewers will be at least dimly aware of the Michael Jordan shoes' longtime popularity. Air, however, introduces some suspense by rendering the Nike headquarters as a dinky backwater, a mess of cubicles staffed by middle-aged businessmen clinging to relevance.
Sonny Vaccaro (played by Damon) is the king of that schlubby brigade, a marketing executive struggling to launch Nike into the basketball world, at that time dominated by Converse and Adidas. He sees Jordan, a college star about to enter the NBA, as a potential savior, and he convinces Phil to offer Jordan the company's entire athlete budget rather than spreading it around to a bunch of mid-tier players. But that budget isn't big enough for the prodigy. Affleck primarily focuses on the interplay between business and personal as Sonny tries to win over Jordan by both increasing the bid and appealing to the athlete's mother, Deloris (Viola Davis).
By and large, Air is an energetic corporate comedy, full of top-shelf talent. Damon plays Sonny as a lovable nag who needles everyone around him into action. Jason Bateman is perfectly hangdog as his boss, Rob Strasser, and Chris Tucker turns up the fast-talking banter as Sonny's office-mate, Howard White. Chris Messina delivers about 15 minutes of blistering, profanity-filled speeches as Jordan's bullheaded agent David Falk, who wants to stop the athlete from signing with what he perceives as an uncool brand. These are all serious stars who can deliver witty patter effortlessly, but Affleck (unsurprisingly a consummate actor's director) lets them take their time, keeping the camera still for every major monologue as they tease out their personal motivations.
The film shines best during the conferences between Sonny and Deloris. Both characters believe that a sneaker collab could transform society—that Jordan is not just a good basketball player but an inspirational force as well. Sonny has put significant financial backing on the line and is eager to validate that decision, whereas Deloris is more invested in her son's long-term future than in one big payday. Watching Damon's devout intensity bump up against Davis's calm assuredness is an understated thrill. Air mainly takes place in drab offices, yet the cast's expert performances transform those spaces much in the same way that Michael Jordan transformed courts and sneaker racks—by turning them into sites of magic.