Abbott Elementary Lets Black Kids Be Kids
It's one of the show's grandest and most moving gestures.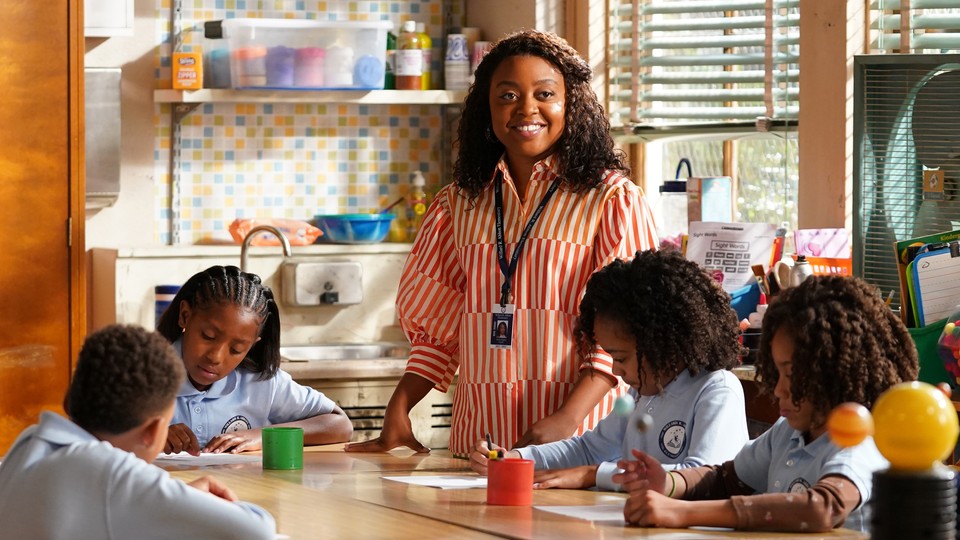 If we're being honest, Janine Teagues, the lead of Abbott Elementary, has always been a little bit childish. I don't mean that derisively. Quinta Brunson, the show's creator, plays Janine as an openhearted optimist, decked in colorful sweaters and puff sleeves. She practically vibrates with excitement when she sets upon an ambitious new plan to zhuzh up the underfunded halls of Abbott or reconcile two sparring second graders; her warm, if sometimes naive, enthusiasm is an important part of how she relates to and supports her young students. But at the start of the show's second season, Janine is eager to grow up, fast. She declares herself "a fully formed adult" who can handle any obstacle. By the finale, which aired yesterday, she's lost her cool, made mistakes, and had to lean on her co-workers, who, thankfully, meet her growing pains with grace. "You just got to go through it, not over it," her fellow teacher Melissa Schemmenti (played by Lisa Ann Walter) presages in the season's first episode. "And you're at the beginning, not the end."
That advice could just as easily apply to any of Abbott's students, such as Mya (a darling Blaiz Bhasi), who struggles with reading in the "Read-A-Thon" episode. The second grader fudges the numbers in her book log, but the storyline doesn't end with a reprimand for cheating on homework; instead, Melissa empathizes with Mya, sharing her own comprehension strategies in a nonjudgmental way. That gentler approach is characteristic of Abbott Elementary, which seems uninterested in punishment. Even when the kids disregard instructions, become hyper, or get especially silly—when they act like kids and not like saints—the show refrains from condemning them as "problem students." They're students who have a problem that they need help resolving. That distinction might seem small, but on a show that features an all-Black cast of children, it's one of Brunson's grandest and most moving gestures.
Black kids across the country are significantly more likely to be disciplined than kids of other races and routinely receive harsher punishments than white students for nearly identical behavior. In Philadelphia, where Abbott Elementary is set, Black elementary schoolers are more than twice as likely to be suspended as their white classmates. The show doesn't explicitly mention these figures. As Brunson has said, her characters don't sit down and recite the statistics that shape their day-to-day lives; they're overworked teachers at an overlooked school in West Philly—"they don't have time." But the specter of punishment still hovers around the story, most clearly in the episode "The Principal's Office," when the straitlaced, deadpan Gregory Eddie (Tyler James Williams) sends a disruptive student to Principal Ava Coleman (the wonderfully irreverent Janelle James). He gripes when she refuses to actually discipline the child. "How do you think it feels for a 6- or 7-year-old to make that walk of shame?" she says in response. Instead of heightening that shame once a student reaches her office, she prefers to give them a space to decompress and regroup.
Later on, the episode's moral message gets delivered in bold: "Working here at Abbott as a young Black man, you are in a unique position. You are also at a crossroads," the veteran teacher Barbara Howard (Sheryl Lee Ralph) tells Gregory. "Your students can either fear you or they can respect you. Can't have both." A line like that captures the classic tone of network sitcoms: earnest and somewhat vague, yet also weighty and true. But more frequently, Brunson uses a tactic that feels less traditional to the genre: subtlety. Season 2 is marked by a quiet aversion to conventional discipline, as with the hilarious Halloween special, in which a child dubbed Baby Thanos takes hold of a bounty of candy and nearly every Abbott child succumbs to a sugar frenzy. The teachers focus on calming the students and wrangling their outlaw leader. Afterward, punishment simply goes unmentioned; the sharp sugar crash that follows seems to be consequence enough for the young rebels.
More simply put: Kids are going to eat too much candy sometimes, and that's okay. They're also going to have conflicts with one another, and that's normal too, as Janine discovers midway through the season. Janine tries to force two quarreling girls in her class to be friends, but she eventually realizes that the main issue she was trying to resolve was her own: She doesn't like it when people don't get along. The tension reminds her of her mother and sister, who are estranged from each other. "I have to learn to accept that what my students are feeling is real," she says—that they're not merely projections of her or her experiences. In other words, the children have unique inner lives. Sometimes they have outsized emotions or ill-advised ideas—just like Janine or any adult does. By the season's end, Janine has learned a lesson that seems to come naturally to her students: Even better than being a grown-up is being allowed to grow, at your own pace.