Ted Lasso Is No Longer Trying to Feel Good
In the show's third season, everyone but Ted is on edge.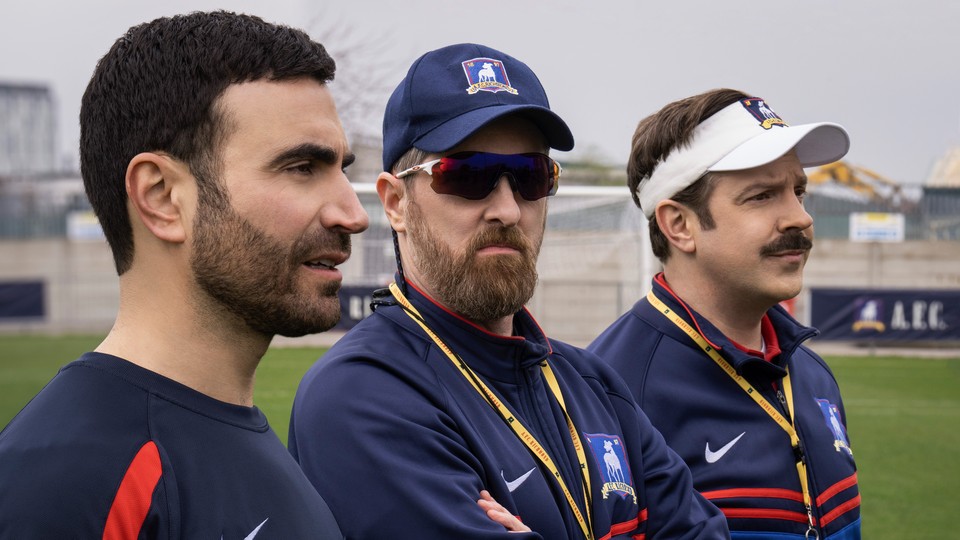 Ted Lasso likes to say that winning isn't everything. The folksy American coach of the struggling British soccer club AFC Richmond, Ted (played by Jason Sudeikis) is expected to care about accumulating goals—but, as he insists to a journalist at one point, "To me, success is not about the wins and losses." And he really means it; Ted preaches the idea even after the team suffers devastating defeats over and over. "We may not have won," he explains after one such loss, "but y'all definitely succeeded."
As it turns out, that unwavering optimism worked. When the AppleTV+ comedy's third (and reportedly final) season kicks off, the club is coming off a major victory: At the end of the second season, the team scored enough points to be promoted back to the top-tier Premier League. And yet, the upgrade seems to have left everyone but Ted on edge. Rebecca (Hannah Waddingham), the team's owner, pores over every newspaper for their predictions. Higgins (Jeremy Swift), Richmond's operations director, draws up a list of possible recruits. And the players are distracted at practice, worried about what soccer pundits are saying about them.
A compelling tension thus arises between Ted and the team over their expectations for the upcoming matches. Ted's gentle idealism clashes with his players' need to achieve actual goals—as in, the ones scored into nets—after their previous victory. But the show isn't merely questioning whether Ted's goodness is flawed; by following the team as it's welcomed back into the Premier League, it's also examining whether winning is a worthwhile endeavor in the first place. Richmond got what it wanted, only to face more pressure and scrutiny than ever before. The result is a season that, at least over the four episodes screened for critics, feels more cohesive than the last.
For one thing, the hearty return to the soccer pitch allows the show to more acutely observe Ted's relationship to his work. Season 2 spent much of its time deconstructing Ted's positive thinking off the field, through his sessions with the team's therapist. To make up for the lack of sports, the show also devoted significant screen time to expanding the supporting cast's personal narratives, as if uncertain whether Ted's journey would hold viewers' attention. The move made Ted's inner turmoil seem like a distraction, an emotional arc that never gelled with the rest of the ensemble's stories. In Season 3, the show better aligns his anxieties with his players' interests, allowing it to more intimately explore the limits of Ted's optimism. In an upcoming episode, Ted debates his assistant coaches over whether to motivate the team by angering them; at home, Ted wrestles with how honest he should be with his ex-wife about his fury over her new romance. Because Ted's impulse for harmony is being tested both on and off the pitch, the stakes of his choices feel higher than they did last season—and what he decides to do feels weightier too.
These interwoven story threads also help the show convey the suffocating nature of success. Ted used to be a fish out of water game to try anything; now he's less willing to shake things up, because he knows how much his players want to keep winning. In Season 1, for instance, Ted had no qualms about benching his star player, Jamie Tartt (Phil Dunster), to teach him a lesson about teamwork. In Season 3, despite Jamie's levelheaded appeal for Ted to impart similar wisdom on a talented new colleague, Ted can't bring himself to do so. The team's goal had been to fight its way back to the Premier League by any means necessary. Now that that's been achieved, AFC Richmond is faced with a more uncomfortable question: Can any of them risk losing again?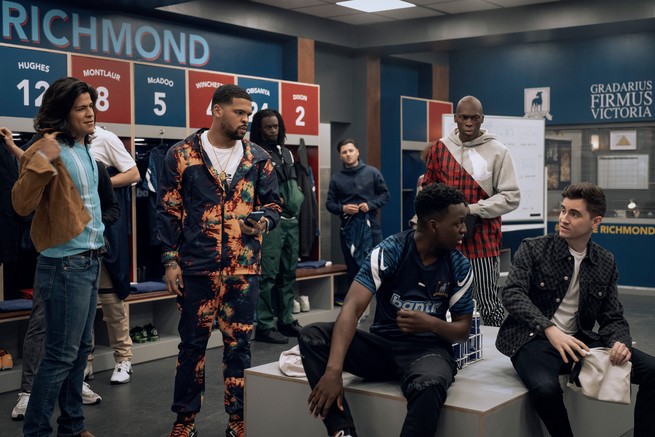 This isn't to say that Ted Lasso has become a show about soccer strategy; the sport largely still operates as a metaphor. Each character struggles to maintain momentum; most of them are trying to do so without compromising their happiness. The team's former PR consultant, Keeley (Juno Temple), who began her own agency at the end of Season 2, cheerily shows off her new office to Rebecca but sobs into her arms behind closed doors, overwhelmed by the job. Keeley's boyfriend and Richmond's captain turned assistant coach, Roy (Brett Goldstein), meanwhile, breaks up with her; he's afraid their bliss won't last. And Nate (Nick Mohammed), once Richmond's kit man, who came to resent Ted and left the team, has sacrificed his friendships for a shot at leading his own squad.
These tighter themes unify the season in its early going—a far cry from Ted Lasso's scattershot second installment, which overstuffed its storytelling with stand-alone "specials" and discarded narratives (remember Sam's crusade against Dubai Air?). The focus on how Richmond deals with its fortunes also works because it feels true to life, doubling as a reflection of the show's own stumbles after it became an unexpected hit early in the pandemic. Season 2 arrived with high expectations, and it awkwardly tried to balance its sunny reputation with more dramatic concerns. (That's also when the show's runtime ballooned: Half-hour episodes sneakily led to almost-hour-long installments.)
Ted Lasso no longer seems embarrassed by its darker emotional arcs nor quite as burdened by its reputation as a feel-good fantasy. Ted still can't resist a pop-culture reference, and every scene is still stacked with one-liners, but the show doesn't hesitate to have every episode run about 45 minutes long and come with an undercurrent of unease. The series may have probed the flaws that come with Ted's kindness, but it's finally fully embracing the idea that doubt has a place in even the most optimistic person's thoughts. It's a reminder that the attempt to sustain happiness from one moment to the next, although difficult, can be fulfilling. Despite what he's said in the past, Ted has always known that it's impossible to feel good all the time. Now he seems to be learning not just to acknowledge the bad but to accept it as a part of life.