The Game Show That Parodies Your To-Do List
Taskmaster reveals both the inanity of our daily obligations and the joy that we can find in them.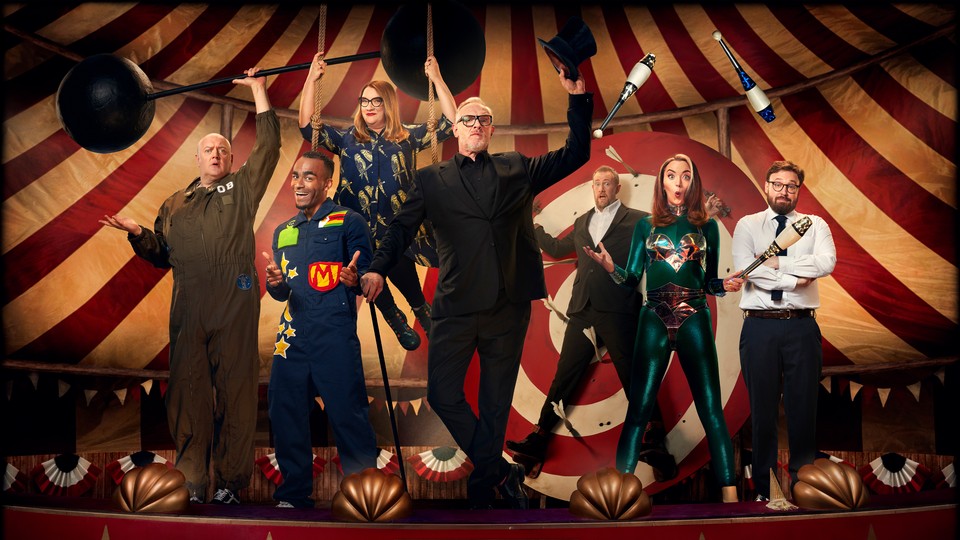 Imagine you are sternly handed an assignment: Express appreciation for your boss in the most meaningful way possible. The boss will determine who, out of several people, did it best. How would you approach the task?
In one episode of Taskmaster, a British game show entering its 15th season this spring, contestants had 30 minutes to figure this out. In the show, the authoritarian Taskmaster (the actor Greg Davies) gives five contestants—mostly British comedians—open-ended objectives via his demure assistant, Alex Horne. Davies then awards points for how well competitors complete the goals. The tasks themselves—make a massive block of ice disappear the fastest, run the farthest while making a continuous noise—are intentionally absurd, which means the solutions are too. This simple premise has achieved immense popularity: Although a 2018 American spin-off was short-lived, the British version has a significant overseas audience via its YouTube channel, which has regularly amassed more than 10 million views a month in recent years, mostly from watchers in the U.S.
In attempting to express affection for Davies, contestants opted for a tiny banner in the sky ("I ♥️ You Greg* … *Professionally") or an original song ("Greg Davies / I wanna have your babies"). But the comedian Liza Tarbuck got Horne to sit on a cake and describe how it felt to Davies. Her idea to debase Horne in order to gain favor with Davies leaned into the two characters' oddly sadistic relationship—the Taskmaster is an exacting tyrant; Horne is a glorified butler. Tarbuck told Horne to "take yourself somewhere private and put your bare arse into it." The video crew captured the gooey moment of impact for Davies to witness. Tarbuck received the maximum number of points.
This, in all of its weirdness, is the magic of Taskmaster. The show revolves around the tyranny of the task: Completing objectives to satisfy Davies is every competitor's purpose, the dignity of oneself and others be damned. At the same time, the show parodies society's obsession with accomplishment by setting deeply meaningless goals and encouraging creative loopholes for completing them. It evaluates every strange attempt on humor as well as efficacy. In doing so, the show hints that how we accomplish our goals matters just as much as whether we accomplish them.
This duality also makes Taskmaster feels like a pastiche of typical game shows. It revels in its segments' lack of connection to any practical skills, and Horne designs the tasks so that they can be accomplished in a multitude of ways. "We really don't want the young sporty man to run away with it each season," he told The Guardian last December. Taskmaster's winners require not unnatural athleticism or intelligence but an improv comedian's sense of possibility. Still, the stakes of the show are low: Each season's champion, crowned in the final episode, is awarded nothing more than a golden bust of Davies.
Thus, competition is simply context. The contest format pressures contestants to invent solutions, find work-arounds, or revert to a primal state of panic. The show's best moments emerge when the competitors succeed brilliantly or fail spectacularly (or both at the same time, as when one guy got a wonderful hole in one in potato golf only to be disqualified for the infraction of stepping one toe on the green.)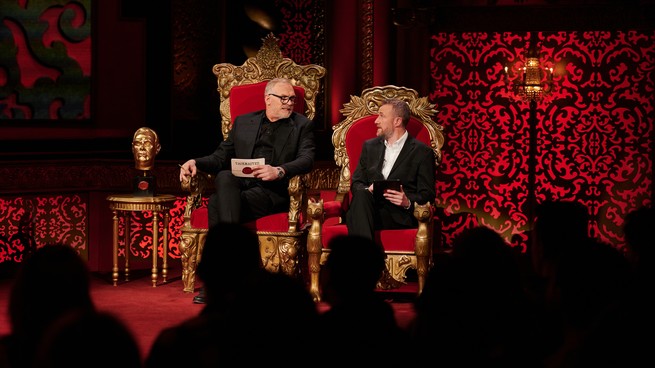 Sometimes, Taskmaster explicitly satirizes real-life tasks. Instead of fetching groceries, contestants are made to get household items into a shopping cart that happens to be across a river and doesn't have functioning wheels; instead of pushing suitcases through an airport to catch a plane, contestants launch luggage trollies into one another from across baggage claim in a kind of modified bocce. Competitors don't simply give a cake to their superior to show that they appreciate them; they turn the baked good into a vehicle for mischief. These moments can feel almost cathartic to watch: a devilish rebellion against mundanity.
The show also features tasks completely unrelated to quotidian chores—tasks that might nevertheless press the viewer to reframe how they look at the world. In Season 14, contestants had to identify the back of their own hand among hundreds of photos of hands. In an earlier season, they had to find out the occupation of an older man who would only lie. These types of objectives might inspire a sense of wonder in the viewer—at the texture of one's own skin, at the life's work of strangers. Other times, the tasks merely allegorize the Sisyphean nature of daily life. In the first season, Horne asked one competitor to figure out how many baked beans were in a can. The contestant meticulously counted 406 beans by hand, only to find out later that he had been pranked: The task didn't count for any points, and no other competitor had to do it.
Yes, tallying legumes is fundamentally meaningless, but so is playing potato golf for game-show points—and so is, you might suspect, the 50th email you send on a Tuesday. Yet Taskmaster doesn't reject the task as something that we simply need to escape, just as it never valorizes the grind as a sacred path to self-actualization. Instead, in its best moments, Taskmaster models a kind of virtuous circle of productivity, in which efficiency and competitive triumph can also be inventive and funny. It reveals the pointlessness of many of life's tasks and how, if we accept this unseriousness, we can find delight in them.