The Rare Joy of Jenna Ortega on SNL
The Wednesday star's keen commitment to every scene helped the episode achieve a fresh-faced vivacity.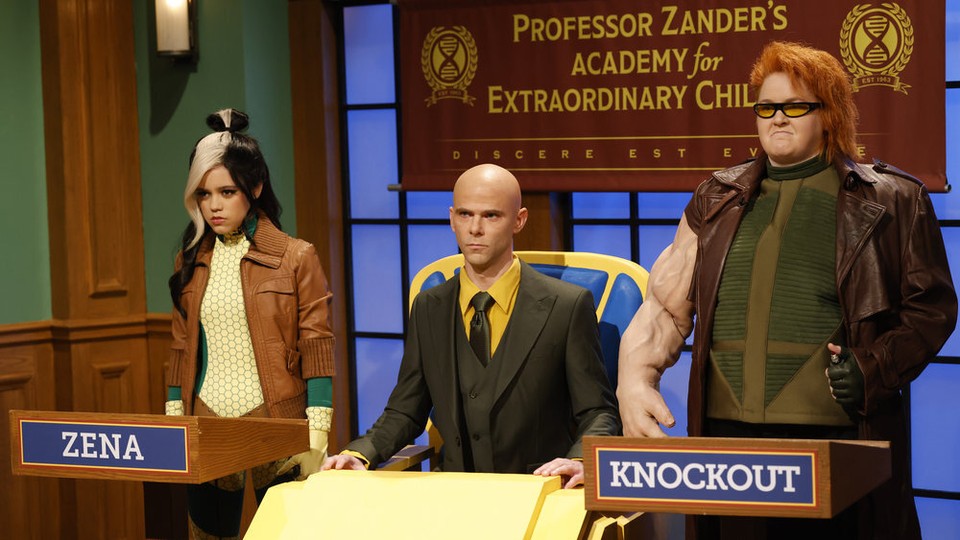 The beauty of an ensemble comedy cast comes partly from its fluidity. As fun as it must be to peacock in the spotlight, holding everyone's attention, it's just as important to know when to step back. Not every Saturday Night Live host exhibits that knowledge, but some of the stronger ones clearly pick up on the dynamic and thrive in sketches where their contributions fall closer to that of a supporting player. Last night, Jenna Ortega, a first-time host and the star of Netflix's brooding Wednesday, folded neatly into the cast, helping deliver a refreshingly impish episode reminiscent at times of classic SNL.
Ortega did grab the spotlight in a few sketches, such as the game-show bit "School vs. School," in which she played a mutant at an X-Men-inspired academy who faced off with more traditional high-school students. But some of last night's biggest payoffs came when Ortega did her scene work so well that, like a promising new cast member, she blended in seamlessly and let others shine.
In yet another excellent pre-taped sketch, "Waffle House," she served as the framing device, playing a teenager in a CW-esque high-school drama. Although the sketch appeared to focus on the breakup conversation she insisted on having with her boyfriend (Marcello Hernandez) in the restaurant's parking lot, the real conflict unfolded behind them. The premise exploited stereotypes about Waffle House's clientele in a wordless tableau writ large. With the help of careful editing, Ortega performed earnestly, fading into the background and allowing the surrounding mayhem to land more spiritedly.
Later, playing a girl possessed by a demon, Ortega seemed to be the primary focal point in "Exorcism." That is, until Mrs. Shaw (Ego Nwodim), an elderly neighbor disturbed by the ritual, decided to intercede in order to get back to sleep. Ortega could have distracted from Nwodim, but she instead made room for Mrs. Shaw's eccentricity. When Ortega began to levitate, Mrs. Shaw uttered the scene-stealing line of the night: "Sit yo ass down, baby, before I turn on the ceiling fan."
The bit, following closely on the heels of Nwodim's viral "Lisa From Temecula" moment and last week's sketch "Mama's Funeral,"  called back to SNL's heyday, when hit characters were often the backbone of the show. This season, we haven't seen much in the way of recurring characters outside the "Weekend Update" desk, but Nwodim has accumulated a stockpile of memorable characters in just the past few episodes. More, please.
The episode achieved a kind of rare joy for a season that has spent a good deal of time figuring things out. Part of that sentiment came from Ortega's youthful presence, which SNL leaned into rather than away from. When Billie Eilish hosted an episode at 19 last season, the show tended to place her in sketches that aged her—either slightly or significantly—in order to play up the contrast. So, too, with Jack Harlow. Instead, Ortega explored a wealth of colorful teenage characters that rounded out the gloomier work she's become known for this year. Ortega's sophisticated commitment to every scene—her professionalism and maturity—helped the episode achieve its fresh-faced vivacity.
That lightheartedness culminated in the five-to-one sketch, a waggish premise about lounge singers turned commercial jingle makers. Ortega played a lawyer (her one adult role of the night) tasked with finding a way to make her firm's phone number more memorable to potential clients—something like Cellino & Barnes' once-ubiquitous offering. Enter an idiosyncratic duo called Soul Booth (Andrew Dismukes and James Austin Johnson), plucked from the local watering hole, Lucciano's.
A cross between the characters the Culps and the Gibbs brothers, Soul Booth delivered three funk-driven options, none of which made the firm's convoluted number easy to remember but which caused Chloe Fineman (starring as a fellow lawyer) to break. Another colleague, Mitchell (Bowen Yang), kept vociferously insisting that Soul Booth make the jingle "more Luche" to reflect that ineffable Lucciano's quality, and nearly caused Ortega to break as well. Her stumble, brief as it was, delightfully interrupted the structure that her straightforward character lent the scene.
Throughout the episode, Ortega's instincts felt closer to those of a veteran host than a first-timer. She gamely jumped into roles both leading and lesser, finding the magic that makes for great collaborative comedy. In that way, she fit right in.