A Romantic Comedy You Never Want to End
The gleefully inventive Rye Lane is full of good chemistry and good vibes.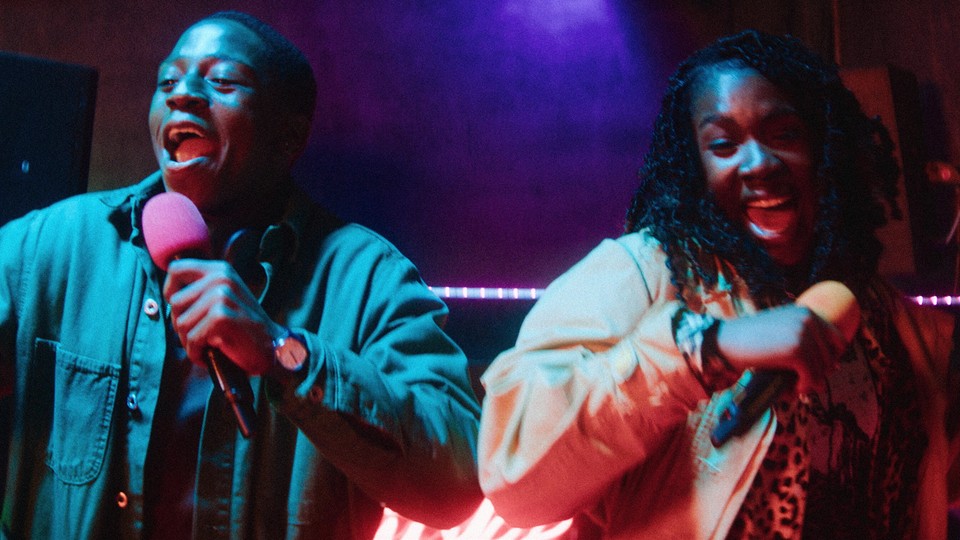 A quirky meet-cute? Check. Grand romantic gestures? Check. A memorable supporting cast, a climactic conflict that threatens heartbreak, and a message about how love triumphs against all odds? You name the rom-com trope, and Rye Lane, the new film streaming on Hulu tomorrow, probably has it.
And yet, that only works in the movie's favor. Rye Lane may be the most unconventional conventional romantic comedy in years, delivering the genre's trappings in such fizzy, gleefully inventive ways that even predictable beats feel new. The first-time feature director Raine Allen-Miller combines the structural simplicity of Richard Linklater's Before trilogy with the emotional exuberance of Richard Curtis's ensemble efforts, yielding a love story that's thoughtfully made and thoroughly charming.
It helps that the lead characters seem fully formed from the very first scene. Yas (played by Vivian Oparah) and Dom (Industry's David Jonsson) are both 20-somethings reeling from tough breakups, but whereas the extroverted Yas is approaching life with gusto, soft-spoken Dom has been unable to move forward. The two begin to chat after Yas hears Dom sobbing in the adjacent stall in a gender-neutral bathroom, and they wander the South London neighborhoods that surround the titular street, dipping in and out of shops and squares and alleyways. They swap horror stories about their exes. They go on comical side quests, one of which involves a spectacular cameo I won't spoil. They reveal their tastes, hopes, and insecurities. But whether they're sitting in silence on a park bench or struggling to hear each other over the cacophony of a karaoke bar, their conversation always crackles with excitement. Their curiosity about each other builds from scene to scene, and the film tracks how the buzz of meeting someone new can morph into mutual attraction—and, eventually, genuine affection.
The film matches Yas and Dom's buoyant energy with equally dynamic visuals. When they share anecdotes, those memories are depicted with a surreal touch. Yas's account of her breakup is presented as a stage play, with a theater full of Doms reacting to every twist and turn. When Dom learns that a friend of his had brunch with his ex and her new boyfriend, he envisions their meal as The Last Supper, a dramatic gathering of friends and foes alike. These flourishes are as amusing as they are meaningful. They underline how deeply Yas and Dom have been feeling about their recent troubles, while subtly conveying how similarly they think. By the time they share their first big kiss—a kiss you'll have been anticipating—you're invested not only in its happening but also in how each interprets the moment.
I first caught Rye Lane at this year's Sundance Film Festival and was struck by how much I wanted to see it again—for the pleasure of rewatching, yes, but also for the chance to study what Allen-Miller packed into every shot. Something—a man shimmying through the streets dressed as a cowboy, a pair of young girls filming a choreographed dance—is always happening in the background of Yas and Dom's journey. Every now and then, the director uses a fish-eye lens, giving her duo's adventure a dreamy bent. And the characters seem allergic to white or black or neutral shades; instead, they're clothed and lit in vivid hues. The film, as a result, feels as youthful as its lovebirds. It's endlessly fun to watch, capturing the thrill of a budding romance and the lively neighborhoods that serve as Rye Lane's backdrop. Allen-Miller, who grew up in South London, has created a visual time capsule of the area before its gentrification, letting the din of the surrounding streets accompany the eclectic, British-hip-hop-heavy soundtrack that serves as the film's heartbeat.
In less than 90 minutes, Rye Lane proves that an original romantic comedy can work on a small scale, with a simple premise. Despite regular reports of its failing health, the genre has never actually died; it has instead often adopted the characteristics of other, more box-office-friendly styles to survive. (At the moment, the action rom-com seems to be thriving: Think Shotgun Wedding or the forthcoming Ghosted.) But Rye Lane rejects the idea that a romantic comedy needs anything more than good chemistry and good vibes. It proudly deploys the genre's formula to serve characters and locations rarely seen on-screen. And like a good first date, it's the kind of rendezvous you never want to end.