The Long Afterlife of Awards-Show Speeches
Oscars speeches are immortalized online, and I can't stop watching them.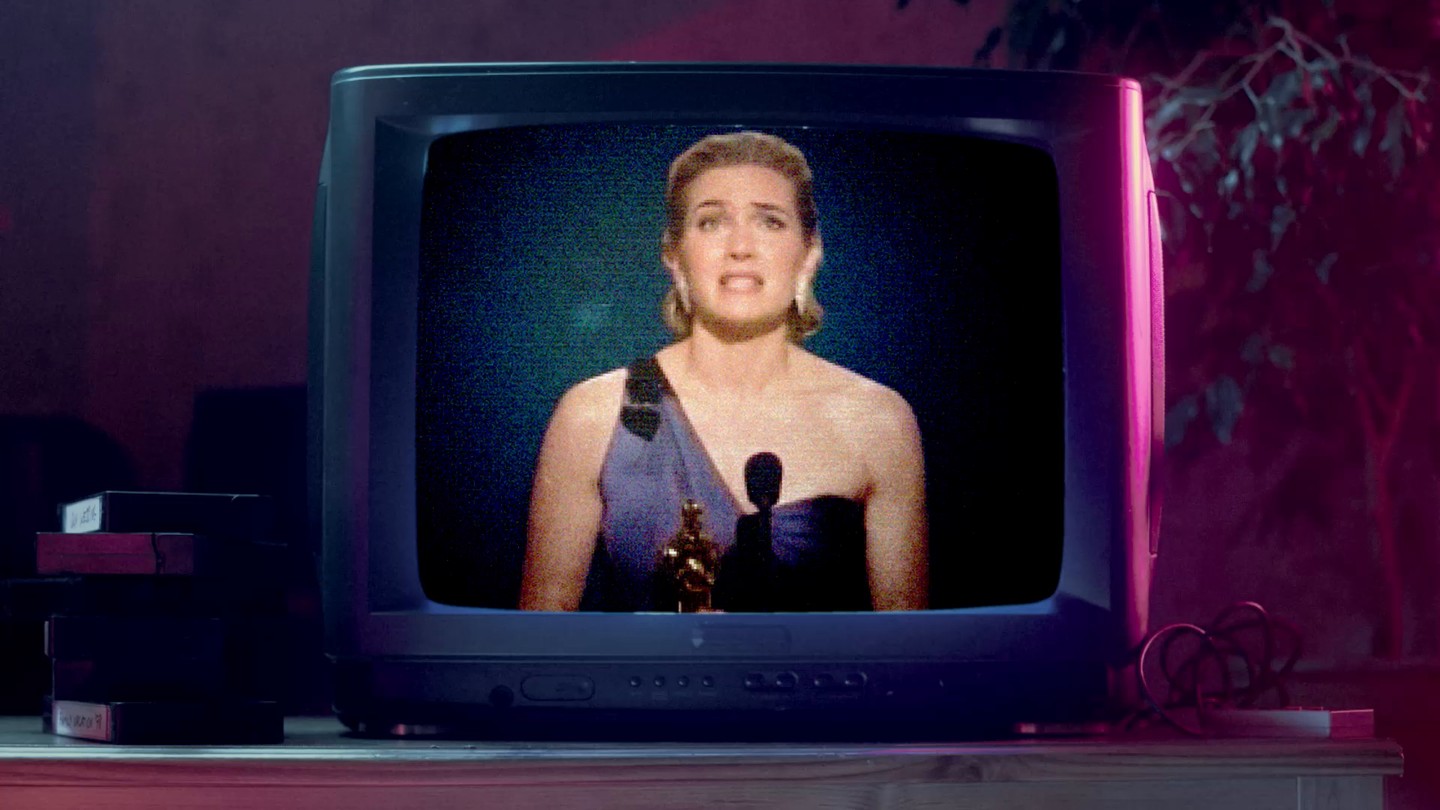 When Kate Winslet won an Academy Award in 2009, she started her acceptance speech by recounting breathlessly how she had practiced that moment in the bathroom mirror as a child, with a shampoo bottle as a prop statuette. "Well, it's not a shampoo bottle now!" she said, as if trying to convince herself. The actor then sought out her father in the crowd by asking him to whistle, whipped toward the sound, and blew kisses in her parents' direction with pure excitement.
Winslet was being honored for her role in The Reader, a movie I have never seen and perhaps never will. Still, more than a decade later, the video occasionally comes up in my YouTube suggestions, and I watch it every time. The way Winslet grips the award as if it will be taken away from her; her reverent tribute to two of the film's producers, who had died; her disbelief at being in the same category as Meryl Streep—it never fails to put a huge grin on my face. I've probably surpassed a dozen viewings at this point.
For me, acceptance speeches are undoubtedly the best part of an awards show. Most broadcasts have canned bits between presenters, and perhaps a well-executed musical number (or, at the very least, a camp performance extravaganza). But the acceptances feel like humanizing moments, unscripted by a producer. Celebrities, so often portrayed as singular talents, thank the people who got them to this career pinnacle—a lovely reminder of how success is a group effort. Their joy tends to be infectious. And, thanks to the internet, the speeches can endure long after the ceremony as bite-size clips. They are a packaged euphoria for viewers to consume on demand. Whether or not watchers know anything about the circumstances of the win, the most popular videos typically have two elements that the internet loves: celebrities and apparently candid reactions.
The speeches themselves can be repetitive: Winners tend to shout out their families, the cast and crew of the project, their agents, God. But that sameness is part of the point; I can watch dozens of monologues knowing they'll supply the sentimentality I want. Each one feels like a contained emotional arc. There's the tension as the presenter lists the nominees; the thrill when the winner is announced; the speech itself; the hasty, orchestra-assisted ushering of the winner offstage. The ending always feels like a happy one. (When speeches deviate from the usual format, it's a fun surprise too—like the actor Merritt Wever's Emmy speech, which went, in about 10 seconds, "Thank you ... thanks so much … Thank you so much … I gotta go, bye.")
The similarity of these videos makes them ideal for the most positive kind of YouTube rabbit hole. The algorithm can pick up on my having watched a few speeches and lead me to similar content, until I find myself tearing up at Michael Jeter's Tony Awards speech given a decade before I was born, for a musical I had never heard of. Even Frank Sinatra's 1954 acceptance speech does not seem all too different from one that could happen today, except that it was shot in black and white.
I repeat the ritual of the acceptance-speech binge-watch every couple of months or so, especially during awards season. When I'm having a night in and feel like there's nothing to watch, I'll cue up a few of my favorites and spend the evening with artists and their trophies. Some classics include Jennifer Hudson's win for Dreamgirls, where she talks about her inspiration from her grandmother, who never had the chance to be a singer; young Ben Affleck, alongside Matt Damon, saying there is "no way we're doing this in less than 20 seconds" after the pair won Best Original Screenplay for Good Will Hunting; Bong Joon Ho using his speech to thank the other directors in the room who inspired him; teeny, tiny 11-year-old Anna Paquin hyperventilating through hers. I simply don't get tired of them. And I can't help it: When the winners cry, I cry.
Of course, the effectiveness of these speeches can't be separated from the fact that many of them are spoken by professional actors, whose entire job relies on their ability to deliver believable displays of emotion. Some speeches are clearly more rehearsed than others; speakers have a list of names handy or break out into song. Theatricality doesn't have to undermine sentiment—make no mistake, Sheryl Lee Ralph's speech at last year's Emmys was incredibly moving—but it makes clear that an acceptance speech is still a performance. Viewers can also gain little bits of insight about the artists—how they were told to have a backup career such as welding, for example, or that their dad has an impressive whistle—from a late-night interview or a celebrity tabloid, even if it takes on a grander resonance when broadcast from Hollywood's biggest stage.
Ultimately, acceptance speeches are an apt encapsulation of what entertainment today is all about. They're sincere enough to elicit the viewer's feelings and polished enough to be pleasing to watch. They're predictably comforting and have a short run time. At a time when social media has blurred the lines between real life and entertainment, there is a strange honesty about broadcasts like the Oscars, which have spent decades perfecting this hybrid form: They don't pretend to be anything other than a show.