Kelela Knows What Intimacy Sounds Like
The elusive R&B singer wants to help you feel your feelings: "If you came to the club to dissociate, I'm 'bout to make you cry."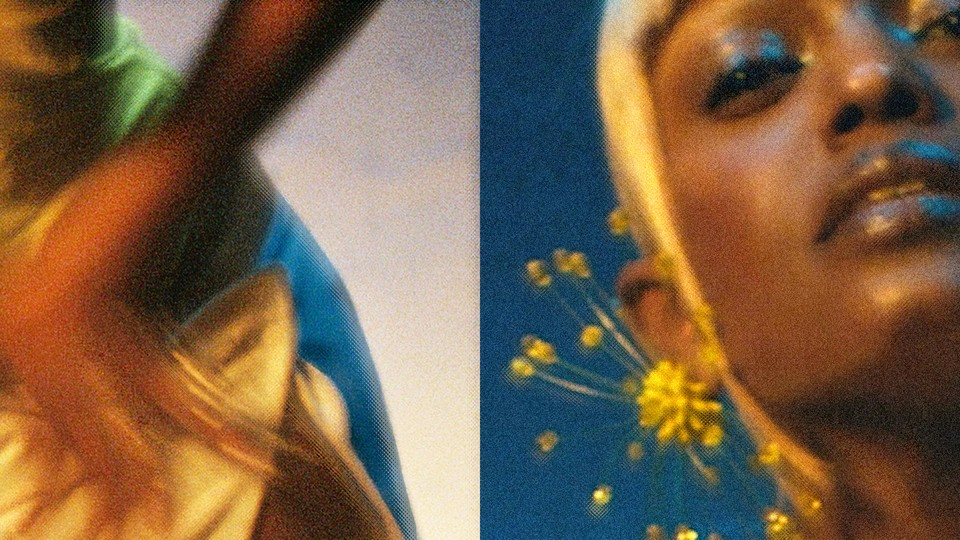 On a Tuesday afternoon last month, I found refuge from the dreary chill of New York's winter in the cardamom-scented warmth of Benyam Cuisine, a small Ethiopian restaurant in Harlem. The family-run establishment is normally only open for dinner Wednesday through Sunday. But that day, a co-owner trekked in from Jersey City to indulge two homesick Ethiopian American women: myself and Kelela, the enigmatic R&B singer whose fan base includes the likes of Beyoncé, Solange, Björk, and, not coincidentally, the Benyam host's niece.
Kelela, who is 39, has cultivated a mystique that's exceedingly rare in the modern music business. It's been nearly 10 years since she released her 2013 mixtape, Cut 4 Me, which earned her an eclectic following of industry heavyweights, R&B purists, dance-music DJs, and indie obsessives. In 2017, she dropped her studio debut, Take Me Apart, which cemented her standing as one of modern R&B's most inventive vocalists. Take Me Apart is by turns brooding, defiant, and haunting—and in each register, Kelela's voice wraps itself around the melodies with hypnotic confidence. After that creative leap and the subsequent tour, she essentially vanished.
Save for some remixes and the occasional social-media missive, Kelela has been all but silent in the five years that have passed since Take Me Apart. She hasn't released any buzzy new singles or done one-off features on pop tracks to keep her name in headlines. By 2020, fans were lamenting her apparent disappearance with escalating levels of desperation, waxing poetic about her old music in her absence. Her lyrics and distinctive sonic landscapes had clearly embedded themselves in her fans' most tender, intimate moments. "For me, that just hit so hard," she told me as we talked over therapeutic mugs of spiced tea and a generous platter of injera.
When it came time to finally announce her new record, Raven, which was released last month, Kelela indulged her fans a little. The singer teased the album's arrival with compilation videos highlighting some of their most amusing grievances:
@kelelam please come back I have problems at home

what is joe biden's plan to get kelela back into a studio
            His silence is deafening

kelela can u pls release something we r sorry for whatever we did to u
Among Kelela's most ardent admirers, the artist is beloved for operating as a conduit: If there's a feeling you can't access, at least one Kelela track will usher you toward it. Somewhere between honeyed vocals and eerie synths, her music creates a space for release. Whatever emotion you've been avoiding in your life will rise to the surface. "If you came to the club to dissociate, I'm 'bout to make you cry," she said with a wry laugh. She also serves as a conduit for her collaborators: On "Scales," a standout from Solange's 2016 opus, A Seat at the Table, Kelela's harmonizing somehow makes Solange sound more like herself.
To fans, the fact that Kelela's absence coincided with the height of the pandemic deprived them of an alternative emotional language during an acutely difficult period. Even so, many of the tweets directed at her were as gentle and reassuring as they were pleading. We may be suffering without new music, they seemed to say, but take the time you need. Kelela choked up a bit thinking about it. "It's so empathetic," she said. "It's so anti-capitalist, it's so pro-Black, and that matters so much to me."
---
Before she became a singer so adored that fans Photoshop her face onto missing-persons posters, Kelela Mizanekristos was a student of sociology and of her parents' record collections. The only child of two Ethiopian immigrants who came to the United States in the '70s, Kelela was born in Washington, D.C., and raised speaking Amharic, the official national language of the country her parents left behind. (In Amharic, kelela loosely translates to "shelter.") Her parents, who never married, lived in separate apartments in the same building until she reached school age and her mother moved the pair to Gaithersburg, a nearby suburb in Maryland.
Much of Kelela's musical diet when she was a child was shaped by her parents' transoceanic tastes. Like many second-generation kids, she grew up listening to a mix of American pop and R&B (Whitney Houston, Janet Jackson, Teddy Pendergrass) and so-called world music (Miriam Makeba, Aster Aweke). In her mother's basement, which she dubbed the "Conservatory of Kelela," she immersed herself in the discographies of jazz singers such as Ella Fitzgerald, Sarah Vaughan, and Betty Carter.
Of the R&B staples she was raised on, it's Janet Jackson's influence that comes through most clearly across Kelela's oeuvre. The three-album arc from 1989's Rhythm Nation 1814 to 1993's Janet to 1997's The Velvet Rope showed her how one artist can encompass an array of perspectives, feelings, and sonic backdrops. Before Kelela had the words to describe it, Jackson's triad taught her about a specific musical and emotional agility that she's come to associate chiefly with the work of shape-shifting Black artists. "That's a very special thing, to reveal a lot of yourself and have it [feel] like such a range and fit a different mood each time," she said. "From leading with the political to 'I'm so sexy, I can't contain it' and then finally to … resistance … It's a texture and a way of being that I just love so much."
On car rides, Kelela's dad threw in tapes that she credits with far more than her musical stylings. Tracy Chapman's 1988 self-titled debut played a formative role in her understanding of what it could look like to be a Black woman in America, along an entire spectrum of gender presentation, long before she had the language to describe her own queerness. The experience of reading the liner notes for the first time was transformative. "My dad had a political project with that one," she said with a laugh.
---
Kelela's father wanted to ensure that his American-raised daughter would value not only her Ethiopian heritage but also a broader sense of Blackness. She says he stoked much of her curiosity about the world, especially her interest in forging stronger, more intentional ties across the African diaspora.
Since Kelela released Cut 4 Me, she's been insistent that she makes Black music drawn from a deep R&B tradition. Like other artists who make "alt, left-of-center" music, the dance- or club-inflected tracks that draw from Black queer countercultures, she's often asked to categorize her sound. R&B singers are known for their scale-spanning vocal runs, yet Kelela says that she has peers who resist that label, despite singing exclusively with runs. "If you ask them if their music is R&B, there's a way that they feel like it's reductive," she said, which she attributes partly to anti-Blackness. In an industry climate that remains deeply racist, there can be serious economic consequences for Black artists who explicitly align themselves with the genre label first coined to replace the term race music. But for Kelela, the category is always R&B: "Obviously, we're all complex here, but I make Black music. In no way, shape, or form am I confused."
As we talk, Kelela excitedly mentions a nascent project she's been thinking through since the early pandemic days. It has no real form yet, much less a cohesive format like an album, but whatever it ultimately becomes, she wants it to challenge people who are more interested in appearing to be connected with Black people than in actually doing any internal or community-focused work. As her father often puts it to her, it's really easy to get Black solidarity wrong.
For a certain type of middle- or upper-middle-class Ethiopian kid living in the United States, getting Black solidarity wrong isn't just easy—in a lot of instances, it's tacitly encouraged. As a young person growing up in an area that has the largest Ethiopian population outside Africa, Kelela noticed the preferential treatment she and others like her would sometimes receive. Often, that played out in social settings, where the desire that some men expressed for Ethiopian women clearly resulted from anti-Blackness, internalized or otherwise. To put it crudely, it doesn't feel like a coincidence that the features some people cite when praising Ethiopian women—loosely curled hair, small nose, light to medium skin tone—are usually the ones that are perceived as distinguishing Ethiopians from other Black people.
In moments of frustration, especially in the face of postparty catcalls, a younger Kelela would sometimes prod men to admit this. Barely over 5 feet tall, she's hardly the most intimidating figure, even now. But the force of her budding political convictions—and, crucially, the seeming invincibility of youth—made it easier to confront men who seemed content to use her as a cudgel against other Black women.
Ethiopians, like many African immigrant groups, are relative newcomers to the United States; it wasn't until the 1950s that significant numbers of Ethiopians arrived in the country, and the biggest waves came in the decades that followed. (Kelela's parents, who left Ethiopia amid the escalating political turmoil of the '70s, were among the earlier groups.) Some white Americans are clearly more comfortable interacting with African immigrants than with Black Americans. Among upwardly mobile Ethiopians in the United States, that tokenization is sometimes further amplified by the East African country's long, incredibly fraught history as a symbol of diasporic independence.
Since her early college days, Kelela has been preoccupied with what it means for second-generation African immigrants to actually show up for other Black people. Not only did Ethiopians never bear the brunt of North American slavery, but we also, by and large, weren't the ones who desegregated public schools and lobbied for civil-rights legislation. Having matured into one of the most prominent second-generation African musicians in the United States, Kelela wants to use her platform to directly challenge fellow diaspora kids. To her, the fact that we're able to forge creative careers after just one generation in the U.S. means "it's our responsibility to be concerned for Black Americans' safety, as people who are benefiting from the ways that they have paid it generation after generation."
---
Kelela started working on the music that would become Raven when she was living in Berlin, in January 2020. She'd spent much of the past two years touring internationally—a physically and mentally exhausting gantlet that saw her in Brazil, Japan, Ireland, Norway, and festivals across the United States. Berlin needed to be a clean slate.
Kelela approached the DJ and producer Lsdxoxo, who was on her Take Me a_Part, the Remixes, about collaborating on new songs. She remembers thinking, "I just need a safe beginning right now, and I don't even know what I'm doing." Her week working with Lsdxoxo, and later with the Berlin duo OCA, was far more revelatory than she could have anticipated. Kelela started with nothing and ended the creative sprint with "the color and the whole thing"—13 of the 15 tracks that would ultimately become Raven. The title track came the following month in an ecstatic session with the producer AceMo.
But the album hadn't yet coalesced into the thing she wanted it to be. Kelela needed her project to be a record that would calm her anxieties about the legitimacy of her work through the very process of creating it. "By not editing too much, by not going to an 'expert white guy' as an executive producer," Kelela said, she set about trying to make the work itself feel more affirming. Raven was executive-produced by Kelela and co-executive-produced by her longtime collaborator, the Los Angeles–based DJ and producer Asmara. Over Zoom, the pair worked their way through the tracks Kelela had recorded in Berlin. Very few men were involved in the process, Asmara told me—one of the more rewarding aspects of the project. "We masculinize technical skills in the music industry," Bambii, another collaborator, told me. Black women are often shut out of production roles.
Raven delivers on the sly teasing of its reveal. On one track, arguably the album's most sensual, Kelela sings a line that registers as a winking nod to one of the most heavily circulated tweets from her hiatus: a joke about the role her music plays in queer intimacy. Taking a cue from its avian eponym, the album is dark and complex, at times feeling almost otherworldly. Beginning with its ethereal intro, "Washed Away," Raven captures the listener's yearning—for another person, perhaps, but also for another Kelela record—with eerie precision: "The hope, the longing, fade away, blurry-eyed." By the album's final track, "Far Away," a reprise of "Washed Away," the "dust that settles in the night" has been traded for "the rain that pours / And the floody nights." With repetition comes release.
If Take Me Apart was an undoing, Raven is a rebirth. On a few tracks, it gestures toward Kelela's absence with a characteristic smirk. But more often, the record expands on both the emotional terrain and the dexterity of its predecessor. A soundtrack tailor-made for the singular intensity of finding yourself—or someone else—in the woozy glow of the club, Raven is a work of staggering, studied intimacy. In that, it's a direct reflection of the years Kelela has spent digging deep into not just her musical craft but also Black feminist theory.
To the extent that Raven has a thesis, it's a treatise on the marvel of Black interdependence. In a world that constantly threatens the survival of Black women and Black queer people, making art that articulates our emotional needs is its own liberatory wonder. "This record is meant to highlight and uplift the internal work that marginalized Black folks are doing that no one can see," Kelela said. "And in this album, that's being vulnerable in the face of being treated like shit—while also having boundaries."
Part of what pulses through Raven is Kelela's willingness to plumb fraught emotional territory so that the listener's catharsis might prove less brutal. She wants to be the conduit her fans have come to rely on. "I do see myself as somebody who's kind of dealing between worlds, helping translate what you're feeling into something, giving you a space to be," she said as we sat and talked after walking through the Africa Center's "States of Becoming" exhibition, some 40 blocks away from Benyam at the northern end of New York's Museum Mile. Her listeners, for their part, have responded to the new album with the same fervor that animated their half decade requesting it.
For all its bounce, Raven has a clear theoretical underpinning, an interest in exploring misogynoir and how we push back against it. Often, those small rebellions take place within the container of romantic relationships. "On the Run," for example, is an expression of unmet needs: "I shouldn't have to try / Not gonna read your mind / Give me a softer side / I won't wait all night." It's one of several songs on the album that telegraph the classic Kelela combo: heaps of vulnerability garnished with an unequivocally expressed interest in self-preservation.
Part of what took Kelela so long to share this album was the work of settling into herself. She spent the height of the pandemic reading and theorizing with friends, inhaling books such as Sesali Bowen's Bad Fat Black Girl and Cathy Park Hong's Minor Feelings. "It's giving bell hooks taught me," she said with a laugh.
These works all made their way into the music, because they recalibrated her relationship to herself and to those around her. If Kelela had shared the tracks she'd had sitting around as singles back in early 2020, she said, it would have undercut the depth of what is now Raven. Put more plainly, she wasn't yet scared enough of the risks she'd taken in the music. "My theory is that it's very audible; those intentions are very audible," Kelela said. "If I don't feel on the edge, you ain't gonna feel on the edge."
---
​When you buy a book using a link on this page, we receive a commission. Thank you for supporting The Atlantic.