The Movie That Helped Kazuo Ishiguro Make Sense of the World
The Nobel Prize–winning author's work has long had a symbiotic relationship with cinema. His Oscar-nominated film, Living, is the logical next step.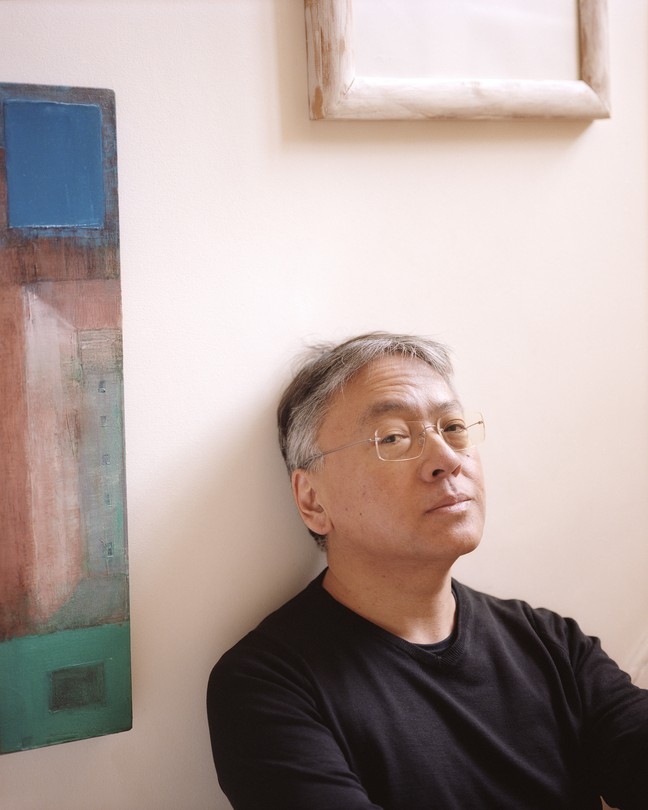 Before Kazuo Ishiguro published a single word, let alone collected such a series of accolades that each threatens to outdo the last—the Booker Prize, a knighthood, the Nobel Prize in Literature—he was a boy in the pleasant English commuter town of Guildford whose mother would act out the plots of Japanese movies she loved. The Ishiguros moved from Nagasaki to the U.K. in 1960, when young Kazuo was 5, for what was supposed to be a temporary stint while his father, an oceanographer, conducted research. But they ended up staying, longer and longer, until England eventually stopped being a liminal place and started being home.
Without access to cinema from Japan, Mrs. Ishiguro staged what her son describes as "one-woman shows." One was a version of Ikiru, an existential drama from the master director Akira Kurosawa about a deadened civil servant who discovers he has terminal cancer and embarks on a mission to make his life meaningful. Even as a child, without having seen a frame of the film, Ishiguro felt a powerful connection to the story's exploration of a man calcified by tradition who starts to reject his internal coding. Looking back, Ishiguro thinks the movie's themes helped define his sense of the world. The absurdity of life when death is inevitable, the confinement of hierarchy and class, the strange tragedy of narrators who feel not quite fully human—all of these ideas tend to kaleidoscopically merge and divide and multiply in his fiction, which comprises some of the greatest novels of the modern era.
When we met for afternoon tea at a hotel in central London last month, Ishiguro had just returned from his fourth trip to Los Angeles in a four-month period, doing promotional work for an adaptation of Ikiru he wrote titled Living. In January, the movie was nominated for two Oscars, one for Ishiguro's screenplay and another for Bill Nighy in the lead role of Mr. Williams, the repressed council bureaucrat whose diagnosis propels the movie's plot. Living, with its thunderous score and visual interplay between light and dark, is partly an homage to classic British movies of the 1940s and '50s. But it's also a thematic continuation of what the writer Haruki Murakami has called Ishiguro's "larger macro-narrative" and "wonderfully distinct universe." This is familiar parlance for filmgoers these days, who are accustomed to pop-culture franchises—constellations of movies and TV shows that operate in tandem with one another and work to spur our continual interest in consuming them. It's much more unusual to think about that conceit for a novelist's work. Ishiguro's books don't refer to one another; they share no characters and few specific places or historical eras. Yet, together, they function as more than the sum of their parts. "I do see [my books] as all part of the same project," Ishiguro told me. "There's a continuity there for me. It doesn't make much sense for me to think of them as different things."
Literary superstars have long taken on lucrative side gigs or experimented in different creative lanes—consider the screenplays of Harold Pinter, the movies of Jez Butterworth, the cat poetry of T. S. Eliot. But rarely do the results fit so intriguingly into their existing body of work. Living interacts richly with some of Ishiguro's most widely read novels—The Remains of the Day, Klara and the Sun, Never Let Me Go—as well as his earlier stories and screenplays. Each work investigates what it means to truly and wholeheartedly live when doing so seems impossible, and failure appears inevitable.
Watching Kurosawa's films in his youth, Ishiguro was struck by the recurring portrayal of glory not as something that other people can bestow but as something that comes from oneself—the kind of unspoken self-affirmation that he calls "lonely pride." Living is about a man's effort to cut through government red tape to build a children's playground at the end of his life. But the point, Ishiguro said, isn't "that your playground did some good in the world. The point is that you gave everything to creating it, and that gave you meaning." This is what he took from Ikiru, and what he believes has been shaping his work ever since. It's also what gives Living an element that isn't always present in Ishiguro's novels: triumph.
On the day we met, Ishiguro wore an austere gray suit—he'd come straight from lunch with his Canadian publisher—and talked somewhat automatically (a symptom of months on the interview tour), but he occasionally broke into laughter. The idea for Living, he said, came to him in 2018, while he was having dinner with a producer friend who invited Nighy to join them. Later, sharing a black cab with Nighy, Ishiguro had what he described as a "eureka moment." He could see, suddenly, the perfect shape of an Ikiru remake set in England in the postwar 1950s, with Nighy in the central role, in a story informed as much by English stoicism and irony as by Japanese rules and tradition. "I said to him, and I hesitate to repeat this"—he lowered his voice—"I actually said to him, 'Bill, I know a part that will get you the Best Actor Oscar.'" He smiled.
"And his ears perked up?" I asked.
"No, no, they didn't. He went, 'Ohhh ehhrmm hmmmmmm,'" Ishiguro said, doing an uncanny imitation of Nighy's laconic mumble. Over the next few days, though, the idea stayed with him. He was in the middle of writing Klara and the Sun, his 2021 novel narrated by an AI doll in a near-future American city, so when he pitched the movie to his producer friend, Stephen Woolley, it was as a project that someone else could write. But the producer logically argued that Ishiguro had a more profound connection to Ikiru than anyone else did. "I'm not a screenplay writer," Ishiguro told me, applying jam to a scone. "But he persuaded me to have a go."
The first half of that statement isn't exactly true. Although he's best known as a novelist, Ishiguro's first full-time writing job was a gig doing scripts for Channel 4, the British TV network whose film-production arm fostered the early work of directors and writers including Stephen Frears, Hanif Kureishi, Gurinder Chadha, and Steve McQueen. One film he wrote for Channel 4, The Gourmet, starred Charles Gray as a jaded restaurant critic whose boredom prompts him to seek out unspeakable novelties on the plate. Later, Ishiguro also wrote The White Countess, a 2005 Merchant Ivory film starring Ralph Fiennes and Natasha Richardson as lovers in 1930s Shanghai, which explores, among other things, the trauma of war and the anxiety of privilege. And he wrote The Saddest Music in the World, a screenplay that went into development purgatory before being somewhat eccentrically rewritten and filmed by the avant-garde Canadian director Guy Maddin. Set in Depression-era Winnipeg, the 2003 movie stars Isabella Rossellini as an heiress whose prosthetic legs, at one point, are filled with beer. That particular detail, Ishiguro said, was Maddin's. "Saddest Music," he added, "is probably the most mainstream film [Maddin] ever made." He laughed.
Ishiguro finished an initial draft of Living fairly quickly, right before the coronavirus pandemic shut everything down in 2020. When the South African director Oliver Hermanus, whom Ishiguro describes as "almost unreasonably perfectionist," signed on, they were able to vision-board the movie for almost a year and a half without any pressure to jump into production; Hermanus could suggest expanding certain scenes, and Ishiguro could spend time rewriting them. They ended up with reams of discarded material and a spare, precise movie that's as rigorous as it is devastating.
What Ishiguro manages to do with Living is indicative of what sets his writing apart: So much is about what it contains between the lines—the thing the novelist Mary Gaitskill has described as "the inner weave" of a work and "the subtle life inside the apparent story." In Klara and the Sun, when a character reveals simply that her husband was "substituted" out of his engineering job, the lone verb suggests a saga all on its own—fleets of workers being replaced by artificial intelligence and the crises such a systematic replacement would precipitate. A Pale View of Hills, Ishiguro's first novel, is saturated contextually with an event the book doesn't explicitly consider: the atomic bomb dropped on Nagasaki. The negative space in Ishiguro's writing is often more loaded than his prose, which in turn allows the film adaptations of his novels so much potential.
In Living, the moments that carry the most weight tend to be wordless: an umbrella pointed toward someone to keep them in check, the robotic parade of bowler-hatted commuters onto a train platform, the pitying expression on a character's face when he sees someone sacrifice their dignity. Much of the dialogue is almost comically understated. Williams's response to his terminal-cancer diagnosis is a single word: "Quite." When Williams reveals to a stranger the collection of sleeping pills he's amassed in order to end his life, the stranger eyes him up and says, with careful intention, "Rather a lot, old man." Similarly, Nighy's performance is often most astonishing for what it suggests rather than what it actively conveys.
Movie versions of Ishiguro's work have historically thrived on the tightness of his writing. Mark Romanek's 2010 Never Let Me Go emphasizes the uncanny beauty of the pastoral English setting; this heightens the dystopian, metaphorical elements of the story, about human clones who are raised in boarding schools until it's time to extract their organs. The Remains of the Day, lushly adapted by Merchant Ivory and nominated for eight Oscars, finds its heft and pathos in the actors' performance, as Emma Thompson's housekeeper and Anthony Hopkins's butler each battle to resist the other's magnetic force. Ishiguro welcomes adaptations of his work, unlike many novelists, although he admits that it's easier to do as someone whose books are widely read: "If I thought nobody had read my book, if it had only sold a few hundred copies and then someone was going to make a movie, I probably would feel a bit possessive."
He also finds it funny that, at 68, he's suddenly being hyped as a hot new screenplay writer on the basis of his Oscar nomination. "I've got a bit of impostor syndrome," he said. The producers reaching out are most likely, he thinks, just looking to capitalize on his latest accolade. "I'm not sure if they really think I'd be a good screenwriter, but if suddenly they can say, 'You know, we've got on board the Academy Award nominee Ishiguro, who also happens to be a Nobel Prize winner,' it's easier to get the development going. They can fire me later." But he's also guarding his time: "I'm a certain age now … You can waste years and years developing a certain film that doesn't get made now or isn't very good. So I have to be careful now not to get distracted by things I don't really care about."
The film and TV industry, he knows, is impossible to predict. Klara and the Sun is currently being adapted into a big-budget production by the producers Elizabeth Gabler and David Heyman (the latter is the megaproducer of the Harry Potter franchise). A TV adaptation of Never Let Me Go, spun off from Ishiguro's novel into an original story by the writer Melissa Iqbal, was recently canceled by FX—possibly, Ishiguro thinks, because of ongoing turmoil at Disney. It was a project he was particularly intrigued by, in part because although it had a new plot—about a 14-year-old clone who's required to pass as human in the outside world—it felt in concert with his work: an outsider trying to understand the strange customs of the people around her. He thinks it could have been a valuable addition to the universe of his novels, the "pool of stories that other people take on and change and carry."
This body of writing, though—let's call it the Kazuo Ishiguro Novelistic Universe—remains unique and distinct. Living, a movie adapted by a fiction writer who first saw its original story acted out by his mother when he was a child, is particularly fascinating for how it seems to pull together all the various threads of Ishiguro's history: his curiosities, his heritage, his early life as a jobbing scriptwriter, his abiding love of film. The movie undoubtedly belongs with his novels. If it also stretches beyond them to grant its central character a victory in the final act, it's hard to begrudge him something even vaguely akin to a Hollywood ending.
---
​When you buy a book using a link on this page, we receive a commission. Thank you for supporting The Atlantic.