Daisy Jones and the Trap of the Love Triangle
How could a show about a chart-topping band care so little about the making of their music?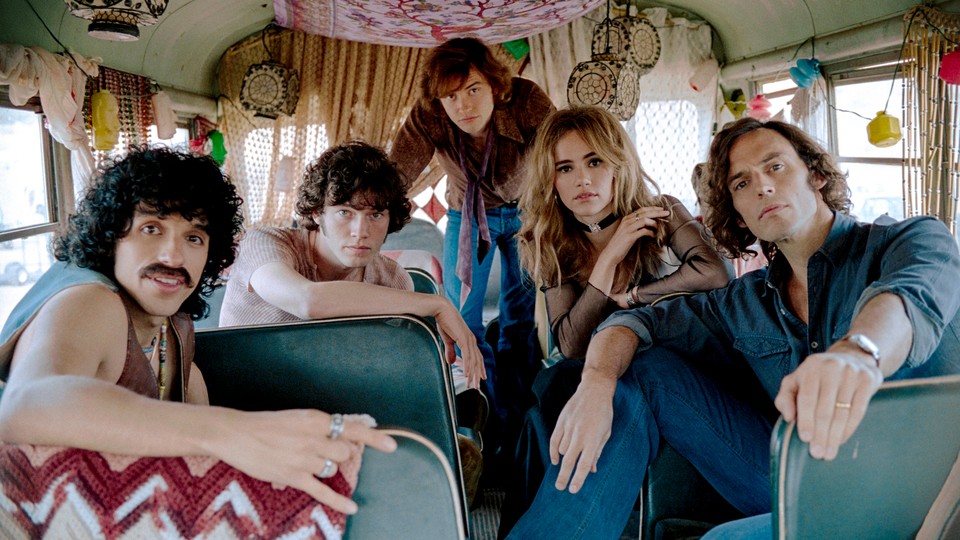 Gossip can provide sensational grist for an entertainer's appeal, for better or worse. But for singer-songwriters whose artistry is often diaristic, scandal is especially intriguing. They can't release or play their music without the audience wondering how personal it is: Are these songs about them? Is what's happening onstage actually a performance? How did they write these lyrics? What could they possibly get out of being the subjects of such attention?
Based on Taylor Jenkins Reid's best-selling novel, Daisy Jones & the Six understands that musicians face inherent tension between their professional and private lives. The titular, fictional band at the center of the series is clearly modeled on Fleetwood Mac, the famed 1970s group whose most successful album arrived amid shocking relationship drama and internal feuding. But if fans felt drawn to Stevie Nicks and Lindsey Buckingham because their performances came with an air of mystery—were these exes gazing or glaring at each other, even decades after their breakup?—Daisy Jones strips away the mystique surrounding such dynamics.
Despite following a docuseries format akin to VH1's Behind the Music, the Amazon drama is concerned less with examining the turmoil of the creative process than with depicting predictable love triangles that morph, across 10 episodes, into more complicated shapes. The show looks and sounds polished, beautifully capturing the earth-toned aesthetics of the era and producing an impressive album of earworms. But it's a sun-kissed misfire that reduces what could have been a fascinating look at the profundity of artistic connection to a shallow soap opera. It's a catchy tune, in other words, without a message.
When Daisy (played by Riley Keough), a solo artist with a sweet voice, meets Billy (Sam Claflin), the forceful frontman of a band building modest success, they clash immediately. Daisy thinks Billy's writing is too sappy; Billy doesn't think the band needs another member. That's rich storytelling ground, but the show isn't interested in how they overcome their differing approaches to their work. Although their mutual attraction is a significant part of the novel, the TV series further emphasizes their courtship, and most of the screen time is dedicated to contrived or complicated romantic entanglements that aren't in the book at all. The band seems made up of love triangles: Karen (Suki Waterhouse), the keyboardist, competes against a fan for the affection of the guitarist, Graham (Will Harrison). Eddie (Josh Whitehouse), the group's bassist, is in unrequited love with Billy's wife, Camila (Camila Morrone). And Camila, who is wary of her husband's lifestyle in the book but nevertheless trusts him, is rewritten here as a lurking threat to Billy and Daisy's attachment.
Any adaptation will make changes to fit a new medium, but Daisy Jones struggles to justify these alterations in particular. By playing up the romantic drama, the series glosses over the characters' primary conflict: whether to choose a stable life away from the spotlight or stick with the hard-partying fun of being a rock-and-roll celebrity. Reid built emotional affairs in service of exploring that idea: Daisy, for example, represents how tempting being on the road could be to Billy. In the show, however, she's just the other woman, and Camila is the wronged party.
Beyond Daisy Jones, scripted series about musicians or the music industry seem allergic to being about, well, music. Empire was more about the psychodrama playing out in one powerful family; Nashville was kneecapped by distracting plots, including one about a mayoral race, despite launching a bevy of well-written tunes. Roadies, the Showtime dramedy from Cameron Crowe, once a master chronicler of the ups and downs of band life, also rarely focused on the roadies themselves.
Creating music can come with high stakes. The songs Daisy and Billy write and sing draw from their own intimate lives yet get played in stadiums full of strangers. The novel takes care to explore the effects of making such soul-baring work. Reid writes of Billy's controlling tendencies, including his habit of reworking his bandmates' instrumentation without their knowledge; she details how pivotal their tour manager, Rod (Timothy Olyphant), and their producer, Teddy (Tom Wright), are to their stratospheric success. The show, though, overlooks the band's artistic clashes, underuses Olyphant and Wright (along with much of the rest of the well-cast ensemble), and never questions how much Billy and Daisy place their star power ahead of the band's overall happiness. The act of writing and recording songs is relegated to dull montages of the cast scribbling notes, plucking strings, and nodding their heads to a beat.
Midway through the season, Daisy and Billy do share a rare scene of working together, meticulously going over the lyrics they've written. She suggests replacing the word it with us to tighten the song's focus and give it a personal bent. The simple change transforms the track and deepens the pair's bond. We get to see how the music directly affects their relationship, and vice versa. "It's quite a feeling when it works," Billy remarks. If only the show tapped into that feeling more often.
---
​When you buy a book using a link on this page, we receive a commission. Thank you for supporting The Atlantic.