The Fury of Chris Rock
In a new Netflix special, the comedian finally let loose about Will Smith. The moment was fascinating, angry, and raw.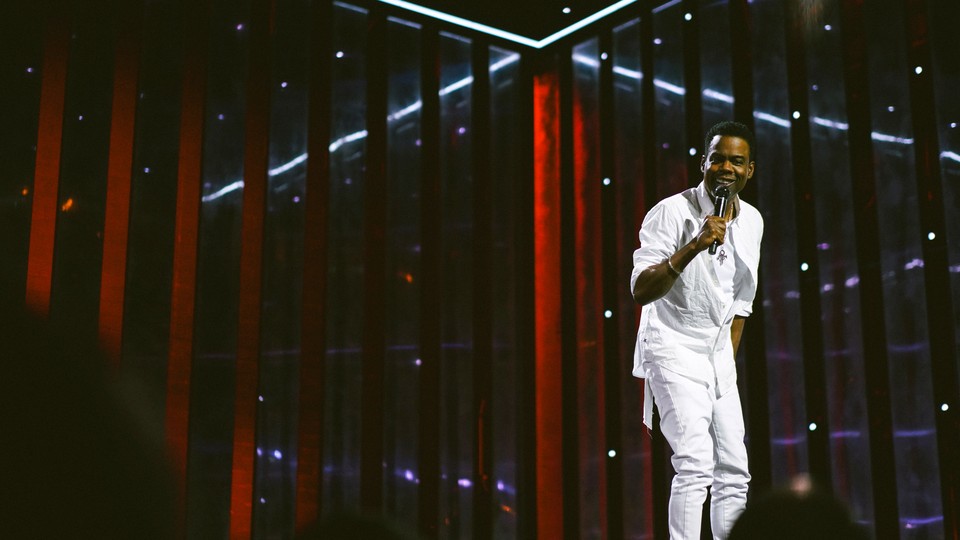 If the Academy Awards were pretaped, the public would never have seen Will Smith slap Chris Rock last year. Sure, the incident would be known about and reported on, but the bizarre, disquieting electricity of that moment came from it happening live, on a worldwide broadcast, during a meticulously choreographed event. Ever since then, the question has been how Rock would officially respond. Would he drop by a talk show and throw some barbs Smith's way? Would he take the high road and ignore it? No, Rock is a stand-up comedian by trade, practiced in the realm of unplanned moments, so the most natural way for him to slap back was during a real-time broadcast of his own.
Indeed, the most fascinating aspect of Rock's new special, Selective Outrage, was the fact that it aired live on Netflix Saturday night—an attempt to tap into the immediacy of onstage comedy in a time when audiences can choose their evening's entertainment from a hefty menu. A new special from Rock is always an intriguing option, but Selective Outrage had a far juicier hook: Is he finally going to talk about Will Smith? After months of stand-up shows where Rock had to disclaim to his audience that the subject wouldn't come up, then months more of rumors that he was finally workshopping material about the Oscars, he kept viewers waiting for almost the entire running time before unleashing fury in the final 10 minutes.
Rock's evisceration began with how much bigger and stronger Smith is than him—"I'm not a victim … I took that hit like Pacquiao"—before moving on to the bizarre interviews that Smith and his wife, Jada Pinkett Smith, did about their relationship in the years before Smith's Oscar win. To Rock, their marital troubles—and the scrutiny that their openness invited—were the real cause of Smith's outburst at the Academy Awards, not any joke he'd made. "She hurt him way more than he hurt me," he said of Pinkett Smith, who admitted to a sexual relationship with another man. "Everybody in the world called him a bitch … Everybody. And who's he hit? Me … That is some bitch-ass shit." Answering the rhetorical question of why he didn't fight back, Rock roared, "I got parents, and you know what my parents taught me: Don't fight in front of white people," before dropping his mic to the floor—his signature exit move from the stage for 30 years now.
Rock's anger about the incident, almost a year later, was especially palpable because he was speaking live. At one point, he fumbled a line, naming the wrong Smith movie (Emancipation) for a joke that was centered on another (Concussion). Rock acknowledged the mistake, reset, and did the joke again, the kind of flub that gets edited out of any stand-up special, but will stay in Selective Outrage as a reminder of its rawness. The error only added to the vulnerability of the moment. Rock has always had such a precise, surgical style onstage, using methodical repetition to build up the power of his punch lines. The last 10 minutes, in which he accuses Smith of "selective outrage," felt like an organic, angry rant—and was all the more powerful for its departure from Rock's usual mode.
It's a shame that most of the rest of the night was forgettable. Yes, perhaps there was some element of wondering when Rock would "get to the fireworks factory," to quote a memorable Simpsons line. But much of Selective Outrage betrayed the problem that tends to plague many stand-up comedians of Rock's stature: It's tough to remain an incisive commentator on regular life when you are a globally renowned multimillionaire. I think this is one reason so many big comics, such as Dave Chappelle, have taken to complaining endlessly about cancel culture and things people supposedly "can't say"—there's little else they can actually think of to offer average viewers.
Rock's set concentrated much of its fire on other celebrities. A whole segment about the Kardashians felt a little warmed-over, while an incredulous run about Meghan Markle's professed surprise at the institutional racism of British monarchy was far funnier and more inventive (he pronounced the royals the "Sugarhill Gang of racism"). The personal material on his relationship with his daughter and his recent dating history had some intrigue, but was rarely laugh-out-loud funny, and jokes about the performative wokeness of expensive businesses, such as Lululemon, could've been more venomous. For much of the special, Rock seemed to be working the speed bag, getting his energy up for his impressive knockout blow to Smith.
As live television, it was intermittently interesting, then briefly compelling; as comedy, it will be a minor entry in Rock's estimable stand-up catalog (his three specials, Bring the Pain, Bigger & Blacker, and Never Scared are as bulletproof a trio as any comedian's in history). Rock's last special, Tamborine, also released on Netflix, was the tonal opposite of Selective Outrage. Directed by Bo Burnham and filmed at the Brooklyn Academy of Music, it was introspective and intimate, delving into the dissolution of his marriage and his mistakes as a partner. Selective Outrage, meanwhile, indulged Rock's raging id, which was probably the best way to handle "the slap," even if the special accomplished little else.