The Most Overrated Movie of This Oscars Season
All Quiet on the Western Front falls into a classic war-film trap: all flash and hardly any feeling.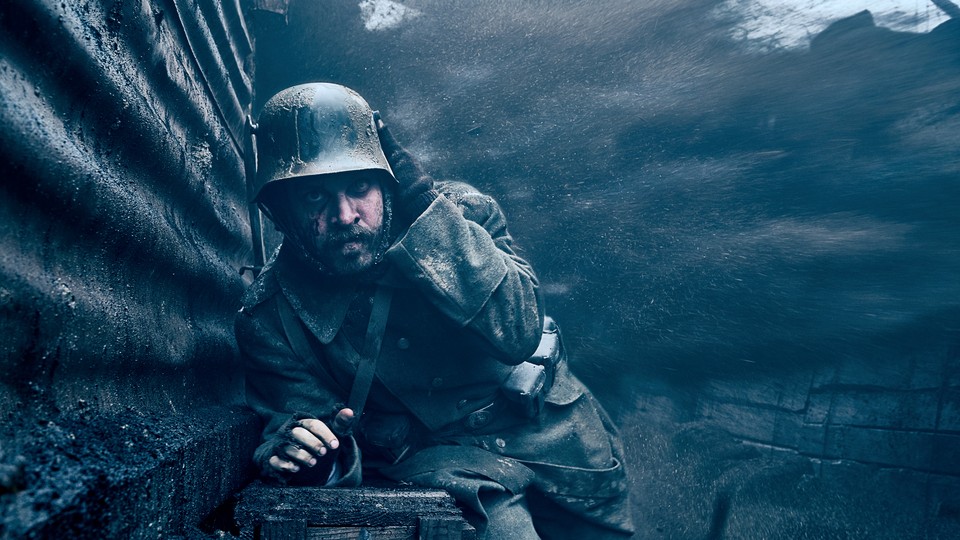 A war story is perfect bait for the Academy Awards. Sixteen such films have won Best Picture, dozens more have been nominated in major categories over the years, and war movies are among the genres most famously associated with the prestige of the Oscars. Netflix's All Quiet on the Western Front is the latest example of a long-standing tradition; it picked up nine nominations from the Academy in addition to its recent victory lap at the British Academy Film Awards in February. An adaptation of Erich Maria Remarque's cherished 1929 novel of the same name, All Quiet follows a teenager named Paul Bäumer (played by Felix Kammerer), who, along with his classmates, is swept up in the fervor of World War I and voluntarily joins the German army. The story documents a brutal alchemy: The young soldiers' nationalist zeal turns into horror and disillusionment as they witness extreme, pointless violence.
Yet, ironically, the film itself seems to be more enthralled by that violence than by the emotional development of its characters. Unlike its 1930 predecessor, which won the Oscars for Best Picture and Best Director, Edward Berger's All Quiet skimps on human drama. Its slew of awards and nominations—specifically for adapted screenplay and visual effects—celebrate the very areas where the film falters. The original novel offers timeless meditations on not only the graphic trenches of war but also the psychological battles that follow. "This book," Remarque writes in the epigraph, "will try simply to tell of a generation of men who, even though they may have escaped its shells, were destroyed by the war." Berger's adaptation, however lauded on the awards circuit, misunderstands that tricky balance, leaning into the spectacle of combat and neglecting its more complex, less flashy aftermath.
For one, the film isn't interested in carrying any soldiers off the battlefield. Consider the fate of Paul's squadmate Albert Kropp (Aaron Hilmer): About halfway through the movie, an assailant sets Albert ablaze with a flamethrower. Albert crawls desperately toward a shallow pool of filthy water, where he's shot in front of Paul. The scene's theatrics are played up with smoke-and-fire effects, including a close-up of Albert's lifeless body engulfed in crackling flames—the precise kind of gratuitousness the Academy tends to favor. (There's a reason the German tabloid Bild criticized the film as an example of so-called Oscar-Geilheit, or "Oscar horniness.")
The moment is just one of several clumsy departures from the novel, where Albert must have one of his legs amputated but doesn't die; he's instead sent off to be fitted for a prosthetic. He emerges from war as a traumatized, despondent version of himself, struggling, like so many soldiers, to reintegrate into society. Significantly altering Albert's narrative—opting for a straightforward death rather than a subtler story of survival—helps cement the film as standard blockbuster fare, chock-full of fights and whiz-bang stunts but bereft of genuine emotional punch.
Elsewhere in Berger's All Quiet, soldiers die loud, gory, and glorified deaths. In the final act, Paul is killed in an almost-operatic struggle—mere seconds before the armistice goes into effect. The camera tracks him closely as he charges across a smoke-swaddled field, avoiding enemy bullets, bashing in someone's face with a helmet, and nearly suffocating in a muddy trench. Just as Paul—and the viewer—thinks that he might survive, a bayonet pierces him from behind. The camera's zoomed-in gaze on this bloody scene seems to be Berger's substitute for actual intimacy with the character. But the film never fleshes out who exactly Paul and his comrades are beyond their naivete, their youth, and their resigned willingness to die for their country. As a result, such high-stakes moments fall flat.
The book understands the power of restraint. Remarque leaves out the details of Paul's death. All readers know is that it happened on a "quiet and still" day, that "he had fallen forward and lay on the earth as though sleeping," and that "his face had an expression of calm, as though almost glad the end had come." Unlike the rest of the novel, which is told from Paul's point of view, the final two paragraphs have a third-person narration and are printed on their own page. The voice is distant, detached. On the page, as on the battlefield, no soldier is immune to war's anonymizing toll.
Of course, a war film can be both nuanced and gruesome. Steven Spielberg's World War II epic Saving Private Ryan, which won five Oscars in 1999, starts with one of the most wrenching combat sequences in cinema, replete with blood and dirt stuck to the shaky cameras, artillery fire obliterating bodies, and a soldier screaming for his mother. And in Spike Lee's Vietnam War drama, Da 5 Bloods, the opening montage includes photographs and footage of the Kent State and Jackson State killings as well as the execution of Nguyễn Văn Lém, a Viet Cong officer. Yet both movies spend as much time developing their characters' motives and anxieties as they do attending to the broader landscapes of carnage and death. They deliver war stories that are as introspective as they are action-packed, and that, in the case of Da 5 Bloods, went criminally overlooked by the Oscars. That film's sensitive portrayal of a group of aging Black veterans, who are confronting both personal loss and America's imperialist legacy, would have been more deserving of the recognition that All Quiet is now enjoying.
Nearly a century after its publication, the original All Quiet—that is, the book—remains the most captivating version of the story. I'm still haunted by a chapter in which Paul briefly visits his family and discovers just how alienated he feels from home and the things that used to bring him joy, such as reading. "Words, Words, Words—they do not reach me," Paul observes, silently, in his room. "Slowly I place the books back in the shelves. Nevermore." Berger might not have thought that such a subdued and sobering reflection would make for the most gripping scene. It isn't showy, and it lacks obvious thrills. But the best films can make even a quiet moment feel as consequential and explosive as a grisly action sequence.