The SNL Sketch That Left the Cast Helpless
The show proved that the right live performances can find comedy even in a dry steak.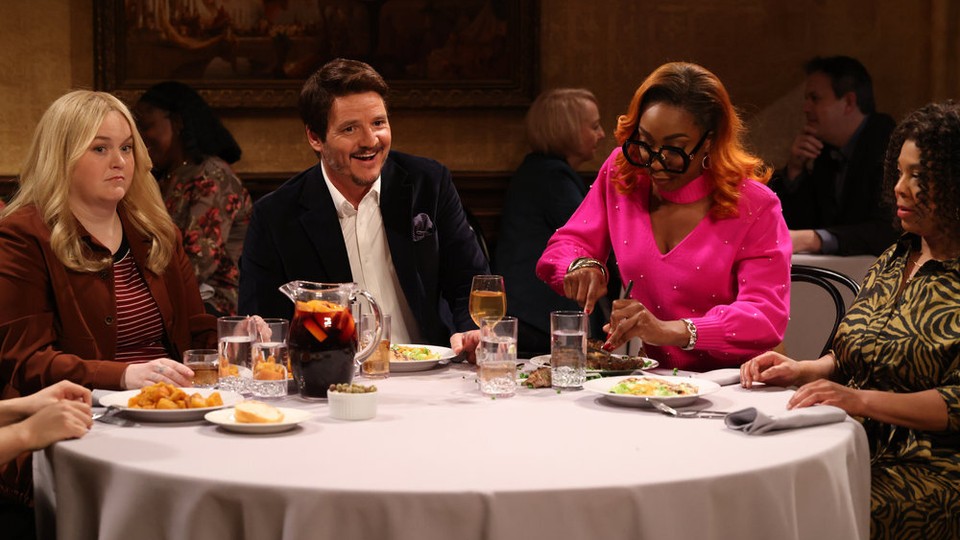 Bowen Yang didn't break first, but he was the cast member least able to handle the cascade of giggles that caused yesterday's final Saturday Night Live sketch of the night to lose total control. Partway through "Lisa From Temecula," a bit about a woman named Lisa (played by Ego Nwodim) aggressively carving up her "extra-extra-well-done" steak, Yang cracked up, throwing down his prop fork. The host, Pedro Pascal, was already chortling through his lines, as were Nwodim, Devon Walker, and Punkie Johnson. Pascal never finished his last sentence before the segment ended.
It was the kind of sketch I replayed as soon as I could, not because it was overwhelmingly funny but because the cast's fumbles and the audience's hollering felt brilliantly spontaneous. I noticed Molly Kearney apparently fighting the urge to break by staring intensely at nothing; Nwodim stepping onto Pascal's leg while sawing her meat after she accidentally knocked over her chair; Yang helplessly signaling the crew for the sketch to wrap up. "Lisa From Temecula" follows in the footsteps of "Debbie Downer" and "Girlfriends Game Night," sketches that hinged on a simple premise—the former, a visit to Disney World with a naysayer; the latter, a hangout that goes wrong when a woman brings her husband. In such sketches, the jokes aren't the most compelling part. The cast and audience's pure, chaotic enjoyment of them is.
Much of this weekend's SNL owed its success to the staples of live sketch comedy. Even when the performers didn't break character, the show relied on silly voices, jargon, and physicality—ingredients that get early, easy laughs from the crowd and encourage the cast to keep going. This was an SNL light on social commentary but heavy on goofiness. Sure, the show has recently been stronger in pretaped segments, capitalizing on editing tricks and actors being able to refine their performances. But this weekend's installment offered a reminder of why the live element of the show is crucial. There's an inherent tension to every moment: Can the cast, old and new, hold it together long enough to pull off the punch lines?
"Waking Up" was another example of the value of live comedy. The sketch relied on a standard bit: a character speaking in a ludicrous voice. In this case, Pascal's Charlie emerged from a coma with an "LA mush mouth" accent that wouldn't have seemed out of place in "The Californians." Perhaps encouraged by his scene partners' struggles to keep their faces straight, the actor pitched his voice higher, emphasized his vocal fry, and uttered his lines with the corners of his mouth turned downward, as if his face was melting. "Waking Up" thrived on committed live performances where the cast members practically challenged one another to keep their cool.
Having a live audience judge a joke in real time is part of the fun of SNL too. In "Fancam Assembly," Pascal played a teacher whom chronically online students had been making the subject of fawning videos. The cast members playing the Gen Zers, meanwhile, drew on the studio audience's enthusiasm by one-upping one another's histrionics. "We make them because you're our beloved and you have us in a choke hold," Sarah Sherman squealed. The joke was thoroughly low concept: The older generation in the room couldn't comprehend most of the kids' dialogue. But the live audience couldn't get enough of the slang, making Pascal's teacher's inability to understand it even funnier.
SNL can't always count on an appreciative audience or a game host, which could be why the show so often uses familiar components. Last night's installment indulged in its umpteenth dig at Arby's during "Weekend Update," and Yang yet again anthropomorphized an inanimate ocean object. But Pascal and the cast made common ideas feel fresh. They demonstrated how chemistry can spark during the live sketches. Like cooking a piece of steak until it's extra, extra well done, they repeatedly manipulated a formula and made everyone want a bite.