Long Live the Octogenarian Sex Record
Smokey Robinson has every right to unleash an album called Gasms.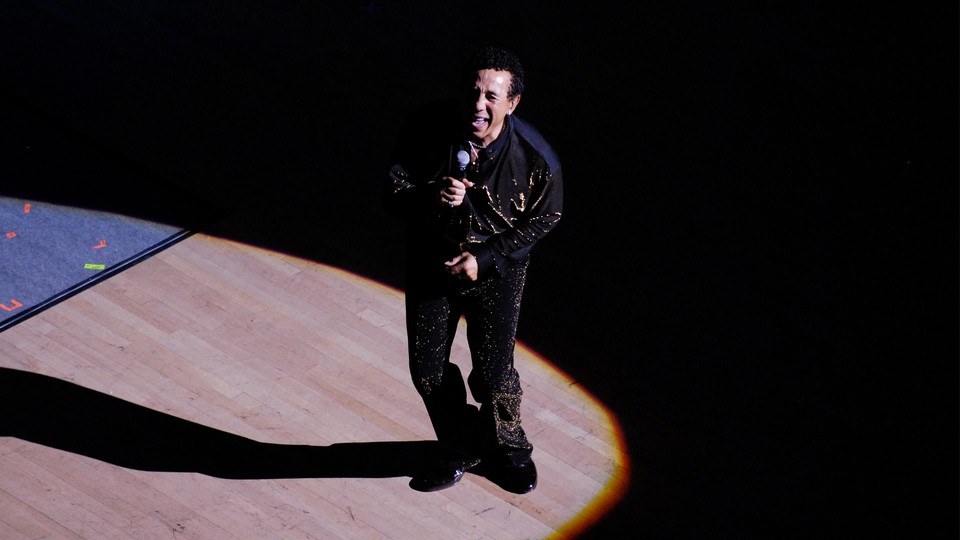 After Smokey Robinson announced his upcoming album, many music listeners were aghast. The Motown legend, at the age of 82, unfurled the most blatantly sexual record title of his career: Gasms. It didn't help that the album, which will be released in late April, includes songs such as "I Wanna Know Your Body" and, ahem, "I Fit in There." Predictably, the subsequent volley of Viagra jokes alone could've crashed Twitter.
Yet Robinson's catalog has given him every right to proudly unleash an octogenarian sex record—which, who knows, might now be a genre in the making. It wouldn't be the first genre Robinson innovated. Not only did he revolutionize popular music as one of the architects of soul with Motown in the 1960s, but he also invented the subgenre known as "quiet storm," named after his superb 1975 solo album, A Quiet Storm. On it, he crystallized a silky, sophisticated R&B that never tumbled into funky porn. Still, on the album's No. 1 Billboard R&B hit, "Baby That's Backatcha," there's no misinterpreting Robinson's celebration of reciprocal lust: "Oh, baby, that's tit for tat," he sings. "I'm givin' you this for that." Many of Robinson's peers in the '70s—Barry White, Al Green, his Motown labelmate Marvin Gaye—rivaled his sultriness. But they all took cues from the maestro, who had long proved his ability to swoop from heartbreak to bravado in the span of a syllable.
Bob Dylan allegedly called Robinson "America's greatest living poet." The greatness came in adulthood, but the poetry was always there. Robinson grew up a studious boy who loved to write poems, and he took them to his first meeting with fellow Detroiter Berry Gordy. At the time, Gordy was a rising songwriter for the likes of Jackie Wilson and Etta James. The 17-year-old Robinson hoped to find work for his singing group, the Matadors, which counted among its members Robinson's girlfriend and future wife, Claudette Rogers. The hand-holding young paramours harmonized about desire and heartache with the conviction of zealots. Love and verse: From them, Robinson's early songs bloomed. With Gordy's new Motown record label behind him, Robinson and his renamed Miracles began turning his adolescent poems into the stuff of romantic immortality.
True, Robinson co-wrote the early Motown classics "Shop Around" (with Gordy) and "My Girl" (with fellow Miracle Ronald White). Yet the more mature, nuanced songs that he went on to compose upped the emotional and formal complexity of soul. Robinson wrote dozens of hits for other Motown artists in the '60s, but he always shone brightest when he wrote for himself—when his words, voice, inflection, cadence, and fragile yet resilient falsetto all came together. Take "The Tears of a Clown," which was released in 1967 before it finally became a hit in 1970. Robinson co-wrote the song with Stevie Wonder and Wonder's frequent collaborator Hank Cosby, and it's clear that only Robinson could have infused stunning subtlety into wordy lyrics like "Now if I appear to be carefree / It's only to camouflage my sadness / In order to shield my pride, I've tried / To cover this hurt with a show of gladness." To Robinson, cognitive dissonance and double entendre aren't just tools of wordplay; they're proof of love's inherent paradoxes. This is, after all, the man who wrote the indelible opening to the Miracles' 1962 classic "You've Really Got a Hold on Me": "I don't like you, but I love you." In Robinson's hands, the friction of romance is where the heat happens.
By the time Robinson left the Miracles and released his debut solo album, Smokey—which turns 50 this year—his transition from teenybopper heartthrob to crooning sugar daddy was complete. As Ann Powers observed in her book Good Booty: Love and Sex, Black and White, Body and Soul in American Music, Motown's early output—largely a product of Robinson's pen—"thoroughly humanized the agonies and ecstasies" of teenage love. But by 1973, he'd begun to embrace a shift from infatuation to intimacy. Where he once sang softly of sex so as not to wake the folks, he now sang softly of sex so as not to wake the kids. The album's biggest single, "Baby Come Close," is pure gossamer, an entreaty to join forces under the sheets that's all the more commanding for its tenderness. Even on his progressively laid-back trio of best-known solo hits—1979's "Cruisin'," 1981's "Being With You," and 1987's "Just to See Her"—there's a playfulness that's as gentlemanly as it is beckoning. With his music, Robinson opened up space for a kind of radical masculine fragility.
During an interview with Laverne Cox on the red carpet of the Grammy Awards ceremony on Sunday, Robinson said of Gasms, "I want to be controversial. Let them talk about it. Let them wait and hear what it says." He then adopted the tone of seductive slyness that has been his musical dialect for decades. "When you say Gasms," he explained, "most people think of orgasm. But gasm is any good feeling you might have." As our long-standing bard of both body and heart, Robinson shouldn't have to defend being openly erotic at his advanced age. If anything, it only makes him sexier.
---
​When you buy a book using a link on this page, we receive a commission. Thank you for supporting The Atlantic.