When Emo Grows Up
Paramore's old sound has become trendy again—but the Nashville trio is chasing "new versions of ourselves."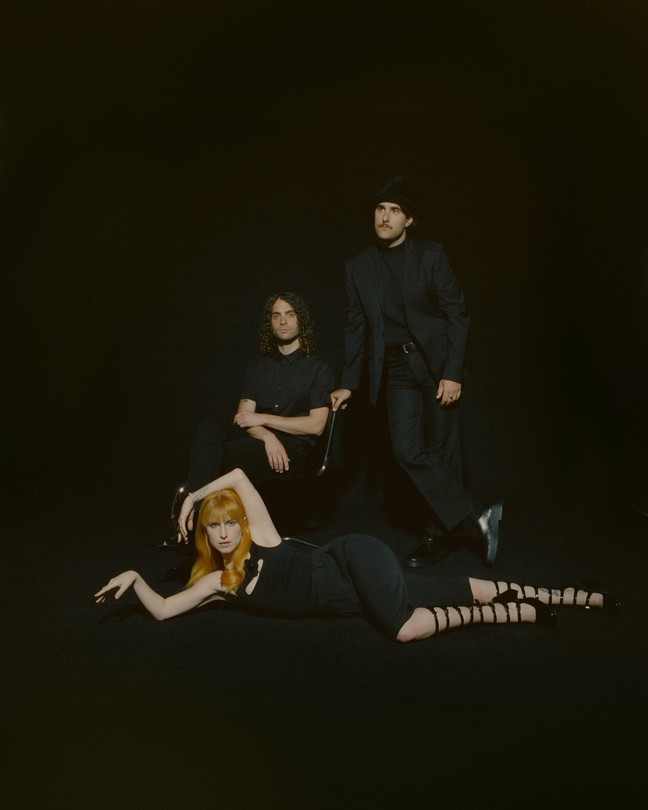 The pop-cultural vibes of the past few years have been confused and chaotic, but one story line is clear: the mainstream return of emo, music blending punkish vigor with the vulnerability of a meeting group. Young artists such as Olivia Rodrigo and Willow Smith have injected this sound into the Billboard Hot 100—a feat previously, and perhaps most excellently, accomplished during the Obama administration by the Nashville trio Paramore.
Paramore has itself been central in this recent revival. Rodrigo's 2021 smash "Good 4 U" sounded so similar to the band's 2007 hit, "Misery Business," that Paramore's singer and ex-guitarist were given writing credit. In 2022, Billie Eilish brought out that singer, Hayley Williams, to perform at Coachella. That same year, Paramore headlined a Las Vegas festival that was stacked with acts that defined the emo burst of the early 2000s. Williams even recently hosted a podcast series called Everything Is Emo.
But when I asked Paramore's members last month about the comeback of the E-word, their response was hardly triumphal. Over Zoom, Williams flashed a blank stare of feigned (or real?) boredom, then broke into a laugh. The guitarist, Taylor York, spoke diplomatically: "For some people, that's a really meaningful phrase. We've realized there's no use in fighting it." Zac Farro, the drummer, said that the word emo made him feel like a high-school goth kid who started playing football.
As Farro's comparison would imply, the trio has undergone a makeover. Paramore's 2013 self-titled album was a masterful pop-rock reset, and on 2017's After Laughter, the band experimented with shiny, happy synthesizers. What's impressive about the post-emo phase of Paramore's career is not just that it has generated hits, including the gospel-infused "Ain't It Fun," the gushingly romantic "Still Into You," and the groovy "Hard Times." It's that the band has maintained its credibility among fans and critics, becoming more respected than ever. What unites its sonic explorations is what made the band important all along: a raw nerve of, well, emotion.
Paramore's first album in six years, the tense and complex This Is Why, feels a bit like something the High Fidelity record clerks might love. The primary influence is history's brainiest guitar music: the mysterious soundscapes of Can, the deconstructed partying of Talking Heads, the anxious reveries of Radiohead. With its catchy rhythm and exasperated lyrics, the lead single, "This Is Why"—which recently hit No. 1 on Billboard's Alternative Airplay chart—encapsulates the band's new sound. "I love watching funk find its way into weird alternative music," Williams said.
The twitchy mood suits Williams's lyrics about the frustrations of living in the COVID-19 era. The band had already been on a hiatus from touring and recording when various recent sociopolitical jolts—the virus, the racial-justice protests of 2020, the January 6 insurrection—occurred. The past few years felt like "being hit with reality so hard," Williams said. The band "got away, throughout our 20s, not having to be super engaged. We thought, Obama is the president now. Look at all this progress that's happening … To be home and have to face the way things have always been in our country, it's just a totally different life."
Rather than preach, the new album approaches politics from a personal, and self-lacerating, perspective. "The News" captures the agony of doomscrolling, with Williams shouting "I worry and I give money and I feel useless behind this computer!" Another track, "Big Man, Little Dignity," mocks a toxic dude who, many listeners will theorize, could be Donald Trump (Williams stipulated he's "just a poster child" for the phenomenon she's describing). But the lyrics highlight Williams's own fascination with the pighead: "I memorized all your lines / I can't look away. You're like a movie I love to hate." Featuring classy woodwinds and an aching melody, the track is a love ballad as twisted as anything in Paramore's catalog.
Indeed, the album is partly a document of emotional stasis: These onetime teenage sensations, now in their mid-30s, haven't lost the angst that fueled—and was inflamed by—their early success. "Thought I'd simmer down as I'd get older / Can't shake the devil on my shoulder," Williams sings on the standout "You First," a rumbling blast of what she jokingly calls "motorcycle daddy" rock. Many years of "stress, or survival, or just chaos in general," Williams said, gave her a kind of post-traumatic paranoia. Even when her life is stable and pleasant, she said, "it's hard to be like Oh, things are okay, we're safe here … and not wait for the piano to fall on your head, like [in] Looney Tunes." Writing songs about struggling for chillness is a way to "metabolize lessons," she said. "You know, words are just fuckin' spells."
Age has, at least, given Paramore some perspective about its place in the culture. In 2018, the band said it was retiring "Misery Business" because its lyrics, about the romantic rivalry Williams had with another girl while in high school, were misogynistic. Yet the song's power seemed to only grow, as seen in Rodrigo's 2021 interpolation. Paramore recently decided to return "Misery Business" to its concert set list. Now "that song is solely about giving [something] to fans," Williams said. "If people, at this point, think that there's truth to a 17-year-old's diary about being mad at a girl because of a love interest that was mutual, then they're missing the point of what our career has really been about."
What has the band's career been about, then? One answer lies in the ever-changing sound of the music. I told the band that This Is Why's dance-punk aesthetic brought me back to my own teenage years in the mid-2000s as an "indie kid," a category of listener containing members who looked down on the "emo kids." Back then, Williams said, the trio didn't respect the separation between scenes: "We listened to screamo things, and then [would] be really into The Rapture or the Yeah Yeah Yeahs." But in media interviews, York pointed out, the band did sometimes keep quiet about its passions—he thought back to obsessing over the Swedish band Loney, Dear—for fear of being seen as "snobby" in the emo world.
In retrospect, the band's eclecticism always helped it stand out. (Recall that "Misery Business" starts with, of all things, a snippet of mariachi music.) And now, Farro said, the band is amused by pop culture catching up to "the old version of us" while "we're still reinventing the new versions of ourselves." But maybe Paramore's adventurousness isn't all that different from the impulse driving young artists to try out blaring guitars and ragged vocals. "It is cool today that the newer generations are understanding there's no point in having to pledge allegiance to one thing," York said. "You can be honest about what you like without fear of judgment. That's very nice to feel."