Magic Mike's Last Dance Is as Sexy as It Is Romantic
The film is intimate and emotional without losing any of the franchise's signature heat.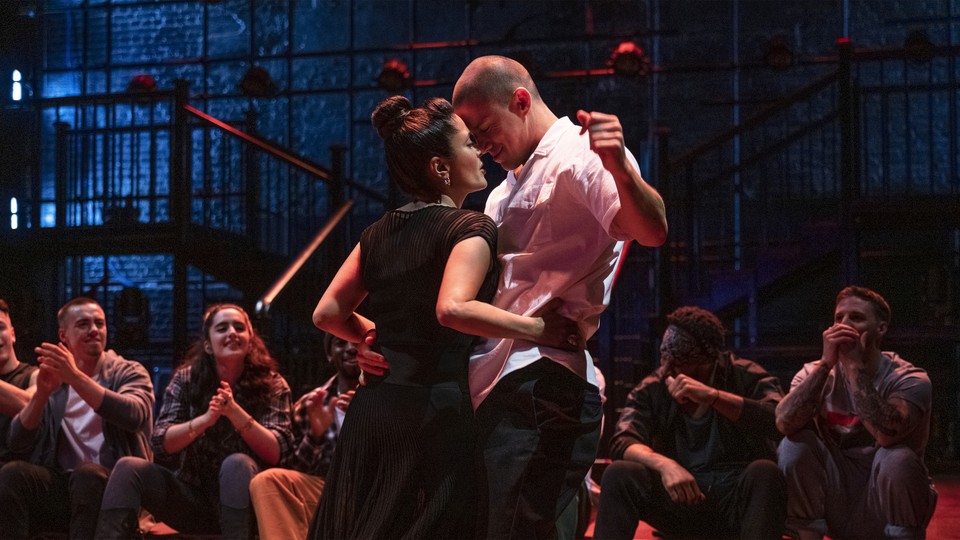 Poor, poor Mike "Magic Mike" Lane. Channing Tatum's stripper-god character, bearer of less-than-zero-percent body fat, has satisfied countless women with his gyrating—and yet true romance has been elusive. That sweet, low-key relationship he began with his colleague's sister in Magic Mike? It's a failed engagement by the sequel, Magic Mike XXL. That charming photographer he wooed in XXL? Nowhere to be found when the latest film, Magic Mike's Last Dance, begins. Lost and jaded and struggling to pay the bills, Mike is more alone now than ever before. Maybe, just maybe, Mr. Mike doesn't know what he really wants.
Good thing Steven Soderbergh does. The director, returning to the franchise after handing the reins to Gregory Jacobs for XXL, tells a downtempo love story between Mike and the impossibly wealthy Maxandra "Max" Mendoza (played by a magnetic Salma Hayek Pinault). A portrait of a mature courtship, Last Dance shifts tonal gears from the buoyant road-trip comedy XXL just as that film swerved away from the first Magic Mike, an incisive study of the Great Recession. Mike and Max's relationship—in which she whisks him off to London so he can direct an all-male revue at the theater she owns—is the stuff of romance novels, but that's the point: Last Dance is all wish fulfillment, seductive and surreal.
And it works, in large part because (with apologies to the studly Kings of Tampa) Max makes for Mike's perfect dance partner. She's nothing like the women he usually meets, customers he calls "a zombie apocalypse of repressed desire"; she's sexual, glamorous, and so rich that she can make her every whim come to life. In an early scene, she swans into her theater, a historic building best known for staging classical plays, and installs Mike as its new director, unruffled by the cast and crew's shock. By making Max as much of a protagonist as Mike is, the film explores what the rest of the franchise never has: a fully realized female character voicing her wants rather than having them presumed by a bunch of half-naked men. The result is perhaps the sexiest entry in the Magic Mike movies. It's intimate and emotional without losing any of the heat that comes with a sensually lit dry-humping scene.
Take Mike's first dance in Last Dance. Max invites Mike inside her Miami home, a glass-walled mansion that's a calm reprieve from the heavy winds outside. She requests a routine, and as the sky darkens into night, Soderbergh follows their movements with smooth, uninterrupted shots, relishing every sway, lift, and heave of their fully clothed bodies. The lengthy scene is so immersive, with the two of them (and the camera) caught in so many positions, that it took me a minute to realize I'd been holding my breath. The erotic nature of their pas de deux doesn't just come from the fact that Mike spends much of his time with his face pressed to Max's crotch; it also comes from how Max, at first stunned by Mike's choreography, soon becomes just as assertive as him. He may have set the stage by rearranging her furniture, but she ends their encounter by blindfolding him with the sash of her jumpsuit. They're evenly matched.
In many ways, Max's journey parallels Mike's: She likes to be in control but has mastered that only in certain professional forums. At home, she has trouble connecting with her teenage daughter, Zadie (Jemelia George), and she's divorcing her husband, to whom she owes her wealth. Little by little, the film reveals her vulnerability, showing how she's just as adrift as her new paramour. The two of them bond over a shared penchant for creative leadership and a love for the spotlight. Max is no femme fatale taking advantage of Mike for fun. She's no moralizing naysayer questioning his background as a stripper. Instead, she simply wants to be validated and respected in an equal partnership—a challenge for Mike, who's not certain he knows how to satisfy a woman he's not performing for. Their intimacy grows more sophisticated as the film progresses. They fight and make up in a language that feels private to them. They share glances across dinner tables, captured in extreme close-ups. They curl up in bed just to watch a video together. These scenes are as enthralling to watch as Mike's solo dance to "Pony" in his garage workshop.
Not that Last Dance is short on spectacle. If anything, it's the closest Soderbergh, a director who usually leans heavily on realism, might ever get to making a musical: Besides the film's opening salvo in Miami, there's also a marvelous number set on a double-decker bus, and most of the film's last hour is devoted to showing off the revue Mike directs (which is largely inspired by the live Magic Mike show playing in Las Vegas). Throughout the movie, Soderbergh injects playful moments befitting the subversive nature of that revue, including a brief video clip of cute kittens and a series of cheeky voice-overs from Zadie about the wonder of dance. When the final production kicks off, Soderbergh lets the sound of the audience's cheers fade away, as if the grandest act is Mike and Max's shared devotion.
Last Dance isn't perfect. The script falters when it comes to developing anyone outside of the central couple; Zadie, especially, never feels like a real character, just a collection of ideas about a pampered British teenager. London also seems terribly small, with the action so confined to the theater and Max's apartment that it makes little sense when hordes of people suddenly come to the revue. But Soderbergh's direction revels in the pure fantasy of the love story, choreographing a gorgeous tango between two characters who'd felt their lives had fallen out of step. As it turns out, the question was never about what Mike wanted. It was always about who might truly want him.