Where Would SNL Be Without Kenan Thompson?
Over 20 seasons, Thompson has delivered the kind of consistent, committed character work that can wring laughs out of even the show's most lackluster episodes.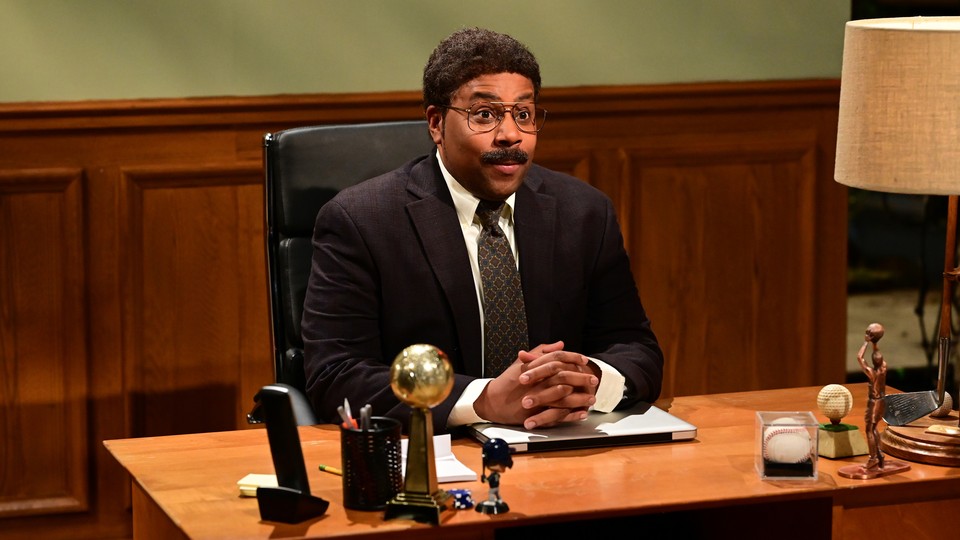 It wasn't exactly a scene-stealing moment—just a physical gag executed seamlessly. Kenan Thompson played Kevin, a man who was braggadociously excited to ride the amusement-park attraction Mission Slingshot, which promised to shoot riders up 400 feet in three seconds. Strapped in beside his more timid friend (played by five-time host Woody Harrelson), Kevin quickly succumbed to the staggering heights and passed out. First his head lolled forward in response to the gravitational force, then his body flopped backwards. The sketch hinged on Thompson's physicality, and he delivered in the precise yet understated way that's come to define his 20 years on Saturday Night Live.
Now the longest-running cast member on the show, Thompson has become SNL's quiet heart. His presence has done much to steady a particularly uneven season, and last night emphasized how much his subtle talents add to a show that's prone to celebrating louder personalities. It wasn't that Thompson had a breakthrough episode. Instead, he simply kept things going, offering a consistency that kept the flat episode from crumbling entirely.
It's no secret that Saturday Night Live lacks a big star at the moment. The show stated as much during the season premiere's cold open, when it suggested that Bowen Yang would shoulder more of the weight following the departure of several tenured cast members at the end of last season. Rather than play up any one cast member, however, the show has concentrated on getting its current cast to coalesce this season. And it's leaned heavily on Thompson. He doesn't typically get the sparkly moments some of his former castmates achieved, but he's proved time and again what a stalwart scene partner he is. He's a reminder about the importance of ensemble on SNL.
When Thompson joined SNL in 2003, he was touted as the first cast member to be born after the show's 1975 debut. But even at age 25, he already offered a wealth of experience. Before I spent my Saturday nights watching SNL, I spent them watching Thompson on Nickelodeon's sketch series All That, where he played oddball characters such as the French teacher Pierre Escargot, the chocolate-loving cooking host Randy, and Bradley the Big Ol' Baby. (Earlier this season, SNL nodded to his history when Keke Palmer hosted and participated in a gritty reboot of the sitcom Kenan & Kel, which Thompson starred in with Kel Mitchell.) Thompson clearly had a ball exploiting silly moments, a trait he's brought to SNL. You can see it in his smirk.
On SNL, Thompson hasn't amassed as many memorable original characters as he did on All That—or as many as some other cast members have developed on the show. His claim to fame remains Diondre Cole, the What Up With That? host more interested in singing his talk show's theme song than interviewing his famous guests. But his lengthy scroll of impressions—Steve Harvey, Whoopi Goldberg, Bill Cosby—has kept the show churning. He's also shaped SNL in other important ways, like when he refused to dress in drag to help prompt the show to hire a Black woman.
But Thompson is most adept at developing one-off characters, those who exist in a fleeting moment of absurdity. During one of the show's famous sketches, "Diner Lobster," Thompson played the lobster equivalent of Les Miserables' Jean Valjean. Rolled onto the set in a bubbling lobster tank, wearing a French-soldier costume and large lobster claws, he proudly began singing the song "Who Am I?" Who else but Thompson could lend an operatic-lobster scene so much gravitas, humor, and pathos?
He brings that same craftsmanship even to lackluster sketches, wringing humor out of unfunny material by imbuing his characters with a winking charm. It's an approach that has grown more and more necessary this season, because many sketches haven't consistently landed their comedic punches. For example, when Megan Thee Stallion hosted, he infused a weak sketch about a father visiting his daughter's new, remote house with a featherbrained paternal goofiness that made her break character.
Thompson is a delight to watch whenever he's onscreen, because he's always having fun himself. Week after week, he genuinely never seems to tire of the playfulness of live TV. As SNL searches for its next big star, the show is overlooking the one right under its nose. Thompson has built a different kind of legacy: reliable excellence.