The Grammys Are Built on a Delusion
Even the highlights of last night's ceremony couldn't fully distract from its problems.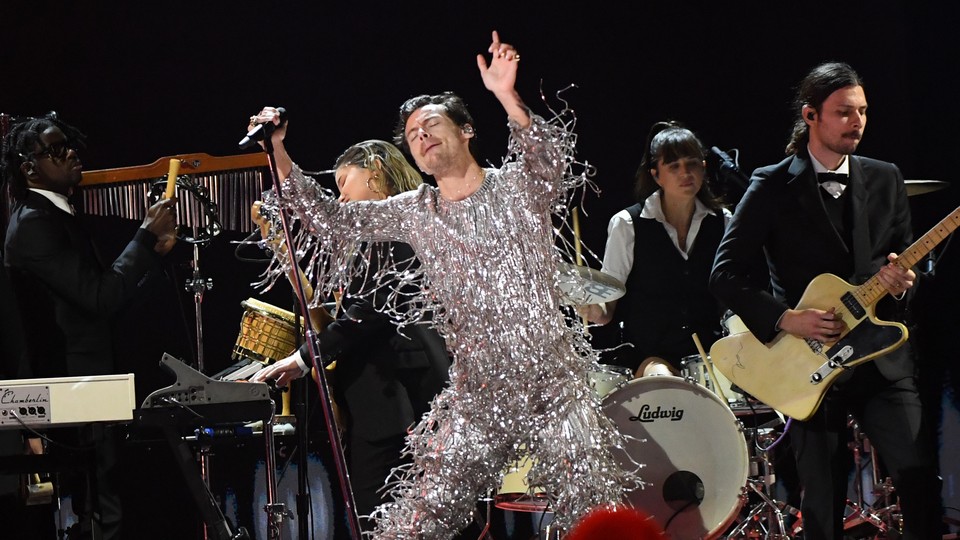 At the end of last night's Grammys ceremony, a chill and inoffensive superstar said something that sent many music listeners into a rage: "This doesn't happen to people like me very often." Those were Harry Styles's words after winning Album of the Year; presumably he wanted to pull an inspirational narrative from the fact that little ol' he, a former reality-TV contestant from a small town, had earned the most prestigious award in popular music. Yet people like him—white, well-connected singers of tasteful pop and rock—are exactly who win Album of the Year Grammys. The kind of people who don't win include rappers (a hip-hop artist last took Album of the Year 19 years ago) and Black women (you'd have to go back to 1999 for that).
Styles's Harry's House is well-made fluff, and its victory over more daring, presently influential artists—including Beyoncé, Bad Bunny, Lizzo, and Kendrick Lamar—triggered uproar online. Justice would be for that backlash not to overshadow some of the milestones of this year's ceremony: Beyoncé breaking the record for the most Grammy wins in a lifetime; an outstanding medley celebrating the 50th anniversary of hip-hop; a victory lap for the queer hitmakers Sam Smith and Kim Petras. Strong performances by Lizzo, Brandi Carlile, Steve Lacy, and Stevie Wonder (!), as well as the moving In Memoriam partly inspired by the rapper Takeoff, deserve a watch. But something about Styles's win makes the incoherence underlying the Grammys so glaring as to be maddening, almost intolerable.
"Well, shit," Styles said at the start of his acceptance speech. "I've been so, so inspired by every artist in this category with me … I think on nights like tonight, it's obviously so important for us to remember that there is no such thing as best in music." The meek tone brought to mind an awkward Grammys tradition of white winners acting embarrassed to have been elevated over Black peers (see Billie Eilish dedicating an award to Megan Thee Stallion in 2021, Adele doing the same to Beyoncé in 2017, and Macklemore apologizing to Lamar in 2014). And in arguing there is no best in music, he highlighted the delusion that the ceremony, to that point, had been reveling in.
That delusion? The idea that the Grammys are anything other than a distorted popularity contest. One of the night's wilder artifacts was a segment filled with fake news stories: about a protest turning into a concert, causing police to lay down their weapons; about music being prescribed as a medicine to treat disease; about a song swaying governments worldwide to support women's rights. The point, said Recording Academy CEO Harvey Mason Jr. during the video, was to illustrate the hypothetical power of music. Setting aside that the fabrications seemed to diss the art form—insinuating that whatever music's actually accomplishing right now isn't all that impressive—the segment insisted that the Grammys don't just reward the pleasing arrangement of vibrations in the air. They also encourage human progress and connection.
In the spirit of that notion, the ceremony hyped up the Album of the Year race with pretaped segments in which fans of the nominees sat around a table and argued about why their faves deserved to win. With the enthusiasm of entrepreneurs pitching start-ups, the panelists touted the social and personal significance of each album: Lizzo was praised for her body positivity, and Lamar for his charity toward a fan in need. Yet the notably diverse roundtable also illustrated that the battle for a prize like Album of the Year is bound up with listener demographics and cohorts of taste. Styles's champion was a 78-year-old Canadian woman who'd flown, with her granddaughter, to see him perform—a perfect example of how Styles's avowedly nostalgic pop has succeeded by bringing Gen Z and the Baby Boomers together.
The fan-panelists didn't talk very much about the music itself; little time was spent on how someone determines that one song is superior to another. But Grammys history makes clear that the voters in the general categories do trend toward specific sounds. Genteel-seeming music, made largely with analog instruments, hewing closely to classic songwriting templates, tends to win. Music that is obviously based in electronic recording and production, that experiments and provokes, usually doesn't. In other words, Beyoncé's Renaissance, an innovative genre mishmash celebrating Black, queer history, maybe never really stood a chance, though it plainly has more of a social conscience than the mumbled nothingness of Harry's House. The race and ethnicity of the performers shape the odds, too—partly because of traditionalist aesthetic ideas that just so happen to write off basically all of hip-hop.
Perhaps a challenge to those ideas is still brewing, or perhaps they'll never be dethroned. After the departure of the longtime Grammys president Neil Portnow in 2019, the Recording Academy has expanded its voting base in an effort toward building diversity. The record-breaking 32nd Grammy win for Beyoncé last night shows that artists like her do have significant constituencies at the Academy (though the results almost always show up in genre-specific, rather than general, categories). And Styles seems like a nice guy who's made some nice music. The problem lies in acting like this awards show is saving the world, rather than mirroring its problems back to it.